Korea Autoparts Plaza held in Bangkok
Mar 22, 2011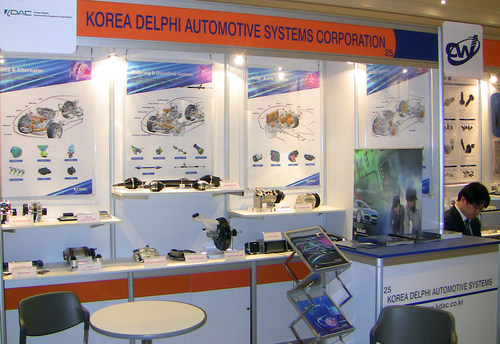 The Korea Autoparts Plaza at Dusit Thani Hotel In Bangkok (Photo: Yonhap News)
The Korea Autoparts Plaza, a Korean auto parts exhibition, was held from March 17 to 18 at Dusit Thani Hotel in Bangkok, Thailand.
Organized by the Korea Trade-Investment Promotion Agency (KOTRA) and General Motors (GM), 33 Korean auto parts companies participated in the exhibition, which drew more than 100 buyers.
Thailand is becoming an important center for car manufacturing in the ASEAN region. Korean auto parts companies are becoming more interested in the country as a potential market, with many global car companies like GM and Ford expanding into Thailand.
KOTRA president Jo Hwan-ik said, "The ASEAN region is the only market that Korean auto parts companies haven't really entered. The exhibition in Bangkok will help these companies pioneer the ASEAN car markets."
KOTRA is organizing another exhibition for small and medium-sized auto parts companies and global motor companies to build networks and business relationships next in April in Milan, Italy and in São Paulo, Brazil and Nagoya, Japan in May.
By Jessica Seoyoung Choi
Korea.net Staff Writer
Featured Topics
http://www.korea.net/NewsFocus/Business/view?articleId=85791
URL Copy
Department Global Communication and Contents Division, Contact Us