Korea-made smartphones topped global market shares in 2nd quarter
Aug 19, 2011
Korean-made smartphones ranked top in global market share for the first time in the second quarter of this year, the Ministry of knowledge Economy reported on August 8.

According to the ministry's July press release of IT trade figures, Korea held the world's largest share at 23.1 percent of the global smartphone market in the second quarter. Last year, the country ranked fifth during the second quarter with a global market share of 6.4 percent.

Samsung and LG Electronics, two of Korea's leading electronics companies, backed the brisk exports of Korea-made smartphones and led to a noticeable rise in the country's global market share, the ministry said in its report.

The country ranked third with a 16.2 percent global market share in the previous quarter.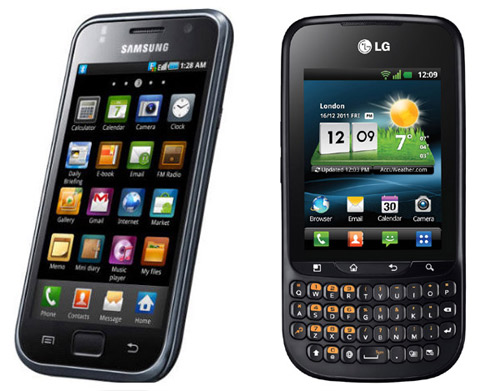 (From left) Galaxy S of Samsung Electronics, Optimus of LG Electronics

The total export performance of Korea-made smartphones from January to July reached $6.91 billion this year.

Both Samsung and LG showed the most remarkable growth in the first two quarters of this year.

According to Strategy Analytics market research group, Samsung and LG recorded 17.5 percent and 5.6 percent of global market shares respectively in the second quarter of the year. This means Korean-made smartphones secured more than 23 percent of the world's market, up from 16.3 percent in the first quarter, when Apple recorded 18.1 percent.

By Yoon Sojung
Korea.net Staff Writer
Department Global Communication and Contents Division, Contact Us