Robot World 2011 successfully wraps up
Nov 01, 2011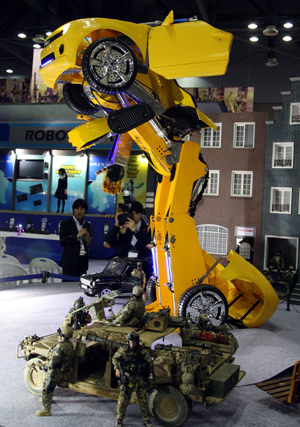 Robot World 2011, a robotics exhibition, was held by the Ministry of Knowledge Economy at Kintex in Ilsan from October 27 to 30.


The event consisted of various programs including iRIS 2011 (International Robot Industry Show) and IRC 2011 (International Robot Contest). The Korea Robot Conference was a part of the program containing essay awards and seminars about issues related to robotics.


A total of 167 domestic and overseas companies participated in the exhibition with 750 booths, and around 76,000 people visited the event to see the future of robotics.

Marking its sixth year, the exhibition introduced the world's first interactive Robot Village. Thirty-three kinds of robots that can be used in restaurants, police stations, post offices, and super markets were featured for visitors to experience daily life with robots. A dental robot showed off its capacity to crown a tooth by scanning a patient's tooth to create three-dimensional video images. Hospital robots conducted an operation on a knee joint while firefighting robots demonstrated fire-suppression techniques.


A transformer robot that can transform itself from a vehicle to a bipedal robot within a minute was also popular among visitors of all ages, while artistic robots performed a musical for visitors.


During the opening ceremony on October 27, the Korean humanoid robot Kibo, French robot Nao, American robot Charlie, and British robot Robothespian hosted the show representing each country. Kibo, which was unveiled to the public at the event, demonstrated various emotions such as happiness, sadness, and agony. Visitors were also impressed by its recognition device that can sense people's faces and voices.

At the International Robot Contest, the RND-2 team from Seoul National University of Science and Technology won the President Award while a Singaporean team won at the robot soccer match.


"The Korean robot industry has grown by 74.9% based on the volume of manufacture," said an official from the Ministry. "The robot industry will have a bright future as we have secured competitiveness in the industry as global demands on robots are rapidly increasing." (A transformer robot transforming itself from a vehicle to a bipedal robot. Photo: Yonhap News)

By Jessica Seoyoung Choi
Korea.net Staff Writer
Featured Topics
http://www.korea.net/NewsFocus/Business/view?articleId=89549
URL Copy
Department Global Communication and Contents Division, Contact Us