Living smarter with smart work
Nov 23, 2011
As "smart work" initiatives expand in scope and spread from the public to private sectors, more workers in Korea are embracing flexible work and lifestyle patterns.

Smart work systems are designed to optimize productivity and efficiency by providing remote access to work materials and operating systems, allowing workers to work at home or in specially constructed centers. Video and telephone conferencing eliminate the need for travel and save the time spent attending meetings and making face-to-face reports. Along with desktops and laptop computers, mobile devices such as smartphones and tablet PCs also connect to smart work systems to enable work on-the-go.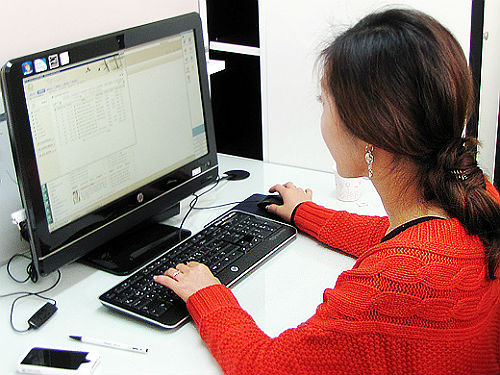 The expansion of smart work systems has allowed for work to be completed outside of designated hours and locations, leading to higher productivity and shorter commutes (Photo: Weekly Gonggam).
Since opening in September, the Seocho Smart Work Center in Seochu-gu, Seoul, has been regularly visited by workers from various organizations that are making the transition to greater workforce autonomy. The center provides a total of 30 individual workstations, divided into partially enclosed cubicles and free-standing desks. Separation of work areas for use by public sector employees and those affiliated with private businesses ensures network security, while biometric scanners and identification passwords restrict access to registered users.

The Seocho Smart Work Center also utilizes cloud computing and other IT innovations to create a remote work environment that is only minimally different from the workspace in a traditional office. Through cloud computing, workers can access the central servers of their respective companies via an integrated information framework.

By removing many of the limitations set by fixed work hours and locations, smart work systems have reduced the distances traveled and time spent commuting. This has translated into not only lower individual expenditures of time and energy but also lower levels of carbon dioxide emissions. According to estimates produced by the Ministry of Public Administration and Security (MOPAS) the participation of a total of 8.6 million workers in the smart work system would lower the annual volume of carbon dioxide emissions by approximately 11 million tons and bring transportation expenses down by about 1.6 trillion won.

Having built two smart work centers in Dobong-gu and Bundang last year, MOPAS opened eight additional smart work centers, including one in Seocho, Seoul and one in each of the Gyeonggi-do (Gyeonggi Province) districts of Ilsan and Bucheon. The centers currently provide their services for over 4,600 employees from ten government departments and two public organizations, and in November plans were initiated to make services available to all central government agencies.

Recently, private corporations like KT and Samsung SDS have opened smart work centers to improve the flexibility of their operations.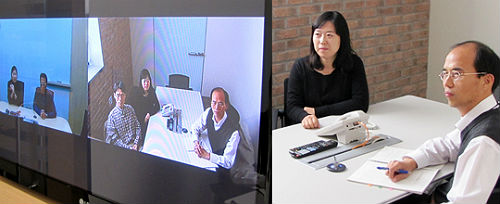 Employees at the Seocho Smart Work Center hold a meeting using teleconferencing technology (Photo: Weekly Gonggam).
As face-to-face interactions are a deeply rooted and valued aspect of Korean work culture, the success that has accompanied the expansion of smart work systems was not easily predicted. Yet with improvements in productivity and reduced commute times contributing to greater work-life balance for countless workers, positive reception has been widespread.

Jeong Hae-jin works for the Small and Medium Business Administration in its office at the Daejeon Government Complex, but when she comes to Seoul for business, she completes her work at a smart work center. She saves the time she would otherwise have had to spend making the round-trip commute from Seoul to Daejeon and back again and works more efficiently.

Jeong Eun-jung, an employee of the Land Policy Department of the Ministry of Land, Transport and Maritime Affairs, lives in the Haengdang-dong neighborhood in Seoul. Her daily commute to the Gwacheon Government Complex takes over two hours. But since Jeong began spending her Mondays at a Seoul smart work center 30 minutes away from home, she has been able to start her day's work much earlier once a week. Moreover, she has found that, having space to herself, she completes her work more efficiently at the center than she does in her office.

Prior to her participation in the smart work center, Jeong participated in testing out a telecommuting system. As a working mother, Jeong found it convenient to be able to go home instead of staying late at her office and finish her work by accessing the intranet from her home computer.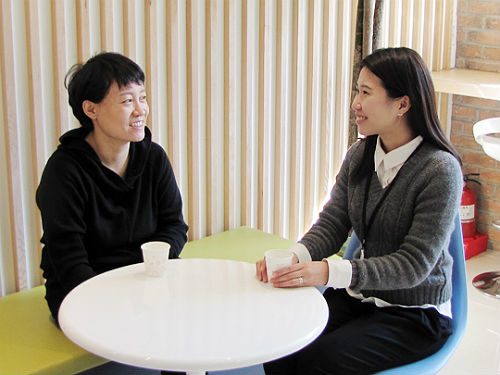 Jeong Eun-jeong (left), works for the Ministry of Land, Transport and Maritime Affairs in Gwacheon but visits a smart work center in Seoul one to two times per week (Photo: Weekly Gonggam).
"Smart work begins with a smart environment and smart thinking," said Jeong. With mobile devices delivering our work to our fingertips and freeing us to work where we want, when we want, I can't see any reasons for not taking advantage of the opportunity."

MOPAS plans to construct 50 additional smart work centers for use by the public sector by 2015 and develop smart work center models for use by the private sector as well. Furthermore, MOPAS is in the process of designing a mobile government (M-Gov) system that will expand options for work on-the-go via smartphone and tablet PCs.

Park Jin-soo, deputy director of the Department for Information and Communication Technologies at MOPAS, said that changes made to public service regulations last June allow all government employees to apply to participate in smart work center programs and that the human resources management issues that could potentially accompany the widespread implantation of smart work systems have been addressed. Park added that smart work center policies designed for use by government employees on business trips will be expanded in preparation for the relocation of government offices to Sejong Special Autonomous City in 2014.

Kwon Jungyun
Korea.net Staff Writer
Article Adapted from Weekly Gonggam Magazine
Department Global Communication and Contents Division, Contact Us