Korean automobile companies rule Super Bowl ads
Feb 22, 2012
A commercial for the Veloster Turbo, one of Hyundai Motor Company's automobile models, ranked seventh among the 2012 Super Bowl commercials in the consumer preference survey conducted by USA Today. Among the 15 car commercials during the Super Bowl this year, it rated as second best.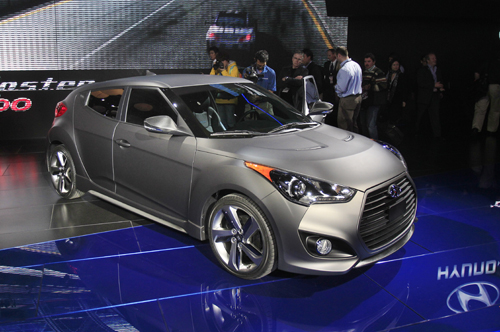 The Hyundai Veloster Turbo is displayed at the 2012 North American International Auto Show in Detroit. (Photo: Yonhap News)


A national American daily newspaper, USA Today recently evaluated consumer preferences for the 55 commercials aired during the Super Bowl, the annual championship game of the National Football League (NFL). As a result, the commercial for the Veloster Turbo was rated seventh by the survey conducted. USA Today has been conducting consumer preference surveys of the Super Bowl commercials since 1989. It was the first time that a commercial from a Korean company was selected as one of the top ten Super Bowl ads.

The Veloster Turbo commercial depicts a race between a car and a cheetah, which is evaluated as the fastest living animal on Earth. The story ends humorously with the cheetah giving up due to the amazing speed of the car.

As the Super Bowl is watched by more than 100 million people annually, commercials for the game have been a competitive contest for global companies for a long time. Prices for a 30-second spot were USD 3 million on average last year, and the average cost for advertising slot exceeded USD 3.5 million this year, industries said.

Hyundai Motor Company has been airing its advertisements during the Super Bowl since 2008, the first Korean company to do so. Kia Motors has also aired its commercials for three consecutive years since 2010. This year, it aired the commercial ''A Dream Car, For Real Life" during the game, advertising its automobile the Optima using famous models, fighters, and rock bands. The commercial was rated fourth on the USA Today Facebook Super Bowl Ad Meter as of February 8.

Samsung Electronics also aired a commercial for one of its mobile phone models during the Super Bowl this year, for the first time in the company's history. The commercial was 90 seconds long advertising the Samsung Galaxy Note.

By Jessica Seoyoung Choi
Korea.net Staff Writer
Featured Topics
http://www.korea.net/NewsFocus/Business/view?articleId=98830
URL Copy
Department Global Communication and Contents Division, Contact Us