Korea-Turkey FTA talks move forward
Mar 16, 2012
Ongoing negotiations for a bilateral free trade agreement between Korea and Turkey have made progress in several key areas, said the Ministry of Foreign Affairs and Trade (MOFAT) on March 11.
The fourth round of talks, which took place in Seoul from March 7 to 11, settled details relating to issues such as tariffs on commodities, but agreements on service, investments, and government procurement have not been finalized.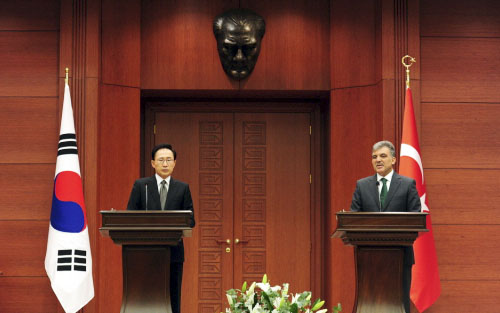 Since official negotiations first began in Ankara, Turkey, in April 2010, the two countries have held a total of six rounds of talks. The FTA was also a subject of discussion at the high-level summit meetings held in Turkey last month.
MOFAT will officially announce the details of the recent talks after a provisional agreement is approved by the relevant committee. Following the announcement, the agreement will have to pass through initialing, a vote by the Cabinet, and official signing before it reaches parliament for ratification.
"Our goal is to have the FTA in effect by early next year at the latest," said a trade ministry representative, who added that the level of openness for the agreement is quite high. The high-level summit meeting in Turkey last month also included talks on the progress of the agreement.
Negotiations on service, investment, and government procurement are scheduled to resume one year after the FTA goes into effect.
In 2011, trade volume between Korea and Turkey reached USD 5.9 billion, with exports to Turkey totaling USD 5.1 billion and imports totaling USD 800 million.
By Kwon Jungyun
Korea.net Staff Writer
Featured Topics
http://www.korea.net/NewsFocus/Business/view?articleId=99415
URL Copy
Department Global Communication and Contents Division, Contact Us