What discount does the KORUS FTA bring?
Mar 23, 2012
As the free trade agreement (FTA) between Korea and the U.S. became effective on March 15, imported products from the U.S. have already seen their prices decrease. Since the KORUS FTA is a high-level FTA, it applies to a various range of products, with hardly any exclusions; tariffs on most imported goods from the U.S will be removed.


Prices of some representative imported fruits to Korea from the U.S. such as oranges, cherries, and grapefruit will be greatly discounted as their tariffs have been and will be removed. A 24% tariff on imported cherries from the U.S. was immediately removed when the KORUS FTA became effective. A 30% tariff on grapefruits will be removed within five years and a 45% of tariff on kiwis will be removed in 15 years.


Other tariffs that were immediately removed by the KORUS FTA include tariffs on California raisins (21%) and almonds (8%). A 15% tariff on imported wines from the U.S. was also immediately removed.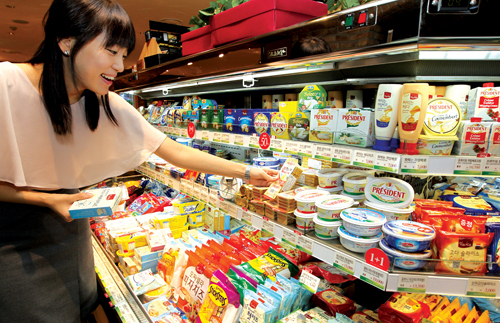 While Korea imports 200 billion won worth of cheese per year, more than half of the cheese is imported from the U.S. and New Zealand. As a 36% tariff on cheese imported from the U.S. will be gradually removed, it is expected to have a huge impact on the import cheese market in Korea. The cheese tariffs will be removed depending on the type of cheese (i.e., tariffs are set to be removed on general cheese in ten years and the tariff on cheddar cheese in 15 years).

Industrial products from the U.S. will also become cheaper. An 8% tariff on imported vehicles from the U.S. has already been lowered to 4%. In the fifth year of the KORUS FTA, the tariff will be completely removed; the price of cars over 2,000cc will decrease by 12%.

Consumers will likely pay much less for such health foods like vitamins and omega-3 fatty acids from the U.S. when buying them online as the tariffs on health-food will be lowered by 8% in five years. It is also expected that more consumers will purchase clothes and fashion accessories including bags online from the U.S. as the tariffs on those items will be immediately removed.

In addition, in order for consumers to know and receive the benefits from the removed tariffs, the government will reveal the import price of products and improve the distribution channels and structures. It will prevent unfair corporate practices for items that show a big difference between the imported and consumer prices.

Four major retail stores including Emart, Homeplus, Lotte Mart, and Nonghyup agreed on discounting the price of items whose tariffs are expected to be removed or lowered accordingly.

By Jessica Seoyoung Choi
Korea.net Staff Writer
Featured Topics
http://www.korea.net/NewsFocus/Business/view?articleId=99589
URL Copy
Department Global Communication and Contents Division, Contact Us