London's K-Pop Academy explores traditional music
Apr 30, 2012
The K-Pop Academy at the Korean Culture Centre UK (KCCUK), now nearing the end of its twelve-week term, recently shifted its attention to Korean traditional music.
The students of the academy, who have been meeting weekly since late February, attended a special lecture on April 21 with Professor Keith Howard, professor of music at the University of London's School of Oriental and African Studies. The lecture was followed by a gayageum performance and a samul nori workshop with Nami Morris, a programme director at Clare Hall, Cambridge University.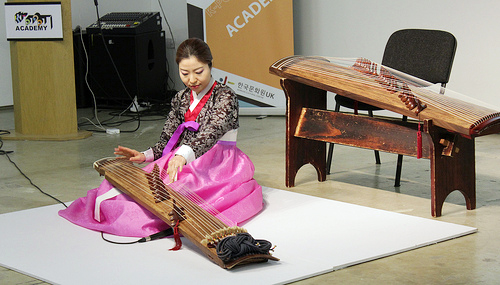 The students of the K-Pop Academy had the opportunity to try their hand at the four different kinds of samul nori instruments -- janggu, buk, kkwanggwari, and jing. The afternoon also included discussions about the Korean folk song Arirang, the use of samul nori in contemporary Korean film and dramas, and the convergence of modern and traditional Korean music.
The K-Pop Academy, launched by KCCUK for the first time this year, was designed to encourage greater interest in K-pop and cultivate a deeper understanding of the phenomenon and the insights it offers into Korean history, Korean culture, and the Korean music and media industries. A total of 30 students were selected to participate in the program.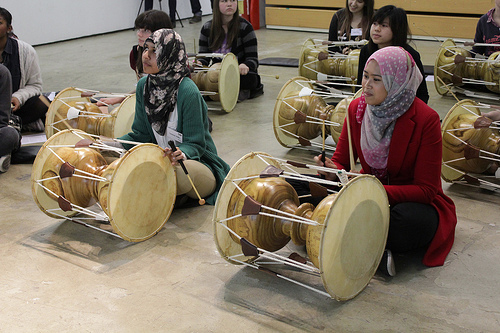 Previous courses, held every weekend, included tteokbokki making, K-pop cover dancing, a lecture on the Korean War, a visit to the residence of Ambassador Choo Kyu-ho, and various other educational programs. The young people, who started out with an interest in Korean popular culture, had the opportunity to expand their knowledge of Korean culture to include Korean language, film, and history.
On April 17, the students attended a launch for the Korean cultural programs that are set to take place throughout the summer in light of the upcoming 2012 London Olympics. The students gathered to show their support for the Korean national athletes, wearing shirts saying, "I heart Korea" and waving Korean flags as they traveled through London on a double-decker bus.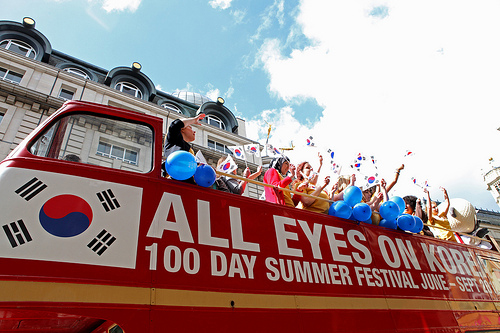 The team stopped at Southbank Centre, Trafalgar Square, and other landmarks to perform K-pop routines and introduce Korean culture to London's locals.
The last session of the academy will include a graduation ceremony as well as presentations by the students. The student who shows the most effort throughout the course will be selected for the opportunity to travel to Korea.
By Kwon Jungyun
Korea.net Staff Writer
Department Global Communication and Contents Division, Contact Us