Sound of Heaven Music commemorates King Sejong
May 17, 2012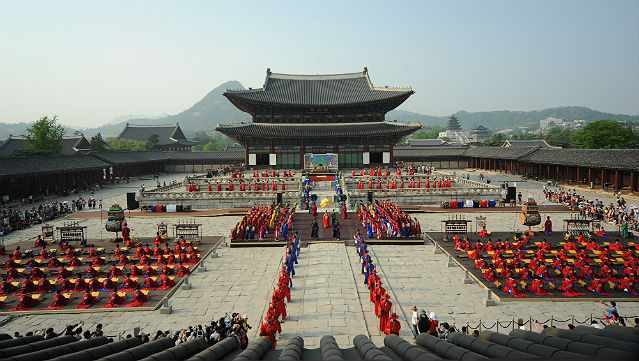 King Sejong the Great is considered to have set an important milestone in Korea's 5,000-year history, especially in the realm of education, with the creation of the scientific and easy-to-write Korean alphabet, Hangeul.
It does not come as a surprise that Teachers' Day in Korea falls on the same day as the birthday of King Sejong, the fourth ruler of the Joseon Kingdom (1392-1910).
Teachers' Day has been celebrated on May 15 since 1965. The idea of celebrating Teachers' Day on the birth date of the creator of the Korean alphabet derives from the wish that all teachers follow in the footsteps of one of the greatest educators in history. This year, King Sejong's court banquet for the celebration of the New Year was brought back to the grounds of Gyeongbokgung Palace on May 12 and 13.
A special re-enactment of the Sejongjo Hoeryeyeon ceremony took shape based on thorough research of the Uigwe, recreating the court banquet for the king and retainers in 1433, the 15th year of King Sejong's reign.
The performance "Sound of the Heaven, Music of King Sejong" graciously took the outdoor stage in front of Geunjeongjeon, the throne hall inside the palace. Over 400 musicians and dancers dressed in court attire participated in the celebratory event, capturing the quintessential spirit of the art and culture of the 15th century Korean court.
By Hwang Dana
Korea.net Staff Writer
Department Global Communication and Contents Division, Contact Us