Buddha's Birthday festivities kick off
May 18, 2012
For weeks, paper lanterns have been going up along streets, around temples, and in many other public spaces all across the country. Bearing a passing resemblance to Christmas lights, these lanterns celebrate the birthday of Prince Siddhartha Gautama (Gautama Buddha), the spiritual teacher on whose teachings the Buddhist religion is based. Last week marked the beginning of Yeondeunghoe, Korea's main Lotus Lantern Festival.


The festival offers many events leading up to Buddha's Birthday, which falls on May 28 this year.


Over 30 types of lanterns light up Bongeunsa, a Buddhist temple in Samseong-dong, where visitors can watch a demonstration by expert lantern-makers and try their hand at making their own. The display began on May 18 and will continue until Buddha's Birthday, which is a statutory holiday.


At Cheonggyecheon, visitors can walk along the stream and see 20 types of lanterns, depicting important Buddhist figures, as well as lotus flowers and fish.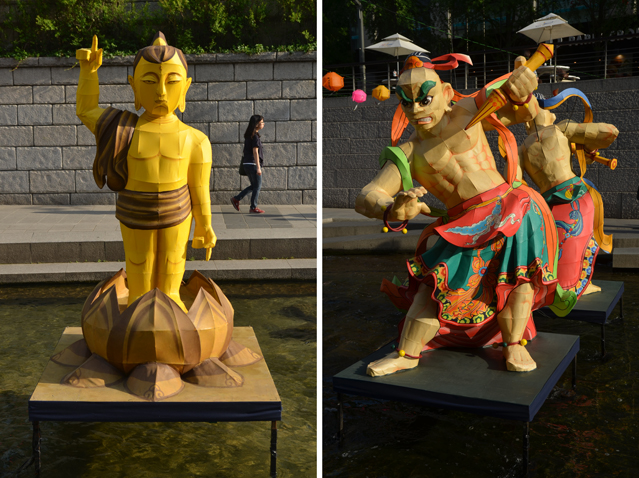 The highlight of the festival was the Lantern Parade on Saturday, in which tens of thousands Hanbok-clad Buddhists carry lotus lanterns from Dongdaemun to Jogyesa, the chief temple of the Jogye Order of Korean Buddhism.

First, participants met at Dongguk University for a warm-up event that featured music and performances before departing.

The parade started at 7 p.m., just before dark, and the streetlights of Jongno were turned off, allowing the lanterns to light the way. Jongno, one of Seoul's oldest major streets, was closed to car traffic in order to allow the parade through.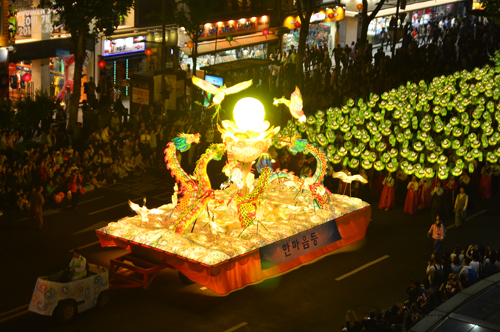 "I have never ever been in a parade in my life, so this is something I can cross off the bucket list," said Ryan Berkebile, who marched in the parade with the Hwagyesa contingent. "It was a beautiful experience seeing all these illuminated floats and lanterns. It was strange at the same time, walking around major thoroughfares in Seoul, having an audience watch us carry lights. I can't imagine what many of the people thought, seeing a foreigner with very visible tattoos carrying Buddhist lanterns in the street."
Many foreigners like Berkebile participated in the parade. Last year, over 30,000 foreigners were estimated to have participated, and the number was estimated to be higher this year. A stretch of Jongno in front of Tapgol Park was designated for foreign spectators, with announcements made in four languages.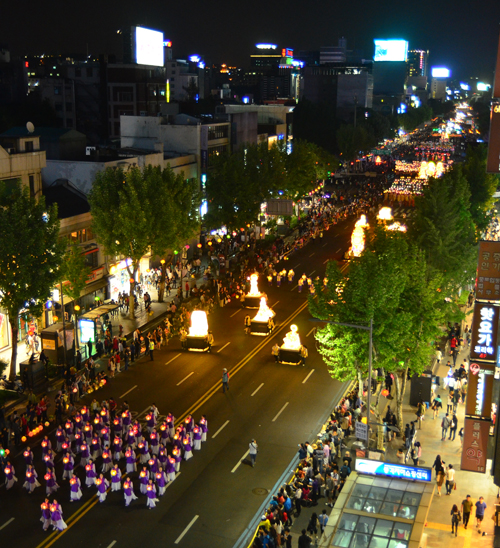 On Sunday, a traditional culture festival was held on the street in front of Jogyesa, featuring 100 booths exhibiting Buddhism, traditional food, and various activities and performances. Ten different countries participated in the festival, setting up a booth to educate visitors on Buddhism in their respective countries, including Nepal, Thailand, India, and Mongolia, as well as Japan and Bhutan who joined the annual festival for the first time this year.
The booths at the festival offered everything from vegetarian-friendly temple food to traditional Korean food from both North and South Korea. Visitors could try their hand at decorating their own Korean traditional masks, traditional Korean needlework, or playing a moktak (a wooden bell used in Buddhist rituals).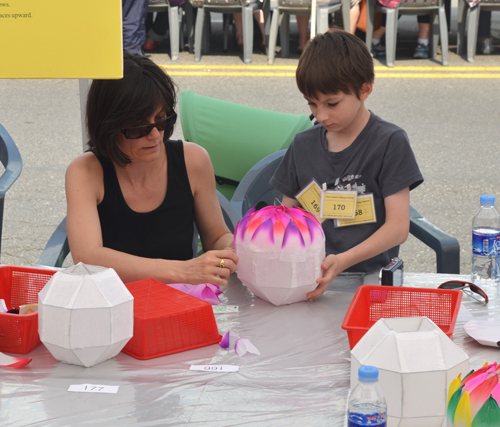 There were performances by Tibetan and Mongolian Buddhists, as well as local Buddhist dances and martial arts demonstrations, and a Bukcheong lion mask dance.
People who missed out can still go to Cheonggyecheon and Bongeunsa to see the lanterns until May 28.
On May 28, a ceremony known as Bongchuk Beobyoshik will be performed at Buddhist temples across the country to celebrate the birth of Buddha. A speech will be given by a prominent monk, and Buddhists will make 3,000 bows and put up lanterns.
By Jon Dunbar
Korea.net Editor
Department Global Communication and Contents Division, Contact Us