UNESCO World Heritage Map now available in Korean
Jun 04, 2012
From the masterful architectural beauty of Changdeokgung Palace in Seoul to the vast plains of the Serengeti; from the prehistoric rock art on the Iberian Peninsula to the Statue of Liberty; all these places spread across the globe, as distinctive as they are, share one thing in common. All are listed as World Heritage Sites recognized by the United Nations Educational, Scientific and Cultural Organization (UNESCO) for their outstanding cultural and natural significance and universal value to humankind, and are entitled to conservation for generations to come.
The World Heritage Map, which has been published on a yearly basis, has become available on and offline in Korean. According to the Korean National Commission for UNESCO (KNCU), 30,000 copies were distributed to over 200 venues, including World Heritage Sites, related organizations, and branches of the UNESCO Associated Schools Project Network (ASPnet) in Korea.
The map, which gives a brief introduction to the World Heritage Sites at a glance, used to be published in three of the UN official languages, English, French, and Spanish. With the recent release, Korean became the first non-UN official language to accommodate the promotion of the worldwide initiative. The Korean language, the twelfth most spoken language in the world, is allegedly used by over 80 million people in North and South Korea and around the world.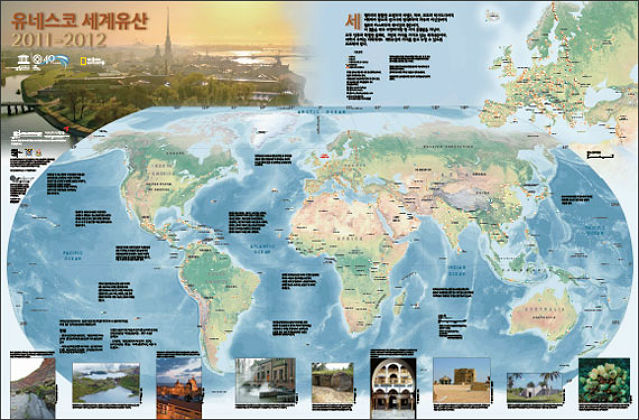 "This is the first non-UN official language version of the World Heritage Map, which has been published annually since 2002," said Dr. Taeck-soo Chun, Secretary-General of KNCU. "We hope this publication will contribute to enhancing Korean speakers' understanding of World Heritage Sites and serve as an instructive educational resource."
The new map was released with the sponsorship of Asiana Airlines, based on a memorandum of understanding signed last February with KNCU to raise awareness of World Heritage Sites. To celebrate the release of the first Korean version, an image of the Historic Village of Yangdong, inscribed in 2010, was featured along with a list of 936 designated properties.
A PDF version of the latest 2011-2012 World Heritage map can be downloaded at
World Heritage Centre wallmap page
or via the
KNCU website
.
For more information on UNESCO Treasures in Korea, please visit
here
.
By Hwang Dana
Korea.net Staff Writer
Department Global Communication and Contents Division, Contact Us