New York welcomes Korean Buddhist food
Jun 14, 2012
The Cultural Corps of Korean Buddhism is introducing Buddhist temple food to New York until June 14 at Astor Center. Under the Jogye Order of Korean Buddhism along with the Korean government, the corps provides recipes that don't require sugar to cook, which has captured the attention of diet-conscious New Yorkers.


"We don't use artificial ingredients such as sugar," said Monk Daean of the corps. "We use apple or pear extracts as ingredients to make a sweet taste."


The lack of sugar is especially appealing to New Yorkers, as the city recently enacted a ban on large soft drinks. As Korean Buddhist temple food is vegan, it has became popular not only among foreign nationals residing in Korea but also vegetarians worldwide.

The event features Buddhist foods including potato noodles, Korean sesame leaf rice cakes, mushroom cookies, and tofu meals. Such unique desserts as red bean jelly with omija (fruit of Maximowiczia typica), and apricot candy are also offered.


Unlike the first Buddhist temple food event held in 2010, which only introduced the dishes for tasting, this time the corps is demonstrating how to prepare those foods alongside a Templestay promotional event.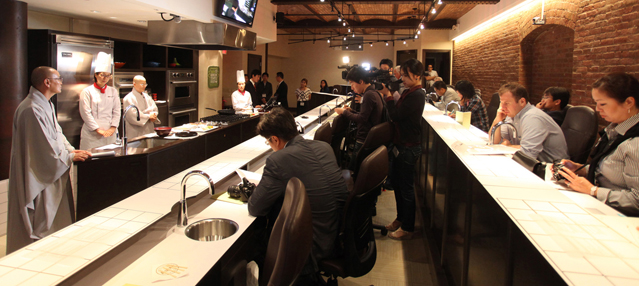 Astor Center is known as one of New York's most famous food and cultural places. The venue features special Buddhist dishes, sets of dolls made out of Hanji, the traditional Korean paper, and the vivid colors of lotus lanterns along with the event.

Earlier this month, the corps held a demonstration of Buddhist food at the Culinary Institute of America (CIA) on June 7. On June 15, some of the Buddhist foods will be offered at the Kimchi Taco Truck in Manhattan.

There is also information about Templestay, a popular cultural program allowing visitors to experience the life of Buddhist practitioners in Korean temples.

For more information about the Korean Templestay program, please visit the official website.

By Jessica Seoyoung Choi
Korea.net Staff Writer


Department Global Communication and Contents Division, Contact Us