Korea's poets: voices in translation
Jun 17, 2012
"I must have been chased by all the wind in the world and gotten wrecked / inside this body / My arms and legs dissolve in all directions / my head feels hazy."
Words in an unfamiliar language, spoken in an unfamiliar meter, fill the majestic halls of the royal Château de Chambord in France. They speak of a history altogether different from that which has been preserved in the paneled ceilings and spiraling staircases of the once-retreat of famed French monarch Louis XIV.
"Someone stares into me for a while then flees / My feet are outside of my vision/ My feet gradually fade away and / take off like wolves into the distant mountains."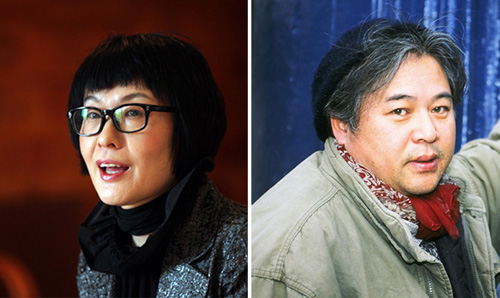 The woman with the short, dark hair and dark-rimmed glasses continues reading in clear and steady Korean. She is poet
Kim Hyesoon
, and the words she reads come from her poem "Starfish." A pause follows her last line, and then a nearby voice begins to read the same verses, this time in French.
"Korean poetry is a world of uncharted depths"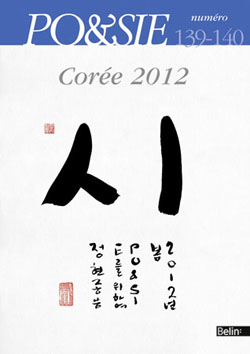 On June 2, the Château de Chambord saw some of Korea's most widely-read contemporary poets take part in a poetry reading to celebrate the recent publication of a special edition of French literary journal
Poésie
on Korean poems.
Kim, along with Hwang Ji-u, Kwak Hyo-hwan and Kang Jeong, four of the 27 poets featured in the volume, read their original works to an audience of people from all over France, most of whom heard Korean poetry and the Korean language spoken aloud for the first time. Within the week, the quartet met three more times with audiences in Paris and Switzerland.
"As I continue to be exposed to Korean poetry, I think to myself that it is very possible that my own style of writing will change," said celebrated French poet and philosopher Michel DeGuy, who attended all four of the readings. On the June 6 reading at the Korean Cultural Center in Paris, DeGuy surprised the audience by delivering an impromptu mini-lecture on poetry as an important vehicle for rich cultural exchange between Korea and France.
"We [French poets] may have known Korea, but we did not know the Koreans," asserted DeGuy. "Korean poetry is a world of uncharted depths, and now this world has been opened up to the French people. Our communion has begun."
Overcoming barriers of understanding
Published on March 25, the
Poésie
volume on Korean poetry marks the first time in 13 years that Korean poets have been spotlighted in the journal. Sponsored by the Daesan Foundation, the project began in 2009 to deliver quality translations of Korea's foremost contemporary poets and wrapped up early this year.
"Because of differences in language, even with translations it is difficult to fully understand Korean poetry," noted DeGuy. "But that energy of shared experience that alights when poetry encounters people is not easily ignored."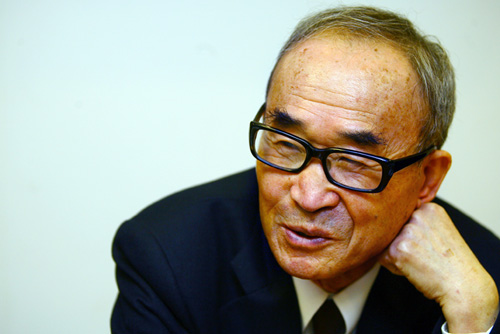 The popularity of Korean poetry, which has been translated into English, German, French, Spanish, Japanese, Vietnamese, Russian, Arabic, Hebrew, and Albanian, among others, is only continuing to grow. Seventy-nine-year-old
Ko Un
, four-time nominee for the Nobel Prize in Literature and Korea's most prolific and translated poet, took part in the Norwegian Festival of Literature from March 29 to June 1 and was interviewed by two to four media outlets a day during his stay. Ko, who was also featured in the March
Poésie
volume, has published over 140 volumes of works, including 50 volumes of poetry.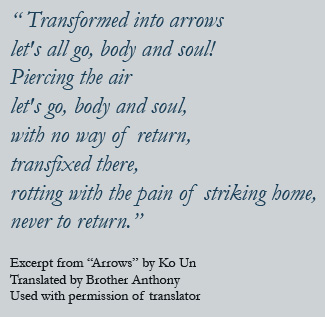 "Korean works of literature can strongly appeal to Norwegians, as they reflect the uniqueness and cultural pride of Korea," said Kristin Helle-Valle, head of the Literature House of Bergen, Norway's second biggest city, in an interview with the
Korea Joongang Daily
. "[Korea] has many things in common with Norway, including mountainous geography and the struggle to maintain political and cultural independence."
In Germany, where the Society for the Promotion of African, Asian and Latin American Literature selected Ko's Flowers of a Moment as one of the best works of 2011, a forum on translated literature took place on June 15. Special guests included poet Moon Chung-hee, who won the Swedish Cikada Prize for poetry in 2010, and poet
Hwang Hak-joo
, who is widely known for his humanitarian work and efforts to publish literary works in Swahili.
"There is a vitality that courses through Korean poetry and its intersections with history," commented
Poésie
editor and poet Claude Mouchard. "One senses in the writing a deep desire for freedom from the complicated structures of daily life, as well as a yearning to go beyond, to soak through to the rest of the world."
Sharing the international stage
"I think we would do well to erase the distinction of being 'Korean' poets," says Kim, whose recent English-language anthology
All the Garbage of the World, Unite!
was published in November 2011.
"No poets write in order to represent Korea. Korea's poets each stand as individuals creating individual poetic visions. In the literary sphere, Korean and [other countries'] poets occupy this same kind of space."
Notably, Kim will be participating at Poetry Parnassus, the largest poetry festival in the UK, from June 26 to July 1 at the Southbank Centre. Scheduled as part of the cultural festivities to ring in the London Olympic Games,
Poetry Parnassus
will bring together poets from 153 countries. Kim will be reading her works on June 29 together with five Nobel Prize winners like Seamus Heany and Wole Soyinka, all having been selected to represent their respective continents.
More information on Korean poetry and Korean literature in translation can be found at the website of the Korea Literature Translation Institute:
http://www.klti.or.kr/e_main.do
.
By Kwon Jungyun
Korea.net Staff Writer
Featured Topics
http://www.korea.net/NewsFocus/Culture/view?articleId=100803
URL Copy
Department Global Communication and Contents Division, Contact Us