Arirang Festival celebrates Korea's folk song
Jun 21, 2012
Arirang is a famous Korean folk song about tragedy and separation. Sung all across the Korean Peninsula on both sides of the DMZ, it exists in many regional variations. Visitors to the National Museum of Korea got a taste of how this diverse song can be adapted to modern times.

The 2012 Arirang Festival ran last weekend from June 15 to June 17, offering various activities, performances, and meetings on the grounds of the National Museum of Korea. Hosted by the Ministry of Culture, Sports and Tourism and organized by the Arirang Globalization Committee and the Korean Traditional Performing Arts Foundation, it is part of the Korean government's campaign to register the song on UNESCO's Representative List of Cultural Heritages.

Arirang festival kicked off on Friday morning with a two-day symposium full of discussions about the origin and spread of Arirang. The opening ceremony began with a welcoming speech by Director Kwon Oh-sung of the Arirang Globalization Committee, followed by keynote speeches by renowned Korean poet Ko Un and Professor Kim Si-up from Sungkyunkwan University. The weekend was also filled with activities and performances.

On Saturday, the Smiling Arirang concert was held in the large plaza outside the museum entrance, featuring exciting performances of Arirang that combine traditional minyo singing with modern genres including K-pop, a capella, and musical ensembles.

"With the recent global popularity of K-pop," explains Minister Choe Kwang-shik of Culture, Sports and Tourism, "Korean singers are performing more overseas, and Arirang is often played as the finale of the show. As K-pop fans across the world have come to equate Arirang with traditional Korean culture, there is a growing interest in the globalization of this Korean folk song."

The pop groups included Sistar, Teen Top, and dance ensemble Nana School. There was also a performance by Insooni, Korea's acclaimed R&B diva with a career spanning five decades. The a capella group Sweet Sorrow performed their own vocal style of Arirang, unaccompanied by musical instruments. Another notable Arirang performance was by renowned pianist Kim Cheol-woong, a North Korean defector.

"Arirang's greatest feature is that it has been sung by many people to date," says Director Kwon. "People from different classes and regions have long enjoyed this folk song, sometimes to console themselves and other times to count on it, by infusing their own stories into the song resulting in local variations. But the different versions give us the same feeling as they share the common spirit of Arirang."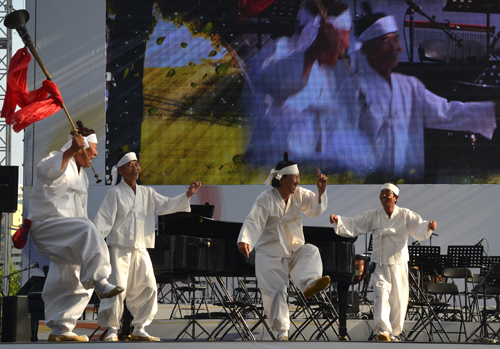 The Sharing Arirang concert on Sunday was marked by more traditional performances of the most popular variations of Arirang. The Miryang Folk Art Preservation Association opened the concert with a haunting traditional rendition of Miryang Arirang. Jeongseon Arirang was presented by Kim Gil-ja and the Jeongseon-gun Arirang Art Group, and the third main variation of Arirang, Jindo Arirang, was performed by the Jindo Arirang Preservation Society.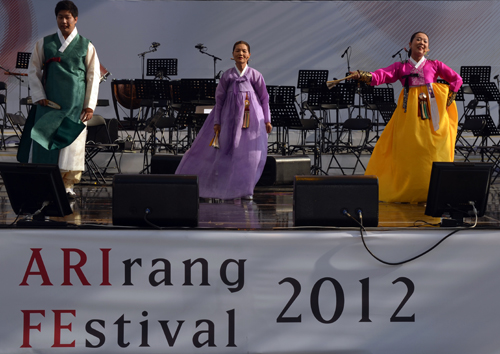 There was also a more modern performance of Miryang Arirang by fusion group Infinity of Sound, and an ensemble performance by the Asian Music Ensemble featuring traditional musicians and instruments from Mongolia and Vietnam, as well as Korea. The show was headlined by the Millennium Symphony Orchestra conducted by Seo Hui-tae, who were joined by opera singer Go Jin-yeong on a very moving rendition of Arirang, followed by Korean-Japanese pianist Ryo Kunihiko and the Sonagi Project.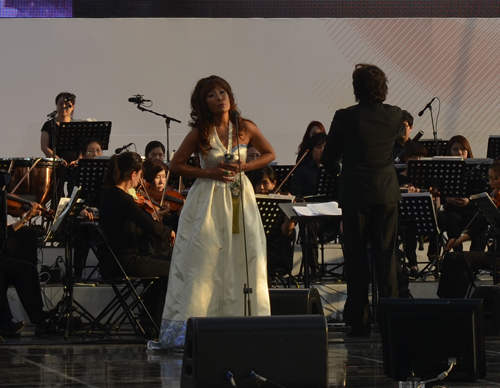 Also running throughout the weekend was the children's play "Go! Go! Arirang!" performed by Kkocdusoeh, a traditional performing arts group. With performances at 3:30 on both Saturday and Sunday, the story about the fictional Arirang Village delighted kids aged seven and up.

There was also a program of twelve experience programs named Madangs, offering arts and crafts, quizzes, food tastings, folk games, and a singing contest.

Arirang festival was preceded by the cultural program "Let's Meet Arirang" held in Jeongseon County in Gangwon-do (Gangwon Province), offering a chance to experience Arirang culture alongside North Korean defectors living in South Korea.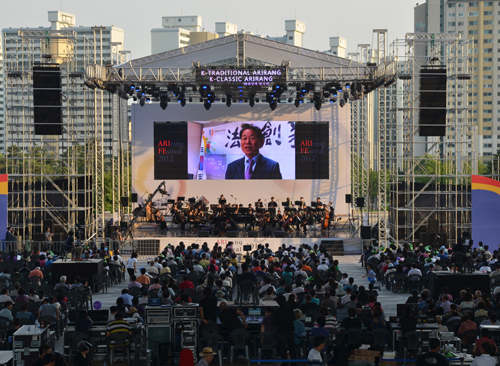 Turnout for the Sunday concert was high despite the hot weather.

"Arirang has always been with the Korean people throughout their moments of happiness and sorrow," says Director Kwon. "This Korean folk song not only reflects various feelings in our daily lives but it also expresses the time we live in. It is the living history of Korea and an intimate friend of the Korean people."

"Arirang is now shared and enjoyed by many people around the world, as it embodies universal values while maintaining local characteristics," says Minister Choe.

Earlier this month, the Arirang Arariyo Festival was held in the Suwon World Cup Stadium. Organized by the Gyeonggi Arts Center and the Gyeonggi Provincial Government, it gathered 4,000 performers to present a dozen different variations of Arirang.

Before that, the National Folk Museum held a special exhibit dedicated to Arirang from April 4 to May 21, showcasing the impact of Arirang on popular culture and consumer items.

UNESCO will announce whether Arirang will be added to the Representative List of the Intangible Cultural Heritage of Humanity in November of this year.

By Jon Dunbar
Korea.net Editor
Featured Topics
http://www.korea.net/NewsFocus/Culture/view?articleId=100861
URL Copy
Department Global Communication and Contents Division , Contact Us