London embraces Korean wave
Jun 26, 2012
Marking the 30-day countdown to the London Olympics 2012, supporters of Korea gathered on June 26 to take part in an outdoor campaign to publicize "All Eyes on Korea," the 100-day Korean culture summer festival.
Nearly 50 British-national "Korea supporters" marched underground in downtown London, making stopovers at Waterloo and Oxford Circus tube stations. The ardent volunteers then flocked to Southbank Centre -- the largest single-run arts center in the world where most of the festival events take place -- and Trafalgar Square, home to the Korean Cultural Centre in the UK. Posters emblazoned with the colorful "K" juxtaposed symmetrically were prominently featured on screens at 30 London tube stations the same day, reaching a large population of over 3 million daily commuters.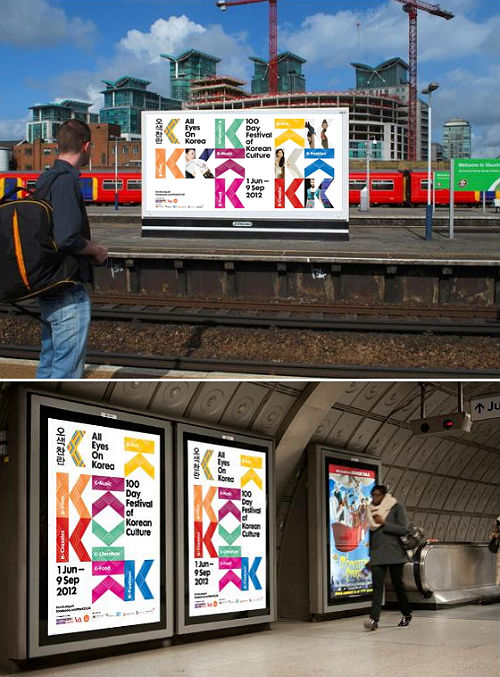 "We are trying to make people associate Korea and Korean culture when they hear the letter 'K,'" says Jeon Hye-jung, Project Director of the Korean Cultural Centre UK (KCCUK), who planned the festival. With this in mind, the poster was designed to remind people of Korea with each K representing the different genres of cultural content presented at the festival from K-Music and K-Film to K-Classics, K-Arts, K-literature, K-Fashion, and K-Food.
As the festival sheds light on both the traditional and modern sides of Korean culture, it also incorporates elements of the practice of "dancheong," Korea's colorful decorative patterns painted on architectural forms such as wooden buildings, executed in a delicate manner. Moreover, the use of the traditional five-colored scheme, dubbed obangsaek, which can be found in every facet of Korean culture from art and Hanbok to food, also connotes a connection with the Olympic emblem, composed of five intertwined rings.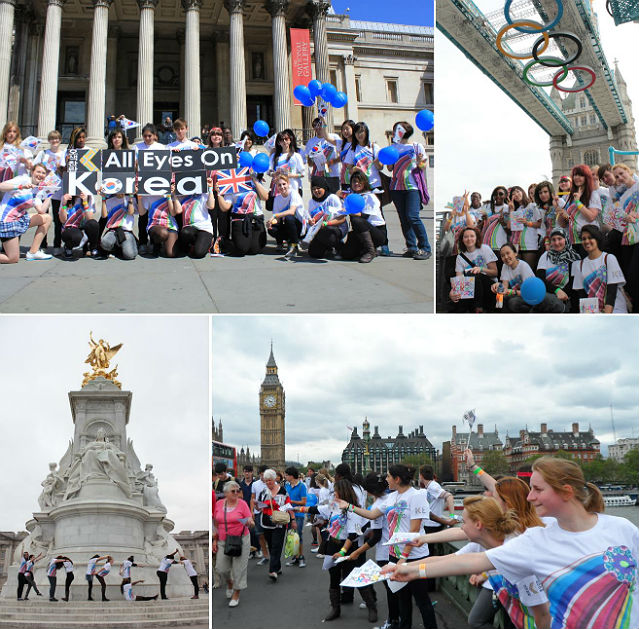 The participants, wearing colorful patterned dancheong T-shirts designed by Lie Sang Bong, staged a promotional event for the festival around city, communicating with audiences at London's iconic Big Ben and Golden Jubilee Bridge, which connects Southbank Centre and the KCCUK. The supporters handed out custom-made bracelets in obangsaek colors, arousing the interest of Londoners and travelers alike and inviting them to discover diverse aspects of Korean culture and traditions.
The KCCUK's Summer Festival has received attention from both the British and Korean press, featuring an extensive series on Korea's cultural and creative programs at multiple venues across the capital's iconic artistic sites, such as the Southbank Centre among others.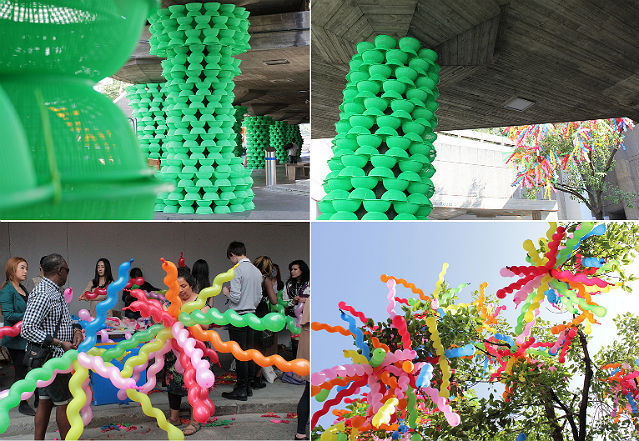 Korean artist Choi Jeong-hwa's outdoor installations were unveiled on June 1 as the first series of the months-long event garnered positive response from both audiences and local media. Maev Kennedy from the
Guardian
took note of the spectacular transformation, saying that Choi had wrapped hundreds of bright green plastic colanders around the grey columns, instantly transforming them into exotic plants.
Korean contemporary art seems to be enjoying ever-growing enthusiasm from UK audiences. Art aficionados and professionals flocked to a lecture by Korean artist Lee Bul on June 15 given as part of the Southbank Centre's Wide Open School -- an experiment in learning devised and delivered by over 80 artists. Another acclaimed Korean artist, Haegue Yang who is currently staging a project at Documenta Kassel, is also hosting a day-long knitting and origami workshop on July 7, as part of the relay of classes led by world-renowned artists. From July 6 to September, a solo exhibition by Kim Beom called "The School of Inversion" will be open at the Hayward Gallery Project Space.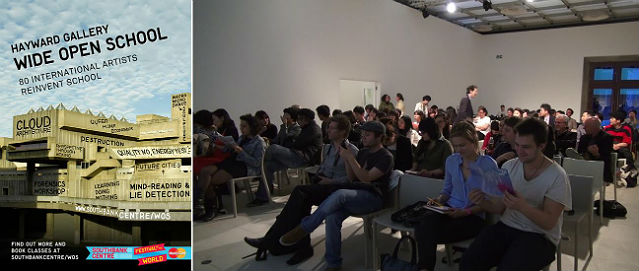 For those interested in the traditional sides of Korean culture, the KCCUK offers an unconventional exhibition showcasing nearly 50 traditional funeral biers along with wooden figures. "Korean Funerary Figures: Companions for the Journey to the Other World" takes place from July 11 to September 8 at the KCCUK.
In close partnership with the Southbank Centre, the summer-long festival will also showcase a number of traditional Korean music performances from July 23 to 31. On July 31, Korea's foremost classical artists take the stage at the Royal Festival Hall for the one-night-only performance "Shining K-Classics." Joining the Philharmonia Orchestra will be Avery Fisher Prize-winning violinist Sarah Chang and soprano Sumi Jo, dubbed the Queen of the Night. A concert not to miss if you are keen to appreciate the "divine voice" of the opera diva and the tremendously gifted violinist.
A Gala Reception titled "Korean Shining Bright" will bring the latest collections by Lie Sang Bong to a special runway at the Victoria and Albert Museum on July 30. The dancheong-inspired motifs, colorful prints, and intricate construction designs will appear on the catwalk. The fashion show is expected to mesmerize some 300 invitees in a fully dimensional and textural experience, with a vibrant mix of original works created upon a modern and creative reinterpretation of Korean cultural heritage.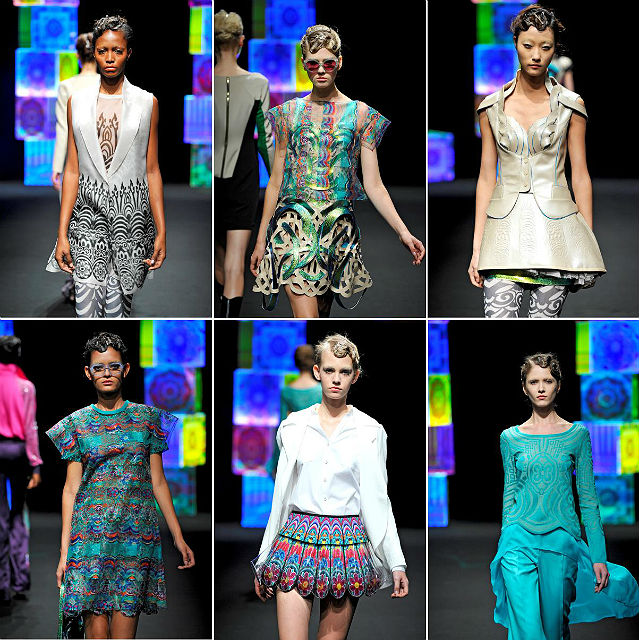 As for the K-Film series, the upcoming special screening of
Battlefield Heroes
slated for June 28 at Apollo Cinema Piccadilly will be followed by a Q&A session with Director Lee Joon-ik. This free-of-charge event will be on a first-come, first-served basis. In August, a remake of
Crossroads of Youth
(1934, Director Anh Jong-hwa) -- Korea's oldest surviving black-and-white silent movie -- comes to London and will be screened accompanied by a narrator and live orchestra.
The festival wraps up its 100-day journey on September 9, with the two-day highlight of a full program of events for families as part of the 2012 Mayor's Thames Festival at Tate Modern. Held in conjunction with the closing of the Paralympic Games, the two intensive days of outdoor festivities will be embellished with a wide variety of Korean culinary delights and a selection of Korean arts and crafts along the riverbank.
All Eyes on Korea invites you to discover some of the best of what Korean culture has to offer at venues across the capital from June 1 to September 9. As part of the celebrations, the KCCUK also presents a series of seven "Global Korea" lectures with a focus on the genres represented in All Eyes on Korea. Ralph Rugoff, director of the Hayward Gallery, and Keith Howard, professor of Music at the University of London, among other experts on Korean culture are set to stand at the podium throughout the summer.
For more information and online booking, visit the official website of Korean Cultural Centre UK at:
www.kccuk.org.uk
or
www.facebook.com/theKCCUK
.
By Hwang Dana
Korea.net Staff Writer
Department Global Communication and Contents Division, Contact Us