Hanji metamorphoses lure New Yorkers
Jul 11, 2012
Recently, the metropolitan area of New York has been turned into the venue for a special multi-exposition dedicated to promoting
Hanji
, a traditional Korean mulberry paper, and its transformative manifestation of creativity.
2012 Hanji Project New York
was held from June 28 to July 5 at multiple venues across the city -- from
Rogue Space
, a high-line loft in the artsy Chelsea neighborhood to the halls of the
Permanent Mission of the Republic of Korea to the UN
and
Korean American Association of Greater New York
.
If previous Hanji-themed events featured the traditional sides of Hanji used in a wide range of applications, the festival in New York explored a unique blend of traditional Korean aesthetics with modern styles, coveted by artists, calligraphers, fashion designers, and craftsmen alike.
Under the slogan "Hanji Metamorphoses," the project shed light on the new frontiers of the refined paper throughout its journey. It marked the first show in New York by the
Hanji Development Institute
, which had previously showcased the traditional mulberry paper to European and Japanese audiences.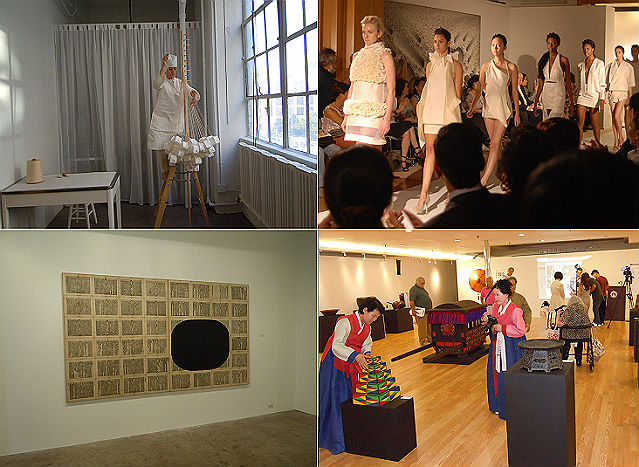 Over 80 designers and artists participated in the multi-faceted New York event, bringing the essence of Hanji art ranging from a traditional craft show to a contemporary art exhibition inspired by the traditional paper.
The highlight of the eight-day run was a fashion show held on July 2 on the special runways at the Permanent Mission of the Republic of Korea to the UN, presenting an awe-inspiring collection using Hanji as the basis for wearable modern garments. Spectators extolled the witty reinterpretations of the beloved mulberry paper.
On June 30, a series of Hanji seminars and workshops were also available for general audiences. Professor Kim Yangjin and Hanji master Jang Eung-yul each made a presentation, introducing the natural and ecologically friendly material that is allegedly known as the longest-lasting "breathing" paper. Guggenheim Grant Fellow photographer Peter Bogardus and painter Pat Lipsky also took part in the panel that day, enriching the discussion with non-Korean perspectives on Hanji.

2012 Hanji Project New York was organized under the artistic direction of the independent curator Kim Yu-yeon. The weeklong event was made possible with the support of the Ministry of Culture, Sports and Tourism with additional support from the
Korean Cultural Service New York
, the Consulate General of the Republic of Korea in New York, the Permanent Mission of the Republic of Korea to the UN, the Korean American Association of Greater New York, the
Rubin Museum of Art
, and AMOREPACIFIC US, Inc. For more information, please visit the
official website
.
By Hwang Dana
Korea.net Staff Writer
Featured Topics
http://www.korea.net/NewsFocus/Culture/view?articleId=101178
URL Copy
Department Global Communication and Contents Division, Contact Us