2012 Expo Yeosu, The World in One Place
Jul 19, 2012
The world is in one place!
Sixty-six participants attended the Cultural Parnership Initiative (CPI) at
Expo 2012 Yeosu Korea
, hosted by the
Ministry of Culture, Sports and Tourism
and organized by the
Korea Culture and Tourism Institute
(KCTI).
The participants toured some of the most popular pavilions such as the
Aquarium
,
Theme Pavilion
, International Pavilions, and Industry Pavilions, stating that it feels like a "small world."

Patricia Maria Santiago, a branch manager of ICOMOS Philippines who participated in the CPI, first became interested in the Yeosu Expo through online media, before she was selected for the initiative. "I was pleased to visit Korea and I was excited to hear that I was going to tour around the Yeosu Expo," she said. "Korea provided a venue which offers an opportunity to learn about each nation's treasures and cultural inheritances, both directly and indirectly."
She praised the International Pavilions for being well organized, depicting the characteristics of each country with high-quality and detailed presentations.

"I was able to experience foreign cultures that I was not aware of before," shared Shadia Mahmoud of Egypt. "Many people associate Egypt with the Pyramids and the Sphinx but there are many other diverse cultural artifacts. Likewise, I think the Yeosu Expo is providing a window on many different sides of Korean culture."
Violette Nys from Belgium -- where international travel is relatively easy and residents have easy access to diverse cultures -- was surprised how much there was to learn about many other cultures at the Yeosu Expo. "The Yeosu Expo helps us to see many different cultures in one place and it is a place where the world is coming together," she commented.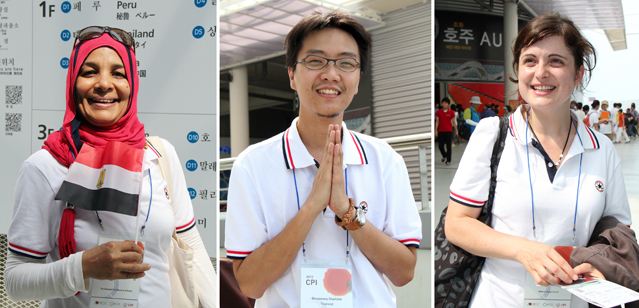 Bhusawang Chartichai from the Ministry of Culture in Thailand said, "The Expo raised awareness of the deteriorating marine environment, destruction of the marine ecosystem, and rising sea levels along with the cultural experiences." He wished to revisit the Aquarium and the Theme Pavilion at Yeosu Expo with his family in the near future.
The participants expressed that they feel like "traveling around the world with the Expo passport" and they were impressed that eight different international organizations and 96 countries came together under the theme of "The Living Ocean and Coast."
Expo 2012 Yeosu Korea, where people can learn about the importance of the oceanic environment and the international community, is open until August 12, 2012.
Written By Han Jeon
Translated by Eun Jung Kim
Featured Topics
http://www.korea.net/NewsFocus/Culture/view?articleId=101373
URL Copy
Department Global Communication and Contents Division, Contact Us