Hanji, living paper that breathes
Jul 31, 2012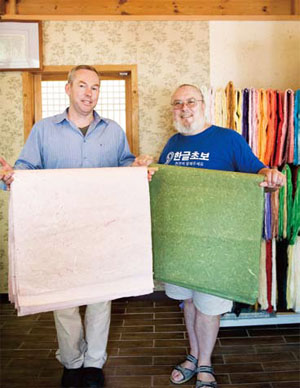 "Hanji is excellent as photographic paper!" exclaims Peter Bogardus. "The surface is very smooth, it comes in great colors, and on top of that, it's extremely durable."
Bogardus printed African landscapes in black and white on ten roughly hand-torn sheets of Hanji and found that the images seemed fragile but very intense. He explains that the viewer becomes overtaken by feelings of intimacy specifically because the paper is permeable to both light and air.
Bogardus, a photographer and print artist who lives in New York, is one of the 2012 Fellows of the John Simon
Guggenheim Memorial Foundation
. He made heavy use of Washi, which is a type of traditional Japanese paper, until he encountered Hanji last May thanks to Kim Yuyeon, an independent curator who was arranging the 2012 Hanji Project New York,
Hanji Metamorphosis
. He especially loves the basic white tone that Hanji assumes when it is dried under the sun.
"Hanji resembles the light of the sun," says Bogardus. "I haven't seen a kind of paper that transmits light so wonderfully."
The
2012 Hanji Project New York
was held at multiple venues in and around the Chelsea neighborhood of New York from June 28 to July 5 this year. The festival, which was sponsored by the
Ministry of Culture, Sports and Tourism
of the Republic of Korea, included exhibitions, a seminar and workshop, and a fashion show in order to show that Hanji is more than just paper. Works from Korea, China, Italy, Nigeria, Iran, and the United States (including Peter Bogardus') were displayed, and all of them demonstrated the charm and versatility of Hanji.
Enduring as long as history
When the Mugujeonggwang Daedaranigyeong (lit. Great Dharani Sutra of Immaculate and Pure Light) was discovered in 1966 in the
sar ira
reliquaries in the Seokgatap Pagoda of
Bulguksa Temple
(constructed in 528) in Gyeongju, Korea, scholars around the world were astonished since it was believed to have been published in 704 CE. In other words, this new find predated the Hyakumanto Darani (lit. One Million Pagodas and Dharani Prayers), which was then the world's oldest known woodblock print, by at least 20 years.
Considering the type of printing and paper that was used, there is no doubt that the Mugujeonggwang Daedaranigyeong was printed in Korea.
The Mugujeonggwang Daedaranigyeong not only attests to the advanced printing technology of the
Unified Silla Kingdom
(677 - 935), but also testifies to the superb properties of Hanji. When the Mugujeonggwang Daedaranigyeong was exposed to the sun for the first time after remaining hidden in the
sar ira
casket for more than 1,200 years, it was found to be perfectly intact: it was not affected by moths or anything else, showing that Korean paper-making was even more advanced than in Japan and China, both of which also boast wonderful ancient paper-making technology.
Scientific testing finds that Hanji made by traditional methods of using the bark of a mulberry tree (also known as a dak tree) grown in Korea has better tearing strength, tensile strength, heat insulation, sound insulation, water absorption, and air permeability than Washi (traditional Japanese paper) and Xuanzhi (traditional Chinese paper) as well as typical Western paper. Hanji is also found to have better properties in terms of the directions of the fibers and the spread of ink.
Making paper breathe
The truest and best Hanji is of course made from the dak tree. This Hanji is more commonly called dak paper, and is also known as "baekji." The syllable "baek" means "one hundred" and refers to the numerous steps and hard work involved in making Hanji cutting deeply rooted dak trees, steaming the wood and then peeling it, beating it, drying it, and so on. People started to say that the completion of a sheet of Hanji required 99 touches by the maker and one final touch by its user.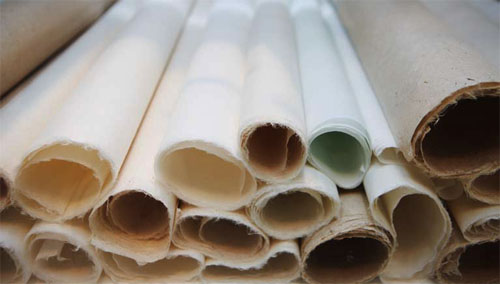 To make high-quality Hanji, you need fiber-rich dak wood, clean water, and a few other materials. A one-yearold dak tree is rich in lignin, which prevents fibers from hardening and discoloring. On average, dak fibers are three times longer than those of pulp acquired from coniferous trees. The lye added when boiling dak is acquired by burning rice, bean, or buckwheat straw and gently extracts the dak fibers. The result of this step is a fiber porridge called dakjuk, which is mixed with clean water and a glue named dakpul to acquire a glutinous mixture called ttakmul (meaning "glutinous water"). Dakpul is made from the aibika plant (Abelmoschus manihot) and prevents the fibers from tangling and neutralizes their alkalinity.
One of the key steps that gives Hanji such excellent properties is called oebal tteugi (or heullim tteugi). Ttakmul is poured onto a screen, which is fixed with a string. The liquid is then forced through the screen by special hand movements. Japanese Washi and Chinese Xuanzhi are made by a ssangbal tteugi (or gadwo tteugi) technique, whereby the periphery of the screen is raised to hold the fiber mixture until all the liquid passes through the screen leaving only the fiber behind without involving the hard-to-master oebal tteugi hand movements.
The two techniques have their pros and cons. The oebal tteugi technique is more difficult to master and is less productive than the ssangbal tteugi technique. The former makes the fibers cross at right angles, giving the paper a very high tear strength and other superb properties discussed earlier, while the latter renders a more even surface.
The 99th touch in the Hanji-making process is beating the paper with tools called dadeumi or didilbanga . Dochim is the step that makes the paper smoother, denser, and tougher. Dochim is unique to Korean paper-making and is still used today to make the paper that covers ondol floors.
NATURAL, MULTIPURPOSE PAPER
Hanji is made with natural materials including fibers extracted from dak trees, and still retains the natural texture of the fibers. The best Hanji used to be made in the cold of winter. Cold, clean water acquired from nature in winter adds to the tension of the fibers, suppresses the proliferation of microorganisms including bacteria, and helps the dakpul glue that makes the paper smoother and shinier.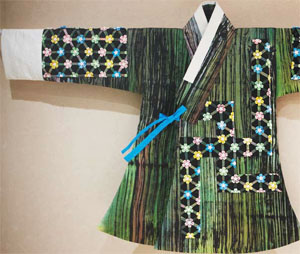 Hanji has long been an integral part of Koreans' lives. Hanji lasts a very long time. Since it lets light and wind easily pass through and helps control humidity, it has traditionally been used as changhoji (a paper that is used instead of glass to make traditional Korean doors and windows). When the weather is humid, changhoji absorbs moisture, and when the weather becomes dry, the paper releases the captured moisture. Hence Hanji is popularly known as "living paper" or "breathing paper."
With soft but tough Hanji, you can create a variety of artistic effects by creasing, twisting, tearing, and weaving pieces together. It was long used to make such things as bridal crowns, sewing boxes, bowls, clothing, lanterns, jars, and wedding gift boxes.
HANJI VENTURES OUT INTO THE WORLD
In the late Joseon Dynasty, traditional Korean papermaking started to wane as Japanese Washi, Chinese Xuanzhi, and Western paper were imported in bulk. Hanji barely survived as jangpanji (floor paper), byeokji (wallpaper), and changhoji. In modern times, Westernstyle paper mills have proliferated, pushing Hanji further and further out of the market. In the 1970s, there were still at least 100 Hanji workshops throughout the nation, but by the 1990s, the onslaught of cheap Chinese rice paper had almost caused Hanji's extinction. It seemed to be a fatal blow to Hanji since a report lamented that there were only 26 Hanji workshops remaining nationwide.
Thankfully, Hanji is coming back to life. It is again penetrating deeper into the lives of Koreans, not only as paper but also as a raw material for wallpaper, lanterns, furniture, bed covers, and cosmetics, to name a few. Hanji is now even making its way around the world. This past January 20, the
Korean Craft and Design Foundation
(KCDF) opened a Korean booth in the
Nord Villepinte Exhibition Center
in Paris, where the
2012 Maison & Objet Show
was taking place. The booth quickly became crowded.
On display were everyday items made of Hanji: sneakers, lighting, wrappers, wallpaper, pencils, pencil cases, bags, and multipurpose baskets.
"All these were shown to break the preconception that Hanji is only for traditional Korean books, doors, and windows," says Ryu Yeong-mi at the KCDF, who planned the Korean booth.
Of greatest interest to visitors were the gray sneakers. European visitors and buyers were intrigued by their simple but elegant designs and ecofriendliness. The sneakers, made by a design team called "los," are very light and boast excellent breathability. The fabric was made of Hanji and cotton yarn at a ratio of 2:8. Thus, these sneakers have all the benefits of Hanji and are duly reinforced.
Designer Lee Jin-yeong used Hanji to develop silhouette lighting for mothers who have to breastfeed their babies at night. The uneven texture of the Hanji light cover reveals the fibers and creates an effect with the light that must have been very interesting to Europeans. Swedes and other Scandinavians, who have a reputation for being sensitive and discriminating when selecting light fixtures, showed the greatest interest of all.
UNLIMITED POSSIBILITIES
Hanji audio speakers, Hanji garments, Hanji grills—Hanji is boundlessly transformable. It now has even greater tear strength and water resistance to perform more diverse functions. One of the eco-friendly and practical purposes Hanji can serve as a nonpaper material is as a fabric for making apparel. Hanji garments, socks, ties, and scarves have all been developed, and surprisingly, they are all washable. Recent years have seen Hanji fashion shows that dazzle audiences at home and abroad.
Hanji fabrics are not made 100 percent of Hanji. Instead, Hanji yarn is blended together with other fibers such as cotton and silk. You may worry that Hanji fabrics are not washable and tear easily, but on the contrary, they're more durable and retain form better than other fabrics. They also suppress the proliferation of harmful bacteria and fungi and thereby prevent bad odors from perspiration. Among other properties, Hanji fabrics are extremely light, about half the weight of cotton fabric. Last but not least, they are also biodegradable. In short, Hanji fabrics are light, beneficial to the body, and friendly to the environment.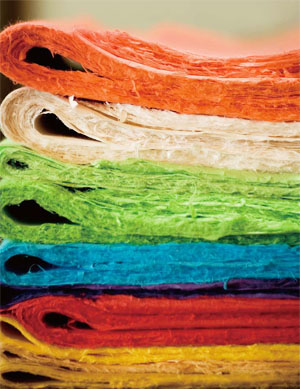 One of the innovative uses of Hanji is the Hanji speaker. Hanji is positively charged and then connected to an electrode. As the two opposing electrical forces pull and push the Hanji diaphragm, the sound goes up and down and gets stronger and weaker. Hanji is capable of delivering the most subtle trembles, so the sound is deeper and clearer than that of a standard speaker. Because of their excellent sound quality, the prices of Hanji speakers range from KRW 7 million (approx. USD 6,400) to KRW 30 million (approx. USD 27,300).
A Korea-US project is underway to use Hanji for robots and protective equipment for spacecraft, funded by NASA. The electronic characteristics unique to Hanji and its superb conservative properties make Hanji excellent shielding against solar flares and other radiation. It can potentially be used to make space probes since it is much cheaper and lighter than the usual astronomically expensive materials normally used.
Motorcycle helmets can also be made with Hanji. If plastics for agricultural purposes are replaced with biodegradable Hanji alternatives, we can better protect nature. Semiconductors, automobile airbags, and other automotive materials made of Hanji will soon debut as well.
Hanji is expanding its uses as a paper, too. Specially treated Hanji is being introduced for one purpose after another. One example is lacquered Hanji and Hanji for personal printers. Hanji is typically fluffy and allows ink to spread well, which makes it unsuitable for printers and copiers, but Hanji laminated with a certain natural substance enables excellent print quality and is already on the market for those who love the natural texture of Hanji.
TRANSLUCENT HANJI
On a moonlit night, a changhoji-covered door became a screen which let the lamplight out and the moonlight in. A lady would spin a spinning wheel before the lamp. Aware that her husband might walk into the alley and stop to watch her, she would correct her posture again and again. Sometimes, it was she who spotted him first, for if she lowered the brightness of the lamp, she would be able to see the silhouette of her husband walking into the yard in the moonlight. Like this, the changhoji door served as a screen and was a shadow theater that projected each other's hearts through imagination.
This is the definition of the beauty of Hanji presented in Scooping Up the Moonlight by director Im Kwon-taek, a movie about Hanji. Hanji's subtlety screens and reveals what is on the other side as warm light spreads through its milky texture. Its delicate, fragile appearance with its unmatched durability seems to reveal the identity of Koreans well, who are gentle but strongly persevering.
*Article from
Korea Magazine
Featured Topics
http://www.korea.net/NewsFocus/Culture/view?articleId=101553
URL Copy
Department Global Communication and Contents Division, Contact Us