2012 Asia Song Festival commemorates Expo 2012 Yeosu Korea
Aug 03, 2012
Asia's best pop music festival, the Asia Song Festival, is on its ninth year and will be held at the Expo Pop Festival stage on August 4.
The most popular 14 artists from six countries and other parts of the world will participate in this event. From Korea, Kim Hyun-joong, MBLAQ, Tiger JK & tYoonmirae, Sistar, TEENTOP, ZE:A, Ailee, and B1A4 will participate, and from Japan, Aqua Timez who has many fans in Korea after releasing the OST of Kokusen 3 (Rainbow) will participate. The rising star of China, Wei Chen, and Fann Wong of Singapore, who appeared in
Shanghai Nights
with Jackie Chan, will participate. Candy Mafia of Thailand, who is familiar to Koreans because of their appearance in Star King will also participate. Lin Yoga Lin of Taiwan became the top star of the Great China Region after winning the Rookie of the Year in 2008 in Asian Song Festival. He will join again to make a great performance once again in this year's Asian Song Festival.
In addition, Brave Guys, who are well known as comedians and singers, are expected to participate as special guests.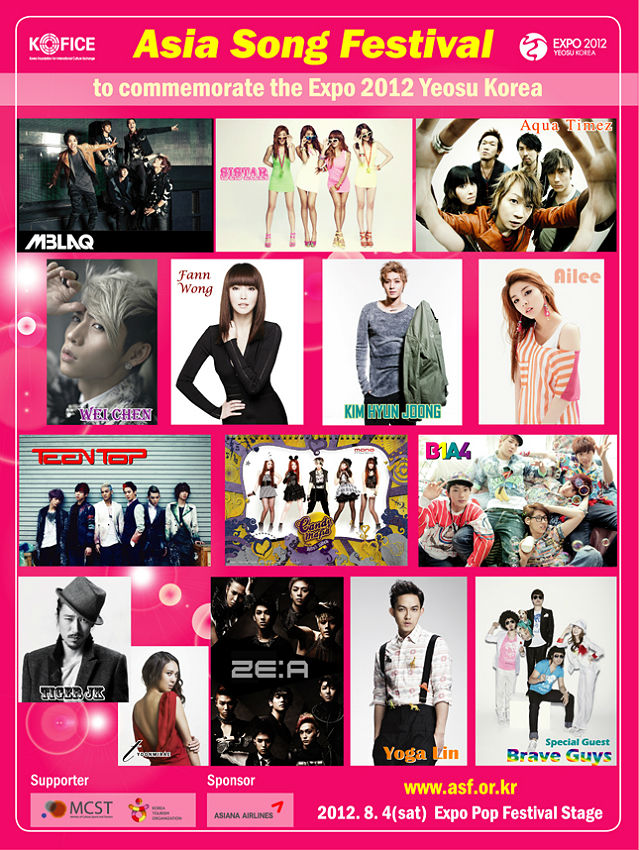 This event is co-hosted by
Korea Foundation for International Culture Exchange
and
Yeosu Expo Organizing Committee
and is sponsored by
Ministry of Culture, Sports and Tourism
,
Korea Tourism Organization
, and Asiana Airlines. The Korea Foundation for International Culture Exchange reported that the Asian Song Festival is the largest cultural festival in Asia where the world unites through music. Especially, this year's festival is meaningful because it is hosted together with Expo 2012 Yeosu.
In addition, inquiries regarding visiting Korea are flooding in since the top stars of Asia are gathering in one place. Korean Tourism Organization announced that they are "meticulously planning in order to present the best show to the fans around the world" and the inquiries from overseas will be registered to the relevant overseas' branch offices.
If you have purchased an entrance ticket for the Expo, admission to the show is free. Tickets could be purchased through the official Expo website (
www.expo2012.kr
) or Interpark (
www.interpark.com
).
This festival, which is held on a midsummer's night in Yeosu, will present unforgettable memories to people visiting Expo 2012 Yeosu. Details related to the Asia Song Festival can be found at
www.asf.or.kr
.
* Press release from 2012 Asia Song Festival (
www.asf.or.kr
)
Featured Topics
http://www.korea.net/NewsFocus/Culture/view?articleId=101698
URL Copy
Department Global Communication and Contents Division, Contact Us