Maya 2012 comes to National Museum of Korea
Sep 13, 2012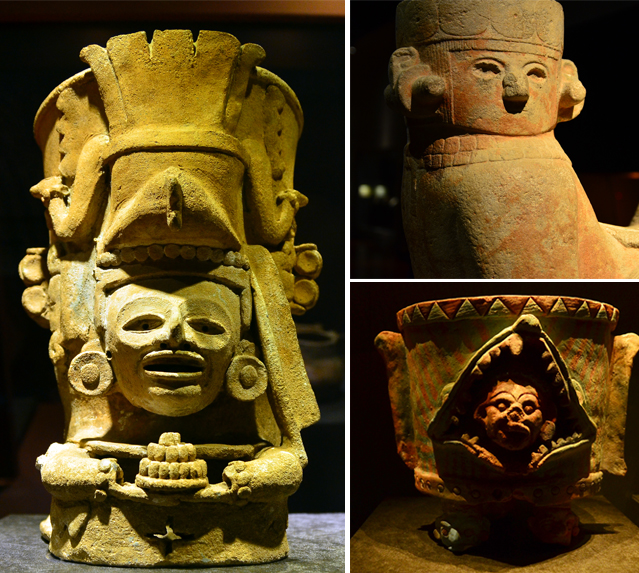 2012 is the perfect year for a Mayan exhibit in the National Museum of Korea. Not only is this the 50th year of Korea's diplomatic ties with both Guatemala and Mexico, but more sensationally it's the final year of the Mayan calendar, which many have predicted means the world will come to an end in 2012.

Although it's unlikely the Mayans predicted the end of civilization centuries in advance, the date December 21, 2012 is significant in the Mayan calendar, as it is the end of the 13th baktun, a Mayan unit of time equaling 144,000 days. The Mayans were fascinated with the passage of time and used their astronomical observations to build complex and precise calendars. December 21, rather than the end of times, should be seen as the dawning of a new era as the 14th baktun starts.

The Maya exhibit at the National Museum of Korea contains artifacts of the Maya calendar, as well as tools, everyday items, and religious artifacts depicting the hierarchy of gods, people, and animals in Mayan civilization. Artwork on display reflects the lifestyles of the Mayans, as well as mythology about creation, the cosmos, and the afterlife. The exhibition boasts about 200 pieces from Mexico and Guatemala, which museum officials say is rare to see all in one event.

Maya was a Mesoamerican civilization that reigned in present-day southern Mexico and Guatemala, as well as Belize, northern El Salvador, and western Honduras. Mayan civilization appeared around 2,000 BCE, reaching a Classic period from 250 to 900 CE, and continuing until the arrival of the Spanish in the 16th century.

The region inhabited by the Mayans represents a diverse terrain, including tropical forests, fertile valleys, lakes, and coasts, which had a profound impact on Mayan world views.

The Mayans established a sophisticated civilization with its own written language and calendar, which had a solid basis in the Mayans' advanced understanding of mathematics and understanding. The exhibit, held in the Special Exhibition Gallery in the Permanent Exhibition Hall, features several pieces of pottery, as the Mayans were advanced in masonry, but conspicuously lacking in other technologies including metal tools, the wheel, and pulleys.




Mayan civilization was led by monarchs who wielded absolute power and stood in for the gods and goddesses. The Mayan deities themselves were not considered all-powerful, and the boundary between deities and humans was fluid and traversed frequently. The Mayans especially worshipped gods related to agriculture and fertility.

One display also explains the Mayan ballgame, a spiritual ritual that had been performed since the early days of the Mayan civilization. The losing team was ritually beheaded as a sacrifice to the Mayan gods.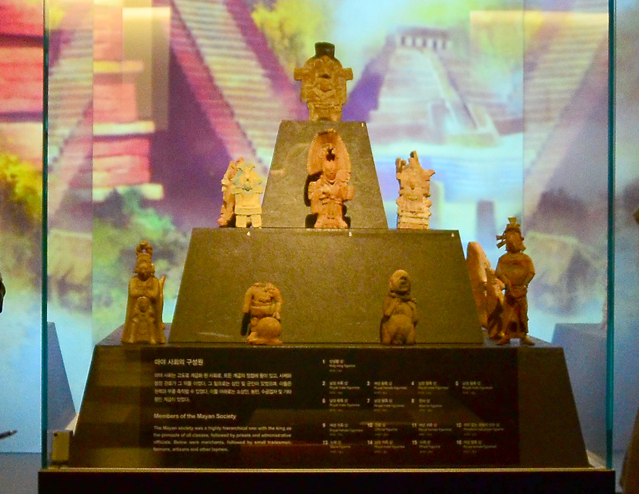 In the Post-Classic period, when the Maya civilization was being pulled apart by war, the role of the kings became less divine as governance moved toward a collective rule model. An emphasis was put on pragmatism and practicality, which can be seen on many of the younger artifacts on display.

Running until October 28, Maya 2012 is the seventh in the National Museum of Korea's series of exhibitions on world civilizations. Started in 2008, the museum has featured exhibits on Persia, ancient Egypt, and most recently Turkey earlier this year. Entrance to the Maya exhibit is free.

The National Museum of Korea is located at Ichon Station on Seoul Metro Line 4. It is closed on Mondays. For more information, please visit the official website (English, Korean, Japanese, Chinese, Russian, French, German, Vietnamese, Spanish, Thai).

By Jon Dunbar
Korea.net Editor
Featured Topics
http://www.korea.net/NewsFocus/Culture/view?articleId=102514
URL Copy
Department Global Communication and Contents Division, Contact Us