Kim Ki-duk's Pieta takes top honor in Venice
Sep 17, 2012
"The moment the Golden Lion winner was announced, the first person that came to my mind was my 15-year-old self, hauling a heavy box around
Cheonggyecheon
."
Director Kim Ki-duk, whose latest film
Pieta
made
Korean film
history after receiving the Golden Lion award for best film at this year's Venice Film Festival, recalled his initial reaction to the win at a press conference held in Seoul on September 11.
"The day before the awards ceremony, I had felt quite burdened," said the 52-year-old director, who was joined at the press conference by his lead actors Cho Min-soo and Lee Jeong-jin. "The film had received such a positive reception in Venice, with reports in the local press about the eruptions of applause from the audience, but it didn't really sink in at the time. I was worried about the reaction of the Korean press."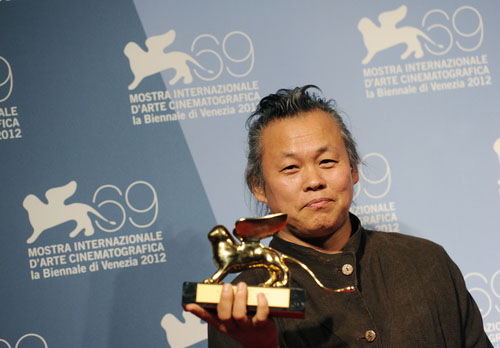 Indeed,
Pieta
was the talk of Venice in the days leading up to the prize announcements, featuring prominently in several major Italian newspapers under headlines that paid tribute to the film's no-holds-barred artistry.
"Pain, horror, and violence. Even so, director Kim Ki-duk enchants," read the subheading of one review, entitled "Senza pietà" (without pity), that appeared in the Italian daily
La Republica
on September 5.
"To many, a masterpiece, and to others, an obscenity,
Pieta
, which will leave the average filmgoer with their hair standing on end, is a top contender to receive the Golden Lion," began writer Natalia Aspesi. Quoting an interview with Kim, the article delved into some of the stories behind the film's creation, including Kim's own early years spent doing manual labor in the cramped alleyways and industrial workshops of Cheonggyecheon, where
Pieta
is set.
"It's where refugees arrived after
the [Korean] war
in search of better fortune, where Korea's first mobile phone was birthed in a ramshackle workshop made of iron and cardboard and plastic, as the beginning of what is today one of the world's
top information industries
," explained Kim in the interview. "I wanted to preserve the memories and images of this neighborhood."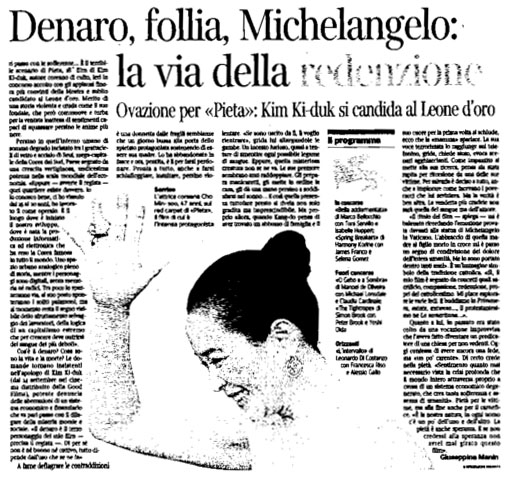 As to the presentation of this and other imagery, the reviewer concluded, "Although the film's psychological violence leaves a strong impression on viewers, the scenes in
Pieta
are also deeply poetic."
A review in
Corriere della Serra
entitled "Money, madness, and Michelangelo: the road to redemption" touched on similar themes, beginning with a description of the gruesome scene that opens
Pieta
's first act.
"The plot is one of shocking violence and cruelty, as per Kim's usual style, but it is also extremely moving," wrote the reviewer, "enough to leave even the most inexorable and unfeeling of souls shaken." The article went on to quote Kim's assertion that in his film, "money is a main character," assuming a role of equal importance to that of the central mother-and-son pair.
"Money itself is neither bad, nor good," Kim had said in his interview. "For money, as with everything else, what matters is how you use it." And yet, suggested the reviewer, deeply critical commentary on the effects of a world that runs on and for money seem to ground Kim's tale, which portrays its central characters as "digital" beings with neither roots nor memories, who contrast sharply against the historically rich "analog" setting of the urban spaces they inhabit.
"The film is very much about money, as well as life and death," continued the article. "It lays a strong charge against economic and financial systems that beget social and moral misery." The writer went on to highlight the film's focus on a common humanity, quoting Kim's remark that "all of us [people] at our core are not too different from one another; perhaps this is the essence of human nature." Kim added that, whatever else
Pieta
represents, it is also about hope.
"If I didn't believe in hope, I wouldn't have been able to make this movie."
Pieta
also received praise in influential dailies such as
La Stampa
("Kim Ki-duk's Pieta: salvation from capitalism"),
Il Tempo
("Darkness must be present for light to make sense, and the brutality of this film was necessary for a thorough understanding of its purity"), and
Il Messaggero
("scenes as symbolic as they are deftly paced").
AFP (Agence France-Presse), calling Kim a "soulful director with a message," highlighted his "unusual career that began with no film training" and took note of
Pieta
's significance as the director's self-admitted "incarnation in film of his youthful ambition to be a preacher."
The 18th in Kim's long list of films as equally celebrated as they are controversial,
Pieta
was made in less than three weeks with a budget of less than KRW 150 million, or about USD 140,000. At the press conference in Seoul, Kim said that he will continue to self-fund his movies out of pocket or with profits from other movies.
With regards to his delivering an unembellished rendition of Korean folk song
Arirang
in lieu of a typical acceptance speech, he explained that the Golden Lion was a "coup not just for [him] but for the entire film industry," so much so that he had even considered singing the national anthem.
By Kwon Jungyun
Korea.net Staff Writer
Featured Topics
http://www.korea.net/NewsFocus/Culture/view?articleId=102535
URL Copy
Department Global Communication and Contents Division, Contact Us