Kimchi finds fans in Washington
Sep 18, 2012
Korea's iconic staple food
kimchi
drew crowds near America's capital city last weekend.
The overseas events for the
19th Gwangju World Kimchi Culture Festival
took place from September 13 to 16 in conjunction with the tenth annual Korean-U.S. Festival in Centreville, Virginia, just 32 kilometers west of Washington, D.C.
The three-day festival, held in advance of the official Gwangju World Kimchi Culture Festival which will open in
Gwangju
, Korea from October 13 to 17, began with an international kimchi conference that gathered experts from the public and private sectors to discuss issues such as the scientific functionality of fermented foods and health benefits of kimchi.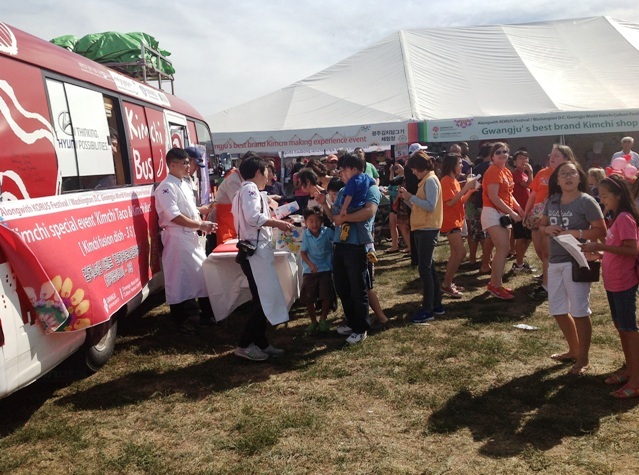 Organized by the
World Institute of Kimchi (WiKim)
in partnership with Gwangju Metropolitan City and the Gwangju World Kimchi Culture Festival Committee, the international kimchi conference featured special guests such as Virginia Congressman Frank Wolf, Korea's Consul General Yoon Soon-gu, and Dr. Karen Hulebak, former chair of the
Codex Alimentarius Commission
for the establishment of international standards for food production and safety.
Other welcomed participants at this year's Kimchi Culture Festival included members of the
Kimchi Bus
team, which has traveled around the world for over a year introducing kimchi to new audiences. Chef Phillip Lee, owner of the
Kimchi Taco Food Truck
in New York City, joined together with the Kimchi Bus to develop a fusion-style kimchi dish, proceeds from which were donated to the Korean-American Association of the Washington Metropolitan Area. Marja Vongerichten, host of the PBS show
The Kimchi Chronicles
, also took part in the festival, during which she and Lee, together with the Kimchi Bus team, were designated as official ambassadors of kimchi.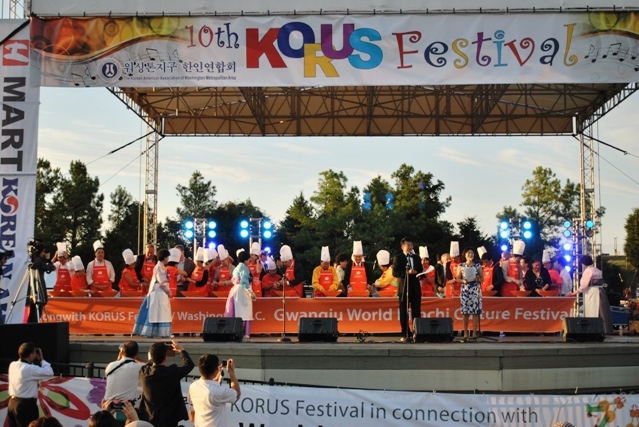 Meanwhile, at the equally popular kimchi-tasting and sales booths, for which a one-ton shipment of kimchi had been delivered from Gwangju, the long lines of locals scooped up all the wares by the second day of the festival.
Notably, one Gwangju kimchi company signed an MOU with local American company Five Day's Market to arrange for over 50 tons (or approximately USD 530,000) of kimchi-related exports.
Gwangju kimchi has long been renowned for its high quality and distinctive taste, attributed to the over-three-year fermentation process and special ingredients such as sun-dried salt and cabbage grown in the loess soils of
Jeolla-do
(Jeolla Province).
More information on kimchi and the Gwangju World Kimchi Culture Festival can be found at the
website
of the Gwangju World Kimchi Culture Festival Committee.
By Kwon Jungyun
Korea.net Staff Writer
Department Global Communication and Contents Division, Contact Us