Paju, Korea's quiet village for book lovers
Sep 19, 2012
There is an interesting little town in Wales, United Kingdom. The exclusive feature of the little town with a population of 1,500 people is that the village has plenty of secondhand book shops and galleries and holds an annual festival of literature. This is a story of the world's first book town;
Hay-on-Wye
, which became a motif for other similar villages later on.
Hay-on-Wye dates back to the 1960s when a young boy named Richard Booth who had a passion for written books began gathering rare and antique books from old places such as old castles, theaters, and buildings no longer in use. The love and passion for books that met with the hidden talents of one man have resulted in the world's first and the largest book town which has been recognized as a must-visit destination in England for tourists.

Drawing inspiration from the UK's book town, a number of nations including Belgium, the Netherlands, and France started to build similar towns modeled after the success of Hay-On-Wye. Also in Korea in 1998, a group of artists began the construction of a book-themed village in Paju.
Paju Book City
in Gyeonggi Province is where more than 250 publishing-related corporations are clustered, making it possible to produce books, from scheduling to printing and distribution, all in one place. The simplified process resulted in reducing expenses and time.
Paju Book City is a welcome escape from any other bustling and crowded Korean cities like
Seoul
. The serene book town rather provides a space for people who need the time for relaxation and contemplation on their own.

However until September 23, this quiet book village will be welcoming a constant flow of visitors to the Paju Book Sori 2012. The book-focused festival, with the participation of the publishing-related corporations of the book town and a wide collection of publishing, education, and cultural organizations, will hold a variety of programs and cultural offerings such as symposiums and lectures attended by world-renowned figures, cultural performances, poetry recitals, and workshops.
One of the highlighted events that has already ended is World Booktown Symposium held on September 16. The symposium, which invited international participants from Hay-On-Wye, Belgium, Switzerland, Australia, Sweden, Croatia, and Malaysia, was organized for the purpose of discussing the
book town movement
, focusing on its significance and history and also introducing to Korea a sustainable reading trend model to help in further development of the city.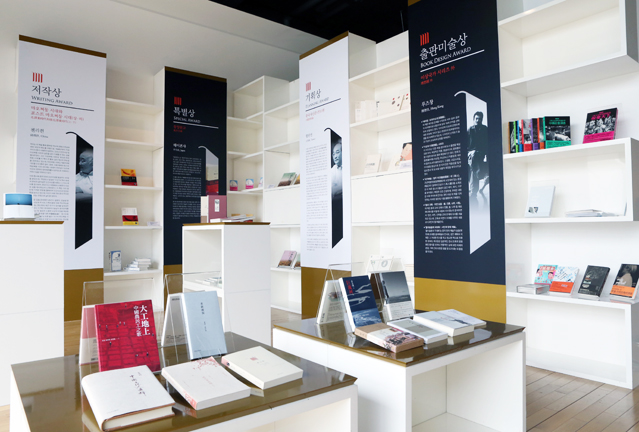 "I was very impressed by the idea that the city was built by writers and publishers who had a strong belief in written books," said Jan Kløvstad, president of Bokbyen, a book town in Norway, when asked about the growth potential of the Korean book city. "I have been looking forward to a chance to travel around here for a long time. I think we will see much more international participation in the region within a few years' time."
An abundant variety of lectures by domestic and overseas intellectuals from the history, publishing, and culture fields were offered too. The lineup included French economist and philosopher
Guy Sorman
and Nobel laureate
Jean-Marie Gustave Le Clézio
, who is familiar to Korean readers through his renowned book
Le Procès-Verbal
. The lectures provide a glimpse into the perspectives of global figures on literature.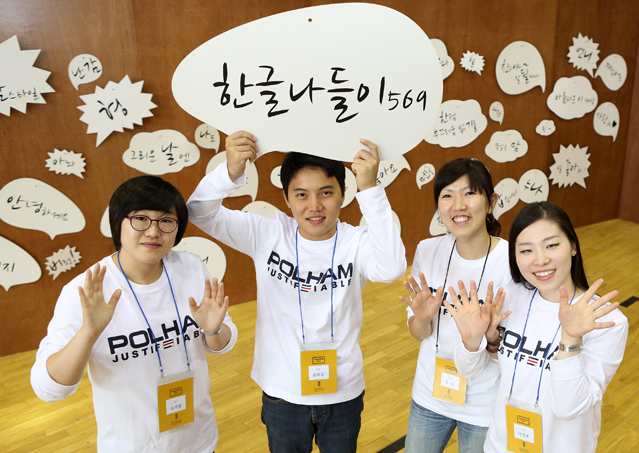 One of the prominent exhibitions was Hangeul Nadri 569, held to commemorate the 569th anniversary of the Korean written language. The displays of Korean characters are shown in daily wares such as Beoseon (Korean-style socks), adoption documents, dowry lists for Korean marriages, and a Korean board game for visitors to explore the past 500 years of the daily lives of pre-modern Korean commoners. The exhibition continues until October 9,
Hangeul
Proclamation Day.
A variety of cultural offerings are found in numerous venues. In addition to an exhibition of Australian children's book illustrations and the exhibition "The Memorable Magazine" which presents rare Korean items, experimental programs are planned. The Traditional Hanji Museum, Printing Museum, and printing workshops can be found around the event venue. The Paju Book Sori Festival continues until September 23. More information is available at the official website of
Book Sori 2012
.
By Lee Seung-ah
Korea.net Staff Writer
Featured Topics
http://www.korea.net/NewsFocus/Culture/view?articleId=102623
URL Copy
Department Global Communication and Contents Division, Contact Us