Psy's popularity gives a boost to Korean language
Sep 27, 2012
When Korean rapper Psy appeared on the NBC Today Show on September 14, he spoke in Korean during an interview with the show host. He later said he was overwhelmed with emotion due to the fact that he was speaking in Korean on a live American television show. Psy's phenomenal success in the last few weeks has not only helped him to achieve international stardom but also given a boost to the proliferation of the Korean language within its pop culture.
During the interview, Psy shouted "Daehanminguk Manse" meaning "Long live Korea," before he took to the stage and showed off his famous horse-riding dance to the song "Gangnam Style." Fans attending the outdoor live taping of the Today Show, one of the most popular morning shows in the United States, erupted with cheers.
Psy also spoke Korean during the 2012 MTV Video Music Awards on September 6. He appeared with American actor Kevin Hart before they started doing the horse-riding dance together.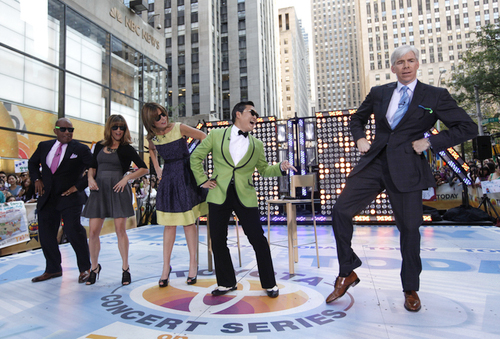 When Hart asked how he felt about the number of hits for the music video surpassing 100 million on YouTube, Psy said, "Most of all, it is really great and I am very happy. I have always wanted to speak Korean on this stage. Juk-i-gi ('It is really awesome' in Korean)."
Psy held a press conference on September 25 to mark his return following a three-week tour of the United States. Hundreds of reporters including NBC and reporters from France and Singapore showed up.
Psy explained what happened. "Before the Today Show, I asked if I could speak in Korean and they gladly said it was okay," he said during the press conference. "I was overwhelmed with emotion when I spoke Korean on the American shows. Speaking Korean twice is in a way a small move but it was a big dream of a Korean singer like me."
The "Gangnam Style" music video has gone viral worldwide since being uploaded to YouTube. Now the song is ranked first on the iTunes chart in more than 30 countries. The number of hits for his music video surpassed 341.9 million on YouTube as of October 2, and it rose to second on the Billboard Top 100 music chart on September 26.
During the press conference, he said there were two most frequent questions asked of him: what is Gangnam and how to do the horse-riding dance. Gangnam is an affluent district located in southern Seoul and the word has become one of the most popular words in show business.
American magazine Time reported on September 13 in its Internet edition that "Gangnam Style" has been selected as the NewsFeed's "weekly highlight of our vocabulary." It also introduced its meaning as "a manner associated with lavish lifestyles in Seoul's Gangnam district."
"This definition is adapted from an Urban Dictionary entry -- an increasingly popular entry since South Korean rapper PSY released a cheeky music video celebrating 'Gangnam style'," the magazine said.
Psy hinted that there would be more Korean vocabulary words to be aired in the U.S. media in the near future. He said in the press conference that he intends to release a single in the United States by the end of November.
"I am considering releasing songs that were already published in Korea," he said. "Universal Music (which will distribute Psy's U.S. albums) asked that I sing some portions of the songs in Korean. They said rapping in Korean is more adhesive." Psy said American producers recommended the song "Champion" most.
It is actually an irony that the song became so popular despite not being translated to English, since most of the foreign fans do not understand its lyrics. "Lyrics are not translated," he said during the press conference. "We don't actually communicate with the lyrics. We are communicating with the song and dance moves..
"On the Today Show, they repeated 'Sanai' and they are trying to listen and pronounce it," he continued. "Americans are trying to learn Korean. This makes me proud." The word Sanai, which is mentioned in the song's lyrics, means man of men in Korean.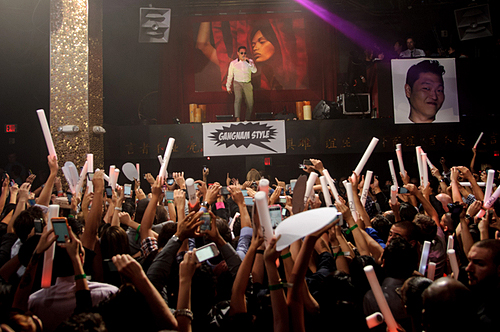 Psy himself studied in the United States for four years. He can communicate in English without much trouble although he is not as fluent as a native speaker would be. This is also an irony since many young Korean singers who have been training in English for years since they were young have not made it to the U.S. or globally.
"My English is improving," he said. "I spoke English when I was studying in the U.S. but I spoke English less than I do now." When asked about the language barrier, he said, "It was difficult because I had to quickly comprehend English and answer back. I watched American films over and over and tried to learn English expressions."
Psy has said himself from the beginning that he is a B-list celebrity. "I am not sure how I became popular in the U.S. because I am B-rated but what is certain is that American fans like it when I am going all out rather than being modest."
There was a long debate in Korea about whether Korea's cultural content need to be based on universal themes rather than focused on authentic Korean culture in order to go global.
"Many experts have warned of a sudden decline of the Korean wave, or hallyu," the
Korea Culture and Information Service
said in a column. "Even if it is not sung in foreign languages ... and modified to fit foreign tastes, our culture, which we have made and protected, is gaining mutual recognition and spreading around the world."
Speaking of Psy's music video, Hugh H. W. Kang, an honorary professor of the University of Hawaii, said in an interview that "If universal values can be found in any culture, it can go global."
Kang recently came to Korea to attend the World Congress of Korean Studies conference in Seongnam, Gyeonggi-do (Gyeonggi Province).
By Limb Jae-un
Korea.net Staff Writer
Department Global Communication and Contents Division, Contact Us