PSY catches the eye of Swiss media
Oct 04, 2012
If there is a prize to win for 'bewitching' the world, Korea will likely be a frontrunner for 2012.
It is because of a 35-year-old chubby Korean man, whose song overturned stereotypes and skyrocketed to fame in the global music industry. That is the story of
PSY's "Gangnam Style,"
with its music video continuing to break world records by being clicked more than 300 million times on YouTube and reaching the top of the
UK singles chart
. In addition, PSY's music video has inspired parodies by all walks of life.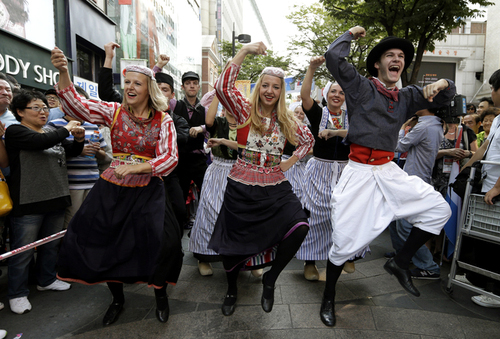 Recently, the top ten
parodies of "Gangnam Style"
were selected and posted by Billboard, including the perfect choreography of Little Pony, fun dances by lifeguards at a pool, and an eclectic collaboration of energy and wit by members from the U.S. Naval Academy.
Media outlets have offered a broad analysis of secrets to PSY's success in the global music market. They mentioned a few elements, including infectious rhythms, the catchy and peppy horse-riding dance, comedy, and the quality music video, coupled with support from a competent management agency and PSY's open-minded attitude for parodies and copyright issues.
The foreign media recently brought a spotlight to PSY's "Gangnam Style," publishing articles and airing programs focused on the song in series. The popularity of PSY was covered by renowned U.S. and European channels and also from lesser known regions such as Las Palmas.
In addition, PSY is also getting known in the conservative culture of Switzerland and continunes to broaden his fanbase, beyond Korean residents to the general population. Influential Swiss daily newspaper
NZZ
(Neue Zuercher Zeitung) pinned down the factors behind PSY's global fame in their September 21 edition in the culture column.
The Korean-Swiss columnist Hoo Nam Seelmann suggested that unlike other K-pop stars, who seemed to have undergone the same formulaic procedure, PSY showed off his distinct individuality and took advantage of the Internet. Compared to
K-pop
idol singers who have a fine-tuned and luxurious image built through rigorous training for singing, dancing, and foreign language skills as well as stage presence, PSY's ordinary looks and natural language skills rather appealed to the public and attributed to gain far-flung fame, analysts comment.
PSY, who narrowly gave the top place away in the Billboard singles chart to
Maroon 5
this week, will give a free concert tonight at City Hall Plaza in return for the lasting support of his fans.
By Lee Seung-ah
Korea.net Staff Writer
Featured Topics
http://www.korea.net/NewsFocus/Culture/view?articleId=102877
URL Copy
Department Global Communication and Contents Division, Contact Us