PSY, the man behind the name
Oct 10, 2012
"With people of all ages singing aloud day and night, the music continues without end."
Third-century Chinese historian Chen Shou wrote this account of the Korean people in his seminal text
Records of the Three Kingdoms
. Chen also recorded that men and women alike gathered together to sing and dance, jumping in place and moving their hands and feet in rhythm.
"All of you who know how to have a good time are this country's true champions!
Everyone's party
No in or out, no taking sides, that's how we'll play
Just scream aloud or you'll be 'it,' today's 'sullae'
Together, round and round,
Ganggangsuwollae
! "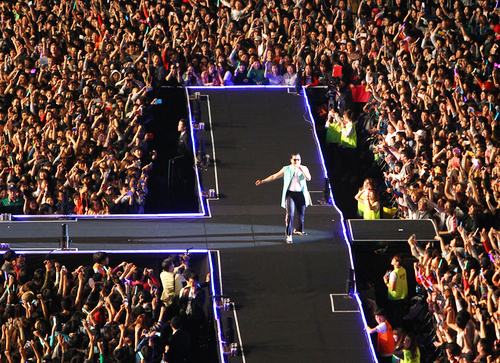 So goes the beginning of the song "
Champion
," written and performed ten years ago by PSY, the Korean pop singer whose latest hit "Gangnam Style" has taken the world by storm. The "Ganggangsuwollae" that appears in the lyrics to "Champion" is the name of a traditional Korean folk dance, also known as "
Ganggangsullae
," that brings people together in a large circle to dance and play. True to the earlier message of "Champion" -- that the true champions are the ones who know how to have fun -- PSY's "Gangnam Style" is continuing to delight fans across the world.
On October 4, at 10 p.m. local time, PSY took the stage at Seoul Plaza in front of
City Hall
. Hours earlier, crowds of fans had begun taking their places around the stage to await his arrival. The no less than 100,000 people that eventually flocked to the plaza were invited by PSY to join him in showing the world that Koreans know how to have a good time. And what a time they had, as evidenced by video footage of the concert and the amazed reactions of the people worldwide who watched it on YouTube.
PSY, whose real name is Park Jae-sang, was born in Seoul on the last day of 1977. Coming from a well-to-do family, Park grew up in Gangnam, spending all of his school years in the affluent neighborhood in the mold of the typical "Gangnam kid." In high school, he enjoyed being in the limelight as the leader for all kinds of activities, including emceeing his school's annual festival and cheerleading. The sight of the huge crowds that would gather at baseball stadiums or at rallies brought him to life, he once shared. Outings to the local nightclub were a daily ritual for the young Park. Introduced to artists like rapper MC Hammer and Queen lead vocalist Freddie Mercury, the future star began to gain a deeper appreciation of music as something "rather grand."
In preparation for learning the family business from his father, an entrepreneur in Korea's semiconductor industry, PSY enrolled in the undergraduate business administration and management program at Boston University. As soon as he arrived in the U.S., however, he dropped out of school, spending his tuition money on musical instruments and using any remaining money on entertainment. Following a year of preparation, he applied and was accepted to Berklee College of Music, but he soon dropped out to pursue his career as a singer.
Park debuted in January 2001 with the album
PSY... from the Psycho World
. With a stage name like PSY, short for psycho, and a main track entitled "
Bird
" that featured a provocative chorus, Park became a hot issue from his very arrival onto the music scene. At the time, the Internet was fast becoming a major vehicle for the discovery and spread of new trends. These increases in online connectivity, together with a growing taste in Korean pop culture for all things bizarre, helped give PSY enough exposure and appeal to endear him to the Korean public. His outspoken and uninhibited lyrics took sharp, witty jabs at the seeming incongruity between appearances and reality in Korean society while also lampooning the exaggerated solemnity of authoritarian-leaning cultural norms.
Armed with a pronounced belly and pudgy arms more befitting a man nearing middle age than a glamorous celebrity, PSY wore the persona of offbeat, eccentric entertainer with an easy flair. The outlandish and glittering outfits that looked like they could have been borrowed from the dressing room of a toupéed suburban nightclub singer, the over-snug chain necklaces, the wild and frenzied yet somehow still rhythmic dancing and shaking and jumping – no detail was not noteworthy.
More than his zany image, though, what won PSY's fans over time and time again were his live performances. He seemed to live for the stage, leaping into the packed crowds, belting out every song with abandon, and enlivening his already elated fans with an energy that appeared to know no end. "A satisfying live performance is more important than any fine-tuned video," he asserted.
The massive popularity of "Champion," released on his third album, cemented his place in the Korean music world.
"During the World Cup, I saw Korean people really loosen up to just have fun," PSY explained. "[Through 'Champion,'] I wanted to encourage that same carefree enjoyment, even without the soccer."
Although PSY's popularity seemed set to continue full speed ahead, the rising star came up against more than a few setbacks. Criticism of his controversial music videos continued, and a charge of having failed to sufficiently fulfill his duties during his compulsory military service landed him a second two-year stint. After almost five years in uniform, he returned to civilian life and the stage in 2010.
PSY's fifth album didn't fail to deliver for his expectant fans. The first song off of the album, "Right Now," gave PSY the chance to showcase his trademark high-energy dance moves with a fake six-pack affixed to his stocky torso.
Some attribute PSY's unprecedented success to exceptional luck. To such commentary PSY has responded that his true luck is the opportunity to see years of hard work bear fruit come his way. His story is undoubtedly a first for the Korean music industry as well as K-pop in particular -- no real knocking on any doors, no concerted execution of a strategy to appeal to international markets, only a single YouTube video. Yet over 400 million views later, PSY is a genuine sensation. And whatever else is true, we don't see sensations like these every day.
By Wi Tack-Whan, contributor
Translated by Kwon Jung-yun & Lee Seung-ah
Korea.net Staff Writer
Featured Topics
http://www.korea.net/NewsFocus/Culture/view?articleId=102999
URL Copy
Department Global Communication and Contents Division, Contact Us