K-MOVIE: The World's Spotlight on Korean Film
Oct 16, 2012
K-MOVIE: The World's Spotlight on Korean Film has been published in an English edition for international readers. This book is a project of
Korean Culture and Information Service
(KOCIS) of
the Ministry of Culture, Sports and Tourism
which supports the promotion of Korean culture and strengthens communication via culture. It is highly readable with lots of vivid photographs.
Its prologue says that Hollywood films may dominate the world's box offices today, but in Korea it's the homegrown product that has been capturing the public's attention. At the end of the prologue, it states this book aims to share a cultural experience with the rest of the world through looking at the dynamic past and present of Korean film.
This book is composed of four chapters.
"A Look Inside Korean Cinema," chapter one, conveys the characteristics of the Korean film industry today focusing on the Korean-style blockbuster and the so-called "well-made" film. Also it introduces institutions which foster new talent in Korea.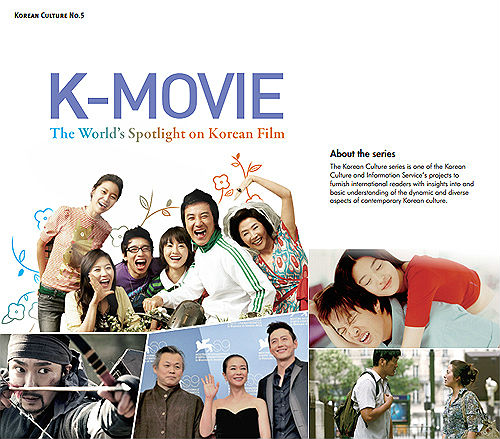 "Going global," chapter two, highlights the relationship between Hallyu and Korean film which has been welcomed prior to the boom of K-pop and K-dramas and the co-productions in the field of filmmaking. In addition, it introduces acclaimed directors including
Kim Ki-duk
and K-movie stars such as Song Kang-ho, Lee Byung-hun, and Jun Ji-hyun so that it vivifies the strong positioning of Korean film in the world.
"How Korean film got here," chapter three, studies the history of Korean film from the 1920s to today. There are four periods: the early years (1920-1939), the golden age (the 1960s and the "Literary Film"), out of the quicksand (1970-1989), and renaissance ('Planned Movies' and government support, 1990 to today).
Lastly, "Film Festivals," chapter four, covers film festivals such as Busan International Film Festival, Jeonju International Film Festival, and Puchon International Fantastic Film Festival.
The Korean Culture series is one of KOCIS's projects to furnish international readers with insights into and basic understanding of the dynamic and diverse aspects of contemporary Korean culture. The next volumes in the Korean Culture series published by KOCIS will include K-Sports, K-Fashion, and K-Literature so that the beauty of Korea intertwined with traditional and modern culture can be shown to the world.
By An Myungok
Korea.net Staff Writer
Featured Topics
http://www.korea.net/NewsFocus/Culture/view?articleId=103103
URL Copy
Department Global Communication and Contents Division, Contact Us