Foreign young talents flock to K-pop auditions
Oct 22, 2012
In global auditions in Canada and the United States last summer, Korean talent scouts were awed by the number of non-Korean participants. They expected ethnic Koreans but there were many different ethnic groups and races including Caucasians, African-Americans, Hispanics, and Southeast Asians.
"Non-Koreans made up 60 percent of the participants," Yang Min-suk, CEO of
YG Entertainment
, was quoted as saying by Chosun Ilbo. "We intended to select a range of new talents with an open mind but it was a surprise that so many foreigners showed up. They participated in auditions after taking into account the possibility that they could become international stars through Korean management companies."
According to YG Entertainment, over half of the participants who entered auditions in Seattle, London, Berlin, and New York in the summer were non-Koreans.
The phenomenon is attributed to a surge in the number of young foreigners who wish to become trainees with major Korean management companies like
SM
, YG, and
JYP
amid growing interest in K-pop stars such as Psy, Big Bang, and Girls' Generation.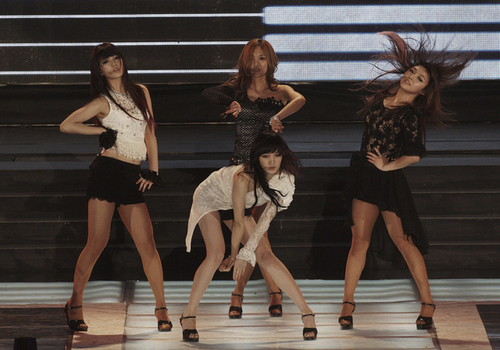 Local management companies are also considering creating multiracial boy or girl bands and pursuing related projects. SM Entertainment, a leading management company, has been regularly holding auditions outside Korea especially in the United States and Japan.
"The number of foreign participants in auditions continued to start rising two years ago," Kim Eun-ah, a spokeswoman at SM, told Chosun Ilbo in an interview. "Not only non-Korean Asians but also white, black, and Hispanics sometimes account for nearly 70 percent of all participants in auditions."
SM started global auditions in 2006. Over 30,000 took part in the auditions between January and March. A talent search manager at JYP Entertainment said until five years ago, Koreans or ethnic Koreans made up all participants in auditions but their percentage declined to 60 percent this year.
Foreign talents who passed such auditions and became trainees account for 20 percent of all trainees at SM, 40 percent at JYP, and 10 percent at YG. Their nationalities are diverse, from China, Japan, and Thailand to the U.S., Canada, and Australia.

Talent agencies already are creating boy or girl bands aimed at the global market. There is a boy band created to specifically target ethnic Chinese fans in Asia: EXO-M created by SM.
EXO, a boy band with twelve members, consists of EXO-K and EXO-M. Kris, Luhan, Tao, and Lay of EXO-M are all Chinese. EXO-K (K means Korean) is based in Korea while EXO-M (M means Mandarin) is in China. The two groups in EXO wear the same outfits, dance the same moves, and sing the same songs but in their respective languages.
"Recently, China's entertainment market has developed more and there is a growing preference for those from their own country and it is not as easy as before for us to export successful singers in Korea to China," a SM official said in an interview. "EXO-M is part of our new strategy."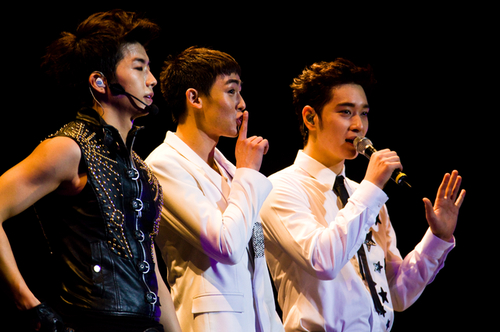 Victoria of f(x) and Fei and Jia of Miss A are Chinese while Nickhun of JYP is Thai. They are already famous and have become international K-Pop stars. Victoria and Kris joined SM through its global auditions in recent years. "Most of the trainees are Asian but their ethnicity will become more diverse," a talent agency official said. "If there are talented applicants, we are going to train them no matter if they are white or black," Jeong Wook, CEO of JYP, was quoted as saying by Chosun Ilbo. "White or black applicants often lack understanding of K-pop compared to Asians but there will be strong applicants in the near future."
Experts say that amid the K-pop sensation around the world, there is a growing interest in Korea's star management system and there would be more foreigners knocking on the doors of Korean management companies.
"Scooter Braun, an American talent manager, recruited Justin Bieber and Carly Rae Jepsen from Canada and Psy from Korea and has had a huge success," Yang said. "We are going to produce new stars by signing up talents regardless of their nationality or ethnicity."
By Limb Jae-un
Korea.net Staff Writer
Featured Topics
http://www.korea.net/NewsFocus/Culture/view?articleId=103123
URL Copy
Department Global Communication and Contents Division, Contact Us