Anti-hero becomes a legend: Psy
Oct 19, 2012
Korean rapper Psy enthralled Australia with his unique charm that most people would have overlooked if it were not for "Gangnam Style."
Psy flew to Australia on October 15 for a promotional tour and instantly caused a sensation. He appeared on "X Factor," a popular star search program in Australia, where he and judge and former Spice Girl Melanie Brown, AKA Mel B, performed the signature horse-riding dance. Mel B was chosen in a poll of viewers to dance to "Gangnam Style."
"My daughter will kill me if I don't do this," she said, as she came on stage, explaining that her daughter is a Psy fan.
She danced to the song while wearing a yellow miniskirt and high heels and called Psy "a legend." Psy has not always been a legend but was rather closer to an anti-hero.
After releasing his "Gangnam Style" music video on YouTube in July, Psy rose to international stardom and set new records around the world. Now the number of YouTube views for the video tallies 479 million to date.
As an Australian media outlet
The Telegraph
headline reads, "Psy has his own attraction," he is not someone that can be considered conventionally good-looking. "He may not carry the sex appeal of One Direction or Justin Bieber but South Korean pop sensation Psy looks set to draw a bigger crowd," it reported. "The man who defied music executives and refused plastic surgery will perform his hit single 'Gangnam Style' on Sunrise tomorrow morning."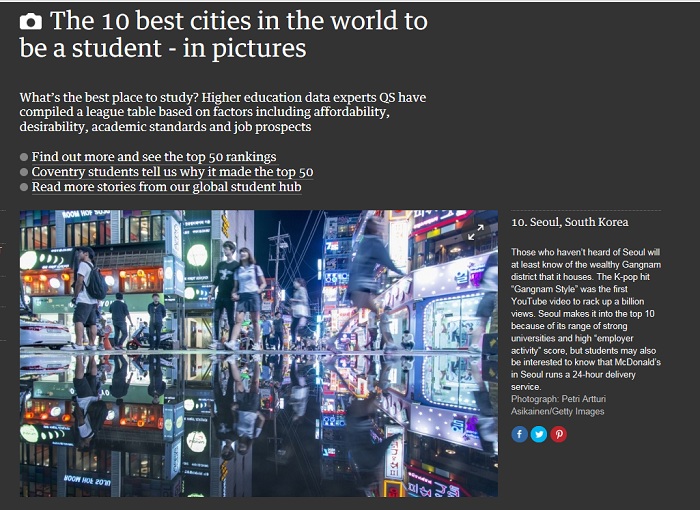 Somewhat similar to what the Korean media have reported in recent months, many foreign media outlets said that Psy was someone unlikely to achieve what other Korean singers have tried for a long time to accomplish. To everyone's surprise, Psy did it easily.
Unlike many young Korean pop singers who are sexy, tall, and handsome with long legs, Psy is just the opposite. The 34-year-old father of twin daughters has a pronounced belly, round face, narrow eyes, and pudgy arms. Psy's outfit and quirky dance do not make him any more attractive. The usual glittering decorations on his attire make him look even cheesy.
The Guardian
, a British newspaper, called Psy an "antihero" in an Internet article titled, "K-pop stars: the lowdown on South Korean pop."
The newspaper said Korea's boy and girl bands who have trained for many years to gain stardom may be wondering what is behind the huge success, which also perplexed the Korean public for the same reason. "Other South Korean artists may have mixed feelings about the astounding success of Gangnam Style. Riding the crest of the 'Hallyu' wave that has already swept across much of east Asia, the highly stylized, impeccably sculptured boy and girl bands made the leap to the US and Europe the hard way," the newspaper reported.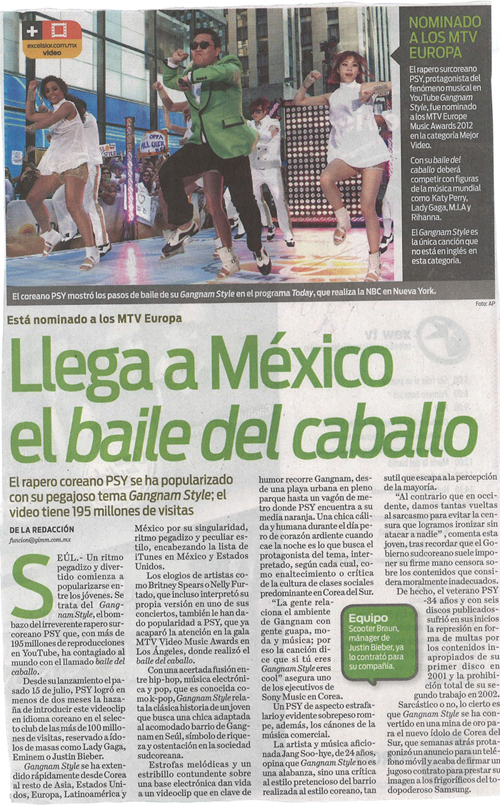 The newspaper said, however, that K-pop artists should be thankful to Psy because he has opened the door for other Korean pop artists and introduced a handful of K-pop artists to the world including 2NE1, Big Bang, and Girls' Generation.
As
The Guardian
pointed out, Psy's success has raised awareness of K-pop. Psy, "Gangnam Style," and flash mobs have been reported in countries and regions that K-pop once found it hard to reach such as Guatemala and Greece. The "Gangnam Style" music video on YouTube has been viewed in 221 countries or regions including remote or secluded places like Cuba, Tonga, St. Helena Island, Samoa, Benin and Palau.
According to the Korean Embassy in Greece, "Gangnam Style" has been aired by different radio stations in the Mediterranean country. It is the first time that K-pop has been aired on radio and none -- other than "Gangnam Style" -- have been reported by so many Internet media outlets in Greece. The embassy said it has contributed to raising awareness on K-pop.
By Limb Jae-un
Korea.net Staff Writer
Featured Topics
http://www.korea.net/NewsFocus/Culture/view?articleId=103188
URL Copy
Department Global Communication and Contents Division, Contact Us