Gangnam plans new Hallyu Star Street
Nov 14, 2012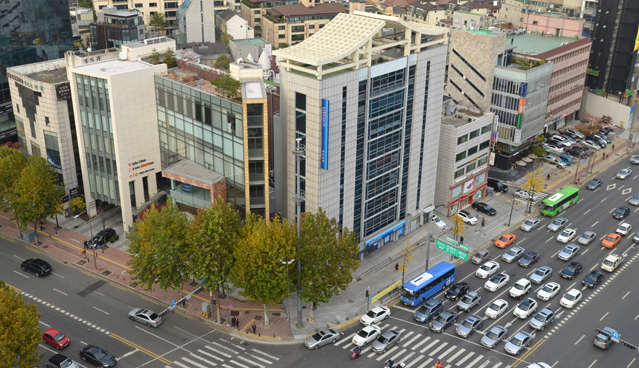 Gangnam has long been ground zero for Korean pop culture, with its luxury boutique shops, entertainment companies, and plastic surgery clinics. But ever since "Gangnam Style" by Korean rapper Psy took the world by surprise, the affluent Seoul district has gained international fame. Now, the local government is hoping to cement Gangnam's reputation by creating the Hallyu (Korean Wave) Star Street in the neighborhood.

Earlier this month, the Gangnam District Office announced its plan to transform a 1.08-kilometer-long section of the district into the pop-culture destination, which will feature various facilities, from interactive displays to statues and other monuments. The designated area curves through Gangnam neighborhoods Apgujeong and Cheongdam, stretching between the headquarters of three of Korea's top entertainment industries: SM Entertainment at the western end to JYP Entertainment and Cube Entertainment at the eastern end.

Especially since Psy's single went viral, the area has been getting more popular with both domestic and international tourists hoping to get a glimpse of their favorite Hallyu stars, and the establishment of this street is intended to enrich their experience.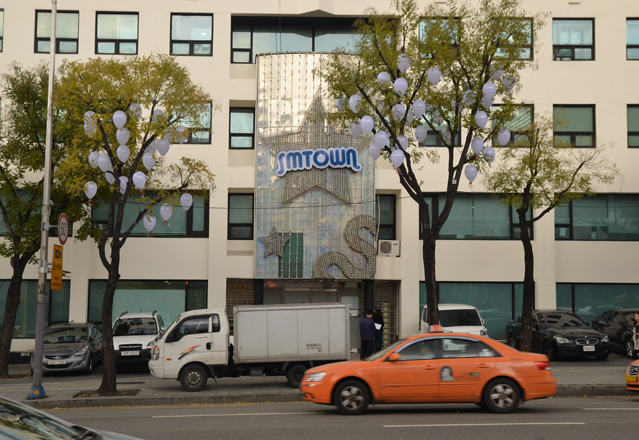 Set to begin at the end of this year, the Hallyu Star Street plan will unfold in four stages.

The project will start with the building of a Hallyu monument in front of the SM Entertainment building. According to Gangnam District Office, the design hasn't been finalized, but it is slated to be unveiled by the end of the year.

Set for next year, the second phase will see a variety of larger-scale projects which will drastically change the atmosphere of the area. Inspired by New York's Times Square, a giant media façade will be installed on the exteriors of buildings at Cheongdam Intersection, playing music videos and promotional video clips.

Also, taking a page from Hollywood Boulevard, the sidewalk near SM Entertainment will be imprinted with the handprints of famous Hallyu stars.

As well, a specially designated square known as Hallyu Square will be introduced at the eastern edge of the street, in front of JYP Entertainment, providing a space for public performances.

The third phase will introduce information poles similar to the ones installed around Gangnam Station. Offering screens that can display maps, information about Hallyu, and other interactive features, they will provide tourist information in various languages to help local and foreign visitors navigate the area and find various attractions and businesses.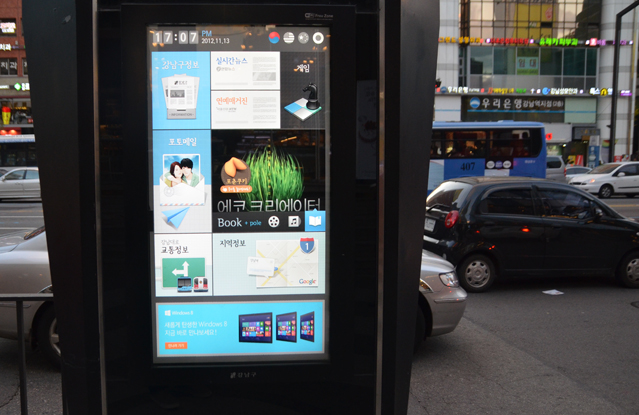 A tourist information center will also be opened closer to Apgujeong Station, providing information on Korean celebrities, as well as medical tourism, another boom industry for the area.

In the final stage, set to wrap up in 2015, three additional themed streets will be introduced, linking Hallyu Star Street with some of Gangnam's most popular destinations such as famous fashion area Rodeo Street, trendy café and shopping zone Garosu-gil, and Dosan Park. The three streets, to be named Korea Fashion Street, Well-Being Beauty Street, and Green Tour Line, will provide a more continuous route to encourage people to explore the area.

According to an official of Gangnam District Office, the project will be supported by public agencies as well as private investors, and will cost between 10 and 20 billion KRW.

By Jon Dunbar
Korea.net Editor
Featured Topics
http://www.korea.net/NewsFocus/Culture/view?articleId=103709
URL Copy
Department Global Communication and Contents Division, Contact Us