Original portrait of Joseon King opens to public
Nov 19, 2012
An exhibition on Korea's royal family opened at Deoksugung on November 16. Titled
"Photograph of the Daehan Imperial Family: 1880-1989"
, the exhibit offers a peek into the life of imperial family and Korean history of the late 19th and early 20th century. Around 200 collection items, mainly focused on photographs, are all original copies produced during the
Daehan Empire
.
The Daehan Empire (1890-1910) was a period of transition and political upheaval during which Korea strived for independence and modernization under imperialist pressures from Japan and the West. This crucial period also coincides with the introduction and early development of photography which was well-received, spurring a new wave of modernization of visual culture in Korea. With this aspect taken into consideration, the exhibition is themed both on the history of both Korea and photography itself.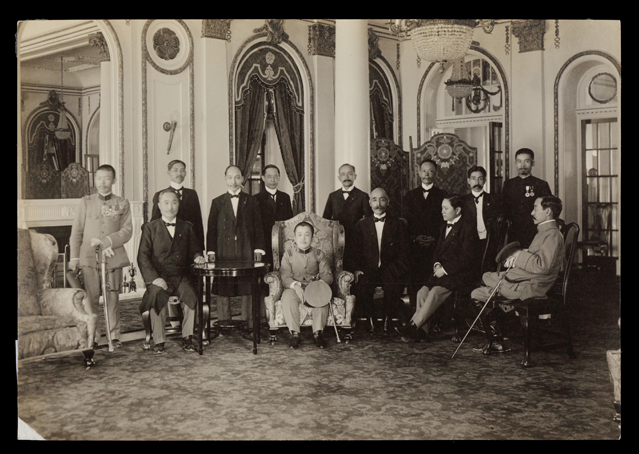 The exhibition sheds light on royal figures who had lived during the Daehan Empire, the first and last empire in 500 years of Korean history.
[King Gojong: photography lover]
Today, there are divided perspectives towards King Gojong, who rose to the throne at the age of 12. He is remembered on one side as a weak and pathetic king. Influenced by power struggles between his father Heungseon Daewongun and wife Empress Myeongseong, King Gojong had a lack of authority of ruling the country. The king's ability to exert power over foreign affairs was also weak. He had to watch increasing Japanese control over domestic affairs.
On the flip side,
King Gojong
is reviewed as an open-minded and receptive person who was fast and active in adapting to a new mechanical device, the camera, which led to tremendous changes in visual culture. The first known photo of Gojong was taken by
Percival Lowell
in 1884. King Gojong willingly accepted photo requests by foreigners who published them in journals and travelogues about Korea later on. "King Gojong seemed to have considered his photographs as an important tool to make his nation known to the world when it was at risk from Japanese control," explained Lee Sa-bin, curator of National Museum of Contemporary Art.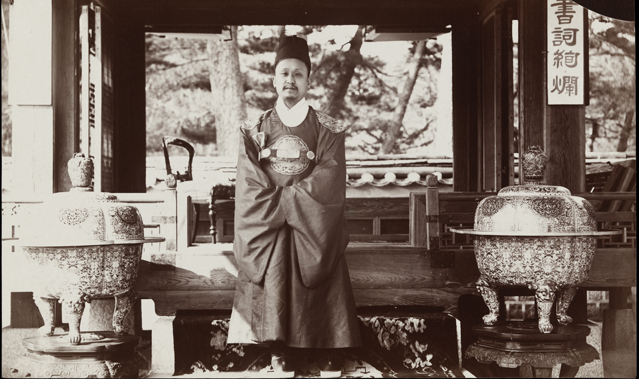 One of the highlights of the exhibition is the image of Gojong sitting on his throne, taken in 1905. The piece was originally given as a gift to Elise Roosevelt, then U.S. President Theodore Roosevelt's daughter, who dropped by Korea during her trip to Asian regions. Today, 107 years later, it could return to Korea thanks to David Hogge, head of the Smithsonian Institution Archives, who discovered it at Roosevelt's home. David Hogge shared his higher interests into Korean history, in particular on Gojong during an interview.
"In the last three days in palaces and museums, my understanding of Gojong completely changed. I thought that Gojong was a weak and ineffective ruler who was helpless, passive, and did nothing to help protect his country from Japanese takeover. Now I realize he completely transformed Seoul and Korea. He fought vigorously for Korean independence; unfortunately it was too little too late."
[Myeongseong: The Faceless Empress]
Empress Myeongseong
became queen at 16. The intelligent young woman gradually expanded her political influence despite the ongoing rivalry with her husband's father. She was Gojong's most important and reliable partner for discussing national affairs, and the most-closely watched person for foreign influence.
There have been photographs claiming to be portraits of the empress, but none of them have been proven authentic. The exhibition explains the controversy over the authenticity of the alleged images of Empress Myeongseong. "Empress Myeongseong might not have been able to pose for pictures because she possibly faced a threat to her safety after encouraging the king to establish diplomatic ties with Russia in 1882," explained Choi Bong-lim, research director of the Museum of Photography.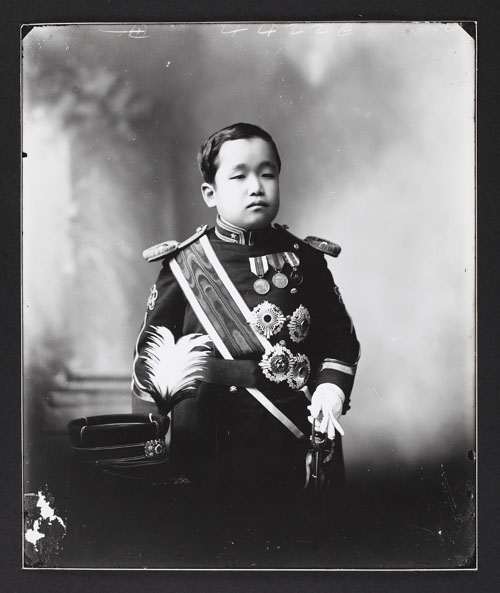 The exhibition also features rare and interesting photos of imperial rites, activities, and palaces along with portraits of the imperial family including descendents who lived under Japanese colonial rule and through the post-liberation years.
Photograph of the Daehan Imperial Family continues until January 13, 2013. It runs every day but Monday. The museum opens from 10 a.m. to 7 p.m. during weekdays and from 10 a.m. to 9 p.m. on Friday and weekends. More details are available at the
National Museum of Contemporary Art.

By Lee Seung-ah
Korea.net Staff Writer
Featured Topics
http://www.korea.net/NewsFocus/Culture/view?articleId=103804
URL Copy
Department Global Communication and Contents Division, Contact Us