Arirang inscribed on UNESCO's intangible cultural heritage list
Dec 06, 2012
The Korean folk song Arirang was inscribed on
UNESCO
's Representative List of the Intangible Cultural Heritage of Humanity, according to the
Cultural Heritage Administration
(CHA).
The Intergovernmental Committee for the Safeguarding of the Intangible Cultural Heritage
decided to add Arirang to the list of intangible cultural heritage in its seventh meeting at UNESCO Headquarters in Paris on December 5, increasing the number of Korean items listed to 15. This year the committee added 16 new elements from around the world including Arirang.
Arirang is a popular Korean folk song, the result of many collective contributions. Essentially a simple song, it consists of the refrain "Arirang, arirang, arariyo" and two simple lines that differ from region to region. While dealing with diverse universal themes, the simple musical and literary composition invites improvisation, imitation, and singalongs.
With Arirang's addition as intangible cultural heritage, the CHA plans to provide systematic support for passing down the tradition scattered throughout different regions.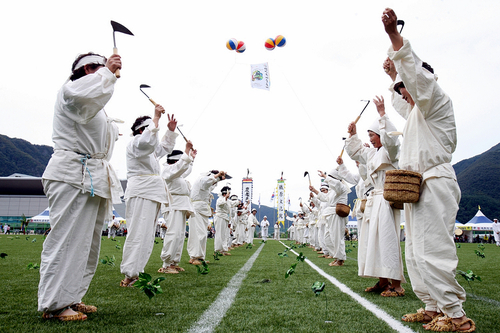 The plans contain various ways of promoting Arirang in a way that can live up to the Korean people's expectations and be utilized as a source for cultural and diplomatic assets. The plans include designating Arirang as an intangible cultural asset, forming Arirang archives, regularly holding Arirang exhibitions, festivals, and concerts, and supporting academic research on Arirang.
In June 2012, the CHA expanded the scope of Arirang for its second application to include all variations and versions in different regions and periods of time instead of applying for inscription with only "Jeongseon Arirang," a variation sung in the mountainous area of Jeongseon,
Gangwon-do
(Gangwon Province).
In early November, a subpanel of the committee proposed that Arirang be placed on the list.
By Limb Jae-un
Korea.net Staff Writer
jun2@korea.kr
Featured Topics
http://www.korea.net/NewsFocus/Culture/view?articleId=104133
URL Copy
Department Global Communication and Contents Division, Contact Us