K-pop fan base continues to grow
Dec 21, 2012
K-pop
is gathering more and more attention from the most unlikely corners of the world.
Thirty participants of the
K-Pop Academy
in London celebrated their graduation from the program.
Launched earlier this year by the
Korean Culture Centre UK
(KCCUK) the K-Pop Academy was designed to introduce diverse aspects of Korea such as history, language, food, and traditional garments for London's local people. The program, offered twice this year, has produced a total of 60 graduates.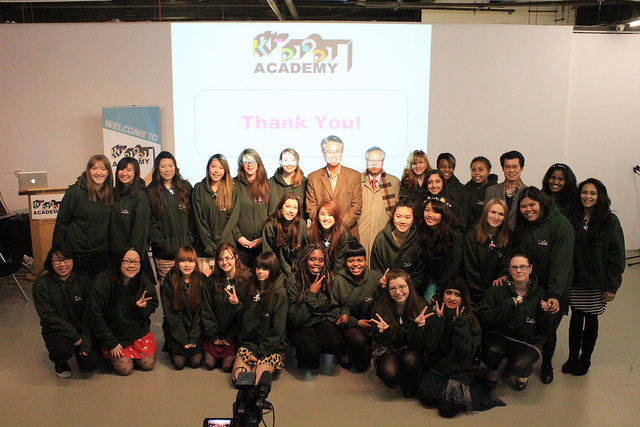 During the ceremony, the graduates gave presentations on what they had learned and performed the folk song
Arirang
, one of the lessons provided in the twelve-week terms. Graduate Lauren Mainwaring was selected as the Best Performing Student for this semester, winning a round-trip ticket to Korea. Mainwaring was reported saying as she wants to visit historic sites to get a direct experience of various Korean artifacts and relics and also try street foods such as tteokbokki from street vendors.
In the evening, a celebration called Merry K-Pop Night was held inviting all this year's graduates and K-pop fans. Participants all joined together to dance to
PSY
's hit songs "Bird," "Champion," and "Entertainers," enjoying the party spirit together. The group of new graduates featured Big Bang cover dancers which spiced up the party even more.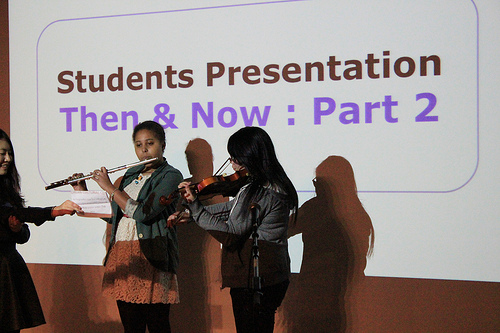 On the same day in Turkey, youths gathered together in the city of Istanbul to hold a K-pop competition, with 15 teams out of 74 applicant groups going on to the final round. The finalists' stunning singing and dancing skills and charismatic stage presence were powerful enough to move the audiences. The first prize was awarded to Begum Kaytan who sang "Stand UP," a background song for the Korean drama
For You in Full Blossom
.
A number of side events were also organized for the event.
Taekwondo
demonstrations were featured by four members of Turkey's local trainers, who received an ovation from the crowd and an exhibit themed on Korean tourism gathered crowds. Visitors also formed a long line-up at a bazaar to purchase traditional Korean crafts, K-pop celebrity-inspired notebooks, and other collectibles.
The K-pop competition received a lot of media attention as well.
Bugun TV
described the performances given by Turkey's youths to be as powerful as K-pop stars. The December 10 edition of the
Milliyet Gazete
concluded that these types of cultural exchanges would play a significant role in enhancing cooperation between both nations in the future. In fact, Turkey was reported as having a number of Hallyu fan clubs with no less than 100,000 individual members.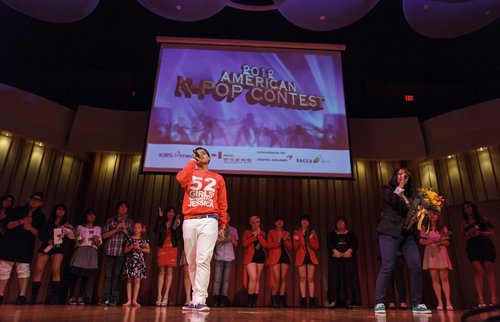 Also in Toronto, the increasing popularity of K-pop and its effects in Canada were highlighted by a local TV channel on December 6. The
Toronto Star
published an article titled "Toronto catching up to K-pop" where they introduced a monthly K-pop night held in the city, which "is attracting diehard fans and curious newcomers alike. The crowd is a mix of downtown students from every cultural background, and a few even dressed in homage to their favorite K-pop video looks."
With the frantic efforts of the Korean entertainment industry, described as producing stars through "a rigorous K-pop boot camp," and the growing influence of Korean pop culture in Toronto attracting a wider fan base, the Toronto Star concluded that "Toronto, it seems, is getting ready to catch up."
By Lee Seung-ah
Korea.net Staff Writer
slee27@korea.kr
Featured Topics
http://www.korea.net/NewsFocus/Culture/view?articleId=104412
URL Copy
Department Global Communication and Contents Division, Contact Us