More Korean actors working in Hollywood
Dec 26, 2012
Andy and Lana Wachowski, who are famous for making
The Matrix
series, recently came to Korea to promote
Cloud Atlas
, a sci-fi fantasy film adapted from a story of the same name by David Mitchell. They came along with director Tom Tykwer, Jim Sturgess, and Bae Doona, a Korean actress who has played multiple roles including Sonmi-451, a clone originally built to be a server in a restaurant.
Bae is one of an increasing number of Korean actors starring in Hollywood films and American TV dramas. Lee Byung-hun starred in the sci-fi action
G.I. Joe
series (2009, 2013), Jang Dong-gun took the main role in
The Warrior's Way
(2010), and Jun Ji-hyun played a vampire-killing vampire in
Blood: The Last Vampire
(2009). Kim Yun-jin starred in popular American TV drama
Lost
. It is the first time for Bae, whose film credits include
Take Care of My Cat
,
The Host
, and
Sympathy for Mr. Vengeance
, to appear in a Hollywood film.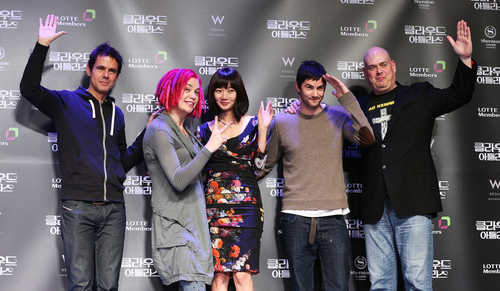 Lana Wachowski said in a press conference that Seoul is featured in the movie as its background and said Bae played a character who could metaphorically express that part. Lana said Bae has played a wide range of roles in her films in the past.
The Wachowskis' relationship with Korean actors dates back to 2008 when they cast Rain, or Jung Ji-hoon, for
Speed Racer
(2008). They also recommended Rain for
Ninja Assassin
(2009).
Andy said Korean actors are as diversified and complex as actors in Korean films and said he would cast more Korean actors.
Now Lee Byung-hun, 42, is at the forefront of Korean actors entering Hollywood. Lee is filming
Red 2
in London along with actors like Bruce Willis, John Malkovich, and Helen Mirren. Although Lee is taking a small role in the action sequel, his repeated appearances in American films are a sign of his continuing success in Hollywood.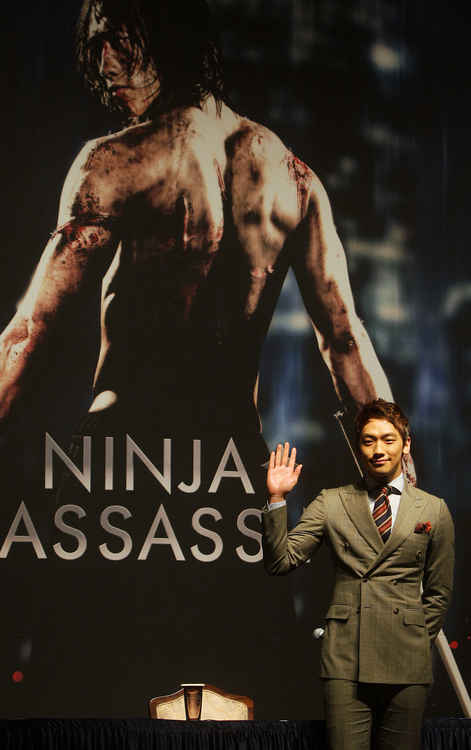 For Korean actors taking roles in Hollywood films one after another, film critic Jeon Chan-il, said, "It is partly because Korea is being more recognized around the world."
In particular, Jeon described Lee as "well prepared for Hollywood" and said Lee's success is mostly attributed to the fact that "Lee overcame language barrier."
Unlike other Korean actors who appeared in Hollywood films just once but failed to be cast again, Jeon said, "Lee is able to speak English with reasonable fluency. He is well prepared and attractive."
"Lee was able to earn trust from Hollywood. He tried and succeeded, unlike other Korean actors who only had a single shot."
Lee's Hollywood career started with
G.I. Joe: The Rise of Cobra
, in which he played Storm Shadow, a silent but ruthless ninja. Lee said in a recent press meeting in Hong Kong that his role would be expanded in the sequel,
G.I. Joe: Retaliation
. Paramount was reportedly surprised by Lee's star power in Asia.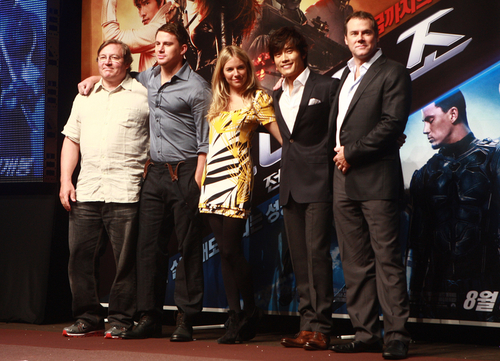 "It is true that when the first
G.I. Joe
movie was released, so many people showed support that Paramount officials, directors and actors were surprised," Lee said.
"When filming for the sequel, staff asked if I was an Elvis Presley in Asia... Since then, people started treating me differently. But I felt that I shouldn't get used to such fame because I was still a newcomer in Hollywood."
Storm Shadow is not a typical villain but is still one. Many Asian actors such as Chow Yun Fat and Jet Li entered Hollywood playing villains and so has Lee.
When asked if he is worried about playing stereotypical Asian characters, Lee said, "I was also concerned very much. But it is a start and you can't expect everything to be perfect yet." The
G.I. Joe
sequel will be released in March 2013.
Jon M. Chu, the director of
G.I. Joe: Retaliation
, said in the conference that Lee showed the potential of Asian actors. Chu said he hoped that with Lee's success in Hollywood, there would be more Korean actors entering Hollywood. If there are more Asian actors who are acknowledged in Hollywood and become successful, there would be more chances for young Asian actors.
By Limb Jae-un
Korea.net Staff Writer
jun2@korea.kr
Featured Topics
http://www.korea.net/NewsFocus/Culture/view?articleId=104452
URL Copy
Department Global Communication and Contents Division, Contact Us