Korea's contemporary art shown at Venice Biennale
Jun 05, 2013
The 55th Venice Biennale started a five-month-long journey on June 1. Under the theme of the biennale "The Encyclopedic Palace," the Giardini di Castello, the venue of the event, introduces individual exhibition halls built by 88 countries.
At the Korean pavilion of the biennale is an installation titled "To Breathe: Bottari" by artist Kim Soo-ja (56). Spectators can see light coming through semi-transparent film covering the interior of the pavilion and hear a recording of Kim's breathing, titled "The Weaving Factory."
Light filtering through semi-transparent windows turns into a spectrum and fills the exhibition hall, creating unfamiliar reflections of visitors on mirrors placed throughout.

"Light is part of darkness and light can't exist without darkness," said Kim Soo-ja. "I would be satisfied even if only one viewer sees the exhibition and is moved."
There are many exhibitions related to the biennale in Venice. A Korean contemporary art exhibition titled "Who is Alice" is now being held in the center of Venice as an official side event of the biennale.
Organized by the
National Museum of Modern and Contemporary Art
(MMCA), the exhibition is themed on the story
Alice's Adventures in Wonderland
by British writer Lewis Carroll. What is Alice in Wonderland doing in Venice?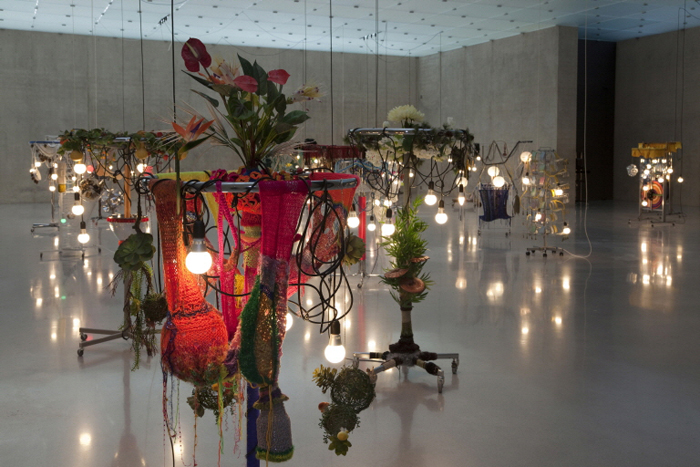 The exhibition presents over 30 works by 15 major contemporary artists active both in and outside of Korea. The works on display consist of a wide range of genres including paintings, photographs, and sculptures, among others.
Visitors to the exhibition venue, called Light Box, will be invited on a kind of time travel experienced by Alice who suddenly falls down a rabbit hole and embarks on journey into the unknown.
The ten small rooms in the exhibition have different but interesting stories to tell. "Pendulum of Secret" by Choe U-ram, which is located at the entrance, consists of an endless number of pendulums hanging from the ceiling.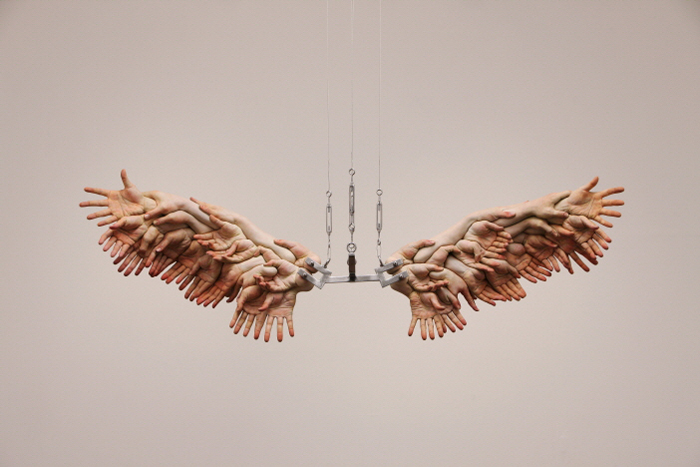 Upon entering the exhibition hall, viewers will face a frightening portrait of a woman in the painting "Untitled" by Kim Jung-wook.
In a piece titled "Female Natives," Yang Haegue created mystic sculptures clad in light bulbs all over their bodies. "The Wing" by Choi Xoo-ang resembles a demon opening its wings, which consists of 19 pairs of hand-shaped sculptures.
Park Hong-chun created an uncanny theme park with no visitors in a work titled "To Alice." Choe U-ram will show the "Merry-go–round" fast spinning in silence, and Kim Du-jin will present a digital painting of dancing skeletons in a work titled "The Youth of Bacchus."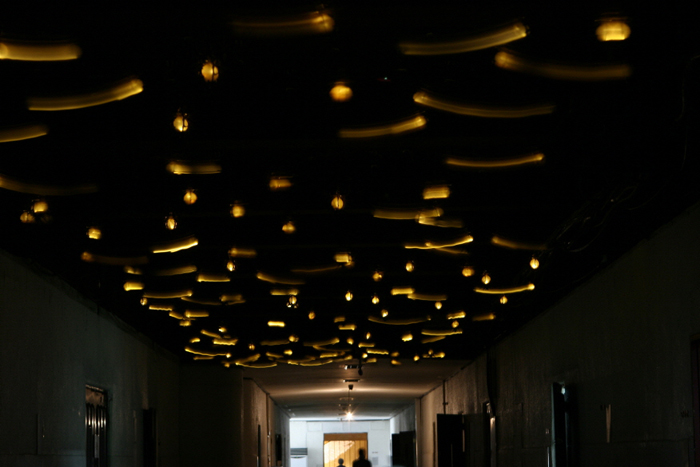 The "Who is Alice" exhibition continues till November 24.
By Limb Jae-un
Korea.net Staff Writer
jun2@korea.kr
Featured Topics
http://www.korea.net/NewsFocus/Culture/view?articleId=108725
URL Copy
Department Global Communication and Contents Division, Contact Us