Korea's WKB cultural messengers embark on third adventure
Jul 22, 2013
The Worldwide Korea Blog (WKB) had a welcoming ceremony for its third team of bloggers on July 19.
Launched in 2011, the WKB and the Korea Blog, an affiliate of www.korea.net, have served as a "cultural bridge" that shares various perspectives online with a global audience here in Korea or abroad on a wide variety of Korea-related topics.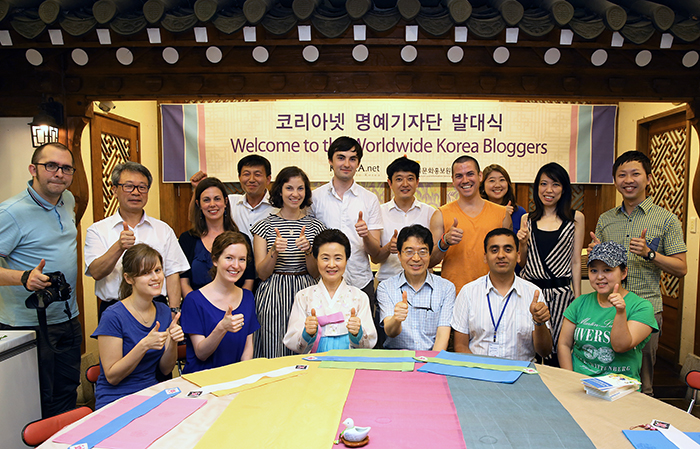 In 2012, the WKB took part in a remarkable range of activities and made contributions both in content and spirit during the
London Olympics
, reporting on hot issues related to participating Korean athletes as well as local cultural celebrations through blogs, Facebook, Twitter, and Youtube.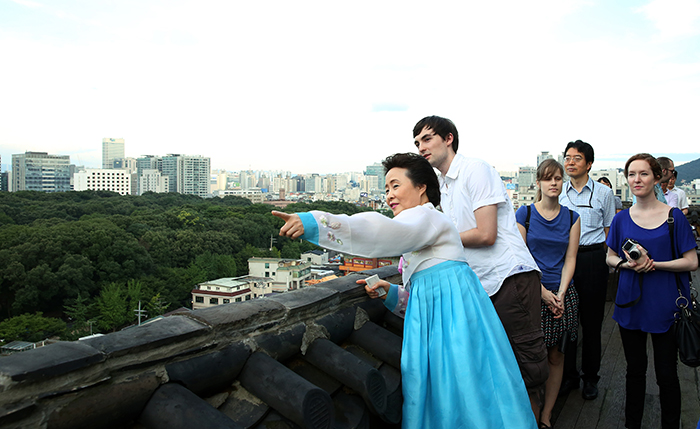 This year's welcoming ceremony, attended by bloggers in Korea, took place at the
Institute of Traditional Korean Food
. "Thank you for your efforts and dedication in promoting Korean culture all across the globe," said
director Yoon Sook-ja
as she welcomed the members. Serving up royal Korean food with traditional alcoholic beverages, Yoon provided an explanation of each course of the meal. "The healthy liquor known as Jeoljoobang, which is made with steamed rice, fermented malt, and distilled water, captivated the heart of wine advocate
Robert Parker
who visited this place the other day," Yoon added.
After dinner, the new WKB team had a brief opportunity to learn about how the Korea Blog has evolved over the past two years, after which they were each given a Certificate of Appointment by
Korean Culture and Information Service
(KOCIS) director Woo Jin-yung. "You are true ambassadors of Korea. Please be proud and responsible as our Korea.net Bloggers," said Woo during his congratulatory speech.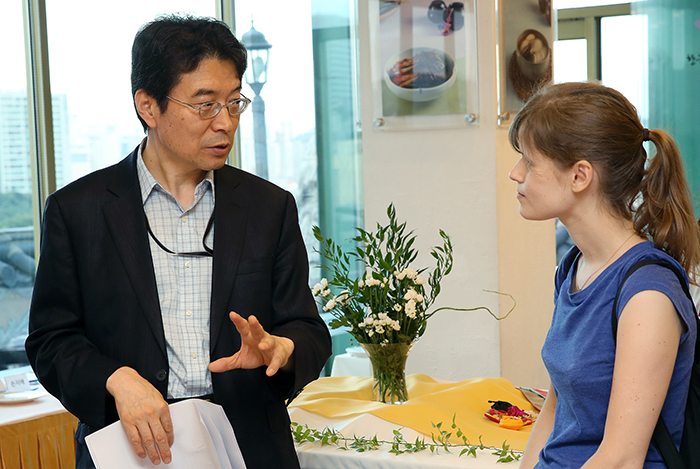 Afterwards, the bloggers headed to Bukchon Hanok Village for an overnight
Hanok homestay experience
. There, the bloggers shared their behind-the-scenes stories with each other well into the night. American blogger Jessica Steele shared her interesting experience of having met Tom Cruise during the Busan International Film Festival last year (see
Steele's story at Korea.net
).
This year, 48 bloggers joined in for the adventure as part of the third WKB team, representing 21 countries including the U.S., Canada, UK, Germany, and Belgium. They will continue their activities reporting on Korea-related news and sharing photographs and videos on the Korea Blog until July of next year. The Korea Blog has seen 1.05 million visitors since its launch in 2011 and this number is on a steady rise.
More stories on the WKB Hanok stay and the Bukchon walking tour will be published in a Korea.net article on July 23.
By Lee Seung-ah
Korea.net Staff Writer
slee27@korea.kr
Department Global Communication and Contents Division, Contact Us