President promotes Korea-Vietnam cultural exchanges
Sep 09, 2013
President Park Geun-hye
attended a fashion show presented by both Korean and Vietnamese designers on
Hanbok
and ao dai -- the traditional costumes of the two countries -- on September 8.
President Park grabbed the eyes of the audience as she appeared on the runway while wearing a Hanbok to deliver congratulatory remarks at the show which was held as a bilateral cultural event in Hanoi, Vietnam.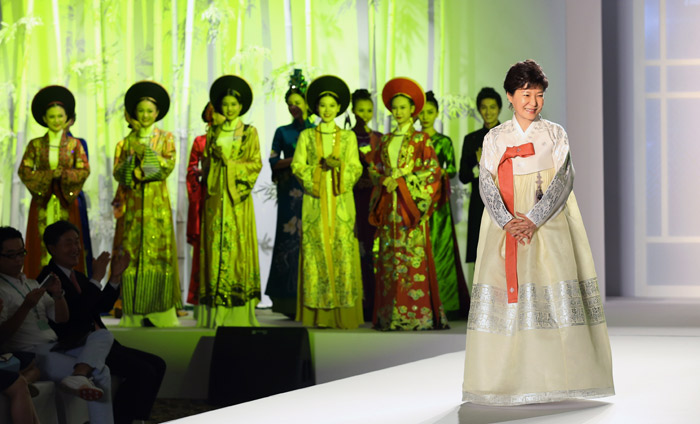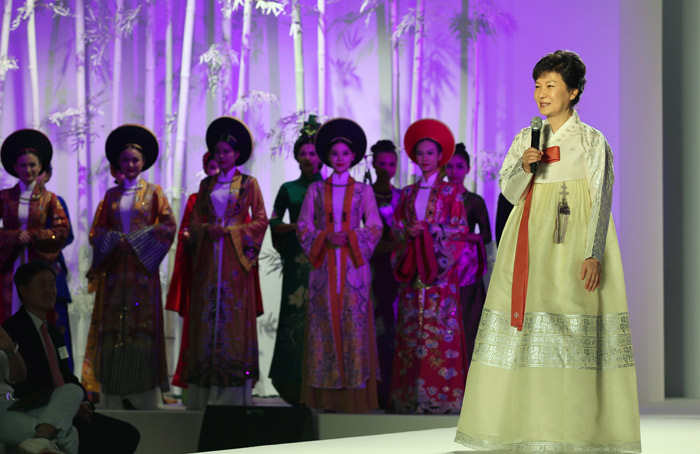 "I am grateful for the precious opportunity to share the culture of the two countries through this rendezvous between Hanbok and ao dai in Vietnam," said President Park.
The president expressed her hope that the two countries can become closer and the artists of the two countries can have more chances to meet so that the two countries can truly become close partners of each other, as the "beautiful colors and silhouettes of Hanbok and ao dai create a wonderful harmony."
About 300 people, including top Vietnamese officials and influential figures in politics and the culture and art sectors in Vietnam, attended the fashion show. The list of attendees included Vice President Nguyrn Thi Doan, Minister of Labour, War Invalids and Social Affairs Nguyen Thi Hai Chuyen, Minister of Health Nguyen Thi Kim Tien of Vietnam and President of the Vietnam Union of Friendship Organizations Vu Xuan Hong.
Under the theme "beautiful companion, wonderful future" (unofficial translation), the show presented a total of 68 garments created by 17 Korean and two Vietnamese designers.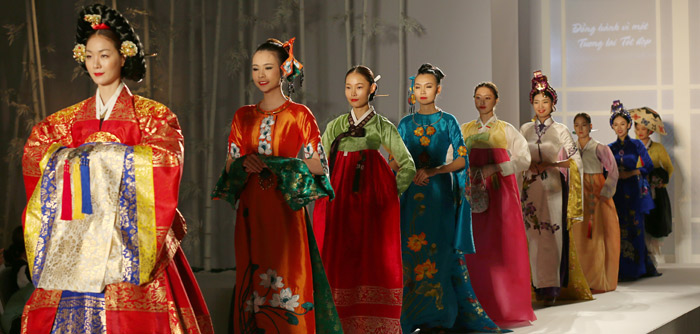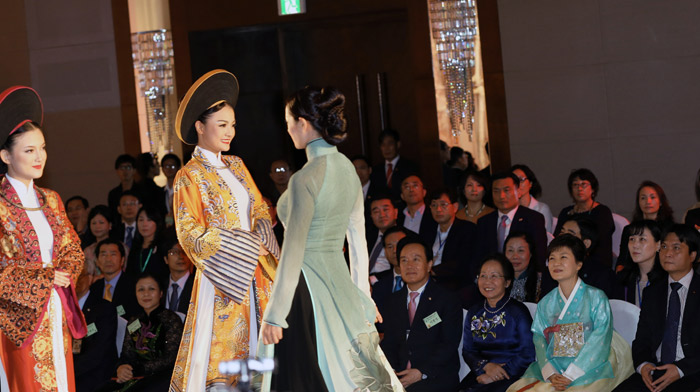 Two of the top Vietnamese designers, Lan Huong and LêSy Hoàng, featured both the glamour and modernness of ao dai at the show.
Leading Korean designers, including Lee Hyo-jae, Kim Min-jeong, Cho Jin-woo, and Lee Young-joo, also presented the harmony of tradition and classiness in the naturalness and familiarity of various Hanbok dresses of the show.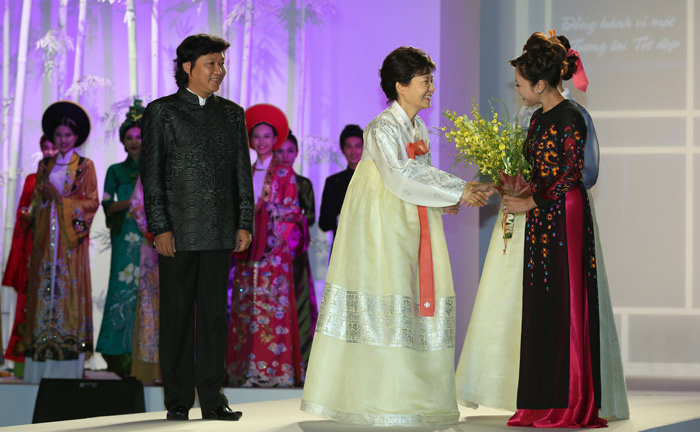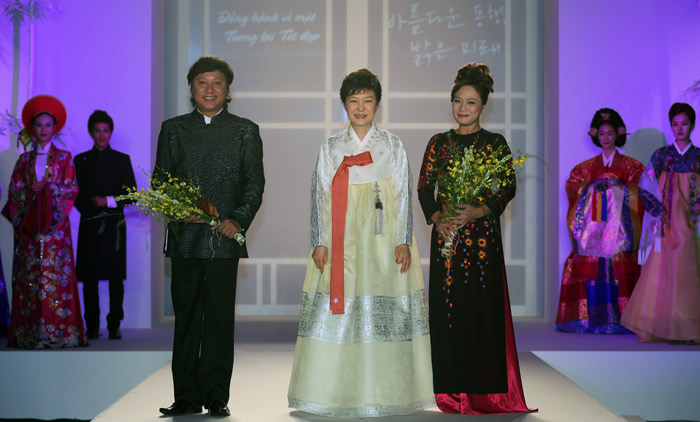 Prior to the show, an exhibition was held in the reception venue to show nearly 100 artworks on jokduri (traditional Korean coronet). Accessorized with traditional textiles, gold, silver, amber, jade, and coral, various forms of the ceremonial cap attracted the audience in the exhibition under the theme "100 interpretations on Korean jokduri."
A small concert of traditional musical instruments of Korea and Vietnam was also held before the fashion show to celebrate the cultural exchange event and promote friendship and cooperation between the two countries.
Three musicians from the National Orchestra of Korea and three Vietnamese musicians performed traditional folk songs of the two countries while playing traditional musical instruments.
By Wi Tack-whan, Yoon Sojung
Korea.net Staff Writers
whan23@korea.kr
Department Global Communication and Contents Division, Contact Us