New Seoul art museum shows the flow of contemporary art
Nov 15, 2013
Five special exhibitions are being held to celebrate the recent opening of the new Seoul branch of the
National Museum of Modern and Contemporary Art
(MMCA), showing off the newest trends in contemporary art. The MMCA Seoul opened November 13 and each of its special exhibitions has a different theme, covering 120 pieces of art by 70 artists from around the world.
Entering the museum, visitors will encounter "Home Within Home Within Home Within Home Within Home" by Do Ho Suh, on display until May 11, 2014. This installation artist's piece is being shown in the Seoul Box, the largest exhibition space in the museum. The work is 15 meters high and 13 meters wide. It features a small hanok, a traditional Korean house, hanging inside a life-sized three-story apartment block.
The work is made out of semi-transparent blue mesh cloth. It reflects the historical aspects of the MMCA Seoul itself, which consists of both traditional and contemporary buildings. Looking through the semi-transparent installation artwork and out the large adjacent window, visitors can see the traditional hanok outside. The apartment part of the art display is modeled off Suh's old New York apartment while the hanok section resembles his childhood home in northern Seoul.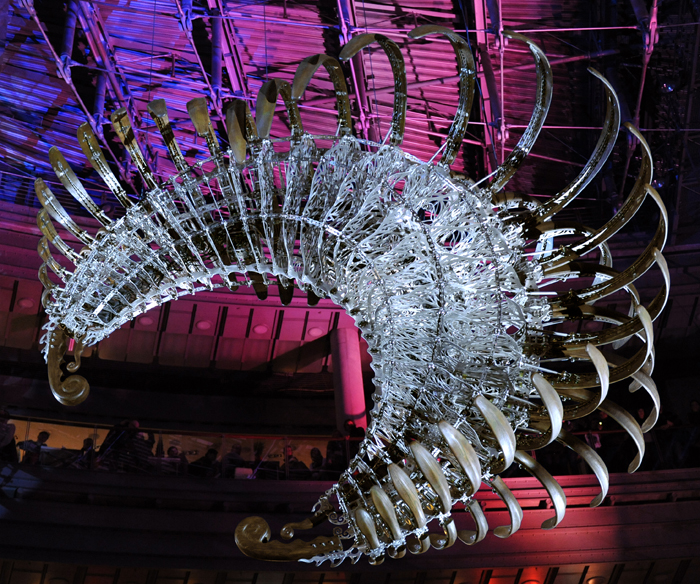 Suspended from the high ceiling in the fifth exhibition hall hangs "Opertus Lunula Umbra," on display until November 9, 2014. Its creator, Choe Uram, is an artist who uses his unlimited imagination to create a series of bug-shaped mechanical organisms. Dozens of its wings, or perhaps legs, stick out like the paddles of a boat, moving slowly back and forth in the hall's upper heights.
"Connecting-Unfolding," on display until February 28, 2014, is a group work by seven artists. Each was selected by a different curator and each is active in a different country. Both Ann Gallagher of Britain and Yuko Hasegawa of Japan participated in this work.
Another piece is by Minha Yang. This Korean artist came up with an interactive media art display by depicting the image of light flowing like water on a wall. His work is titled "Intervention, Misalignment."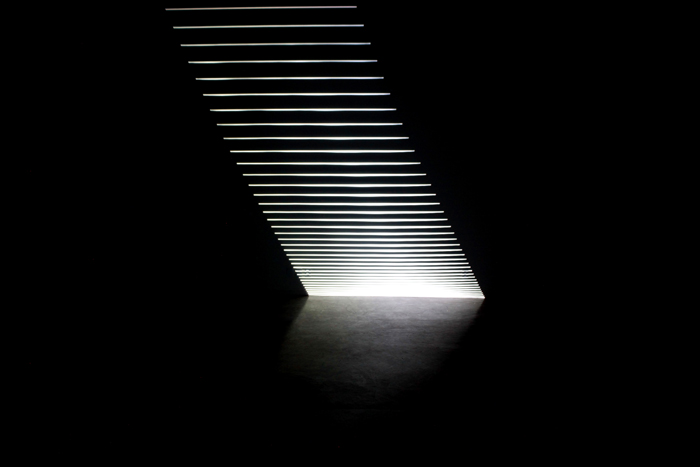 Kishio Suga, a Japanese artist representative of the Mono-ha movement from the late 1960s, used industrial and construction material to create two pieces: "Shachi Jokyo" and "Izonza." Suga said he tried to recreate the co-dependence between different objects and the forming of relations between the objects and space.
Lee Mingwei from Taiwan combined visual art and performance art in his "Sonic Blossom." A performer asks the visitor whether he wants a gift. Upon acceptance, the performer sings a song by Schubert as the visitor sits on a chair.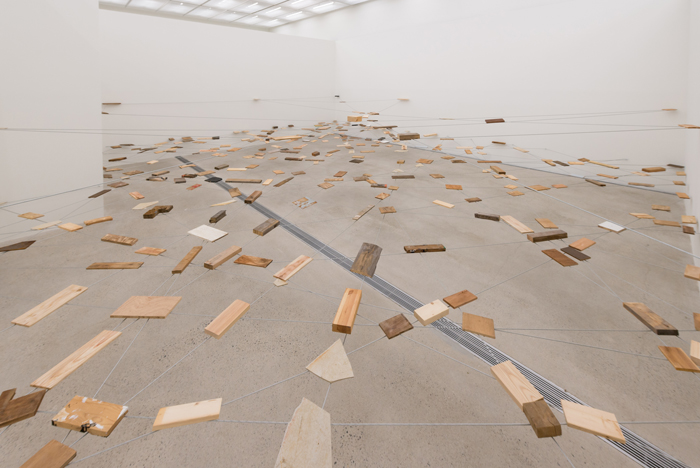 The "Aleph Project," on display until March 16, 2014, fuses different fields of study such as construction, design, science, art and the performing arts.
British media artist and architect Philip Beesley came up with "Epiphyte Chamber," an interactive sculpture that reacts to human movement by raising what can only be called its tentacles.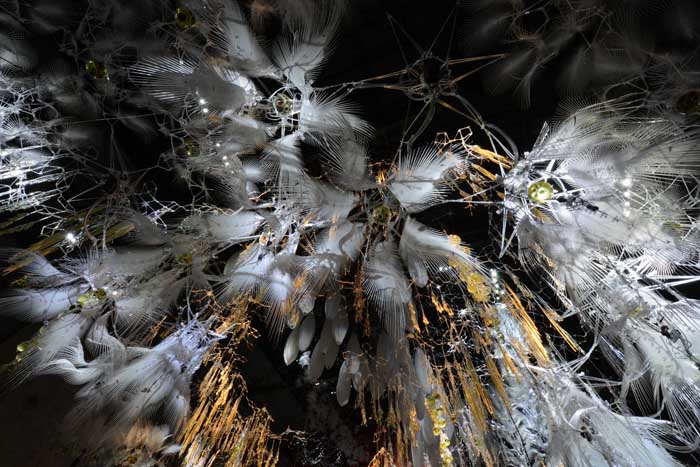 In the first and second exhibition halls, lit with natural light, is "Zeitgeist", on display until April 27, 2014. This exhibition reflects Korea's modern art history, showing off 59 works by 39 renowned Korean modern artists.
In the eighth exhibition hall sits the "Birth of a Museum: The MMCA Construction Archive Project." On display until July 27, 2014, this is an explanation of how the MMCA Seoul was born. It includes a narration, photographs, videos and sound clips.
MMCA Director Chung Hyung-min said during a press conference on November 11 that she will focus on strengthening her museum's programs rather than showcasing works by big-name artists.
"I will create solid programs that can exemplify trends in the world of contemporary art," Chung said. "From now on, 30 percent of our future programs will deal with Korean contemporary art while the rest will consist of group exhibitions that can combine both Korean and international artists."
Until the end of November, a visit to the MMCA Seoul offers a reservation (www.mmca.go.kr, 02-3701-9500), as organizers expect large crowds during the first few weeks. Visitors without a reservation will also be allowed entry on a first-come-first-serve basis. A ticket to all special exhibitions at the museum goes for KRW 7,000 and opening hours are from 10 a.m. to 5 p.m. Entrance is free between 6 p.m. and 9 p.m. on Wednesday and Friday, and the museum is closed on Mondays.
By Limb Jae-un
Korea.net Staff Writer
jun2@korea.kr
Department Global Communication and Contents Division, Contact Us