Psy reaches 2nd place on Billboard Top 100
Sep 27, 2012
"Gangnam Style," by Korean rapper and YouTube sensation Psy, jumped to second place on
Billboard
's Hot 100 chart on September 26.
The song entered the chart two weeks ago, ranking 64th, and soared to eleventh last week. Psy's "Gangnam Style" has been "powered by buzz generated by its video in which the Korean rapper shows off his horse-riding moves," read a note on the website Billboard.biz.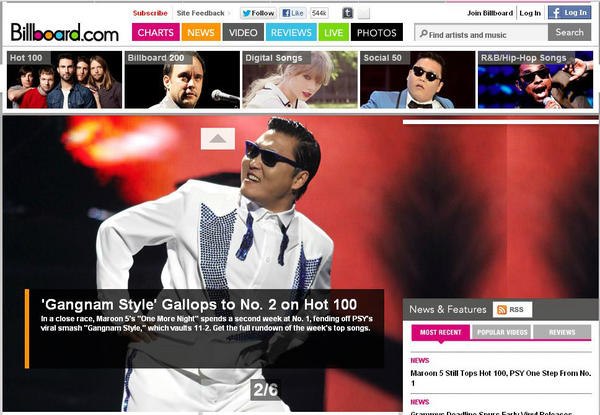 It has only one step to go for the chart summit, with Maroon 5's "One More Night" spending a second week at the top. Psy's ascension up the chart so far is a first for Korea. "Gangnam Style" refers to the lavish and trendy lifestyle associated with the Gangnam district of Seoul.
Returning from a two-week trip to the U.S., Psy said during a press conference on September 25 that he would take his shirt off and dance to "Gangnam Style" in front of a crowd if he reaches the top of the Billboard chart.
He has already topped the iTunes Chart in 30 countries according to his management agency,
YG Entertainment
.
By Limb Jae-un
Korea.net Staff Writer
Featured Topics
http://www.korea.net/NewsFocus/Culture/view?articleId=602
URL Copy
Department Global Communication and Contents Division, Contact Us