Seoul International Music Festival 2010
May 20, 2010
Source : Korea Tourism Organization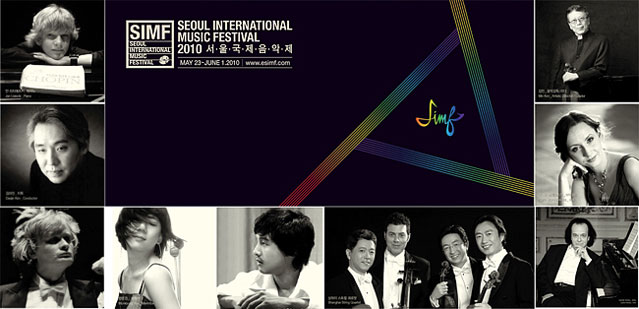 With an aim to promote harmony and international exchange through music, the 2010 Seoul International Music Festival is held from May 23rd to June 1st, inviting a wide spectrum of great musicians from established masters to young promising musicians, from classics to contemporaries, and exceptional performers from the East to the West. The Festival is expected to serve as an occasion to bring people together in unity for harmony through music by presenting various performances with unique themes.

This year's SIMF presents modern reinterpretations of masterpieces of great historic composers as its focus and incorporates intertextual pieces which led the 20thcentury's music and monumental scores by contemporary composers into the program.
Part of this year's program, designed as an exchange concert program between SIMF and Ludwig van Beethoven Festival, was put on stage and highly acclaimed in the Ludwig van Beethoven Easter Festival last March.

It is rare for a Korean music festival's program to be featured in such a prestigious festival in Europe, although there have been some cases that programs of international festivals such as Naantali Music Festival in Northern Europe and Beppu Music Festival of Japan are introduced to Korean audiences; It is especially noteworthy that SIMF presents a creative program to such a world-class music festival. Some of the SIMF's program is also scheduled to be included in the Pablo Cassals Music Festival in 2011 as part of the festival programs and performers exchange program.


< Program and information>

May 23
Symphonic Concert Flying Up
Date / Venue
5/23 (Sun) 20:00 Seoul Arts Center Concert Hall
Artist
Jan Lisiecki_Piano / Avri Levitan_Viola / Suwon Philharmonic Orchestra / Daejin Kim_Conductor
Program
B. Britten Passacaglia, Op. 33b (Korea Premiere)
F. Chopin Piano Concerto No.2 in F minor, Op.21
W. Walton Viola Concerto in A minor
R. Schumann Symphony No. 4 in D minor, Op.120

May 24
Michel Lethiec Recital Touch of Virtuoso (Le Souffle Du Maître)
Date / Venue
5/24 (Mon) 20:00 Kumho Art Hall
Artist
Michel Lethiec_Clarinet / Junghee Shin_Piano
Program
G. Rossini Introduction, Thème and variations
J. Brahms Sonata for Clarinet, Op.120, n°1
R. Schumann Fantasiestuke Op.73
A. Berg 4 pieces for Clarinet and Piano, Op.5
F. Poulenc Sonata for Clarinet and Piano
G. Gershwin 3 preludes
May 25
Exchange Concert between SIMF and Ludwig van Beethoven Easter Festival Harmony and Coexistence
Date / Venue
5/25 (Tue) 20:00 Kumho Art Hall
Artist
Agata Szymczewska_Violin / Avri Levitan_Viola /
The Chamber Music Society of Kumho Art Hall (Daejin Kim_ Music Director/Piano, Yoonju Oh _Piano, Minjae Kim_Violin, Minji Kim_Cello)
Program
F. Schubert Fantasia for Piano, 4 hands in f minor, D.940
G. Mahler Piano Quartet in A minor
A. Schnittke Piano Quartet (based on Mahler Piano quartet in A Minor)
D. Shostakovich Piano Quintet in G minor, Op.57
May 26
SIMF Special Chamber Concert Era of Romance
Date / Venue
5/26 (Wed) 20:00 Kumho Art Hall
Artist
Michel Lethiec_Clarinet / Gerard Poulet_Violin / Juyoung Baek_Violin / Avri Levitan_Viola / Li-Wei Qin_Cello / Jonhwa Park_Piano
Ensemble OPUS (Jaewon Choi_Violin Jiyiung Lee_Violin Geeyun Lee_Viola Noll Park_Cello)
Program
J. Corigliano 'Soliloquy' for Clarinet and String Quartet
J. Brahms Piano Quintet in F minor, Op.34
B. Martinu 3 Madrigals for Violin and Viola
E. Chausson Concerto for Violin, Piano and String Quartet in D major, Op. 21
May 27
Cyprien Katsaris Recital Spring with Chopin
Date / Venue
5/27 (Thu) 20:00 Kumho Art Hall
Artist
Cyprien Katsaris_Piano
Program
F. Chopin Wiosna in G minor, Op. 74 No. 2
F. Liszt Wiosna (from Chopin's 6 Chants polonais Op. 74, No. 2)
F. Chopin Valse in A minor No.2, Op. 34
Funeral March, No.2, Op.72
4 Mazurkas, Op.67
Nocturne No. 20 in C sharp minor, op. posth.
2 Nocturnes Op.55
Berceuse (Lullaby) in D flat major, op. 57
Piano Sonata No. 3 in B minor, Op.58
May 28
Shanghai String Quartet Recital Asia Performs the World
Date / Venue
5/28 (Fri) 20:00 Hoam Art Hall
Artist
Shanghai String Quartet / Han Kim_Clarinet
Program
F. Bridge Novelletten for String Quartet (Korea Premiere)
W.A. Mozart Clarinet Quintet in A major, K.581
K. Penderecki String Quartet No.3 (Korea Premiere)
C. Debussy String Quartet in G minor
May 29
Special Additional Concert by ASIMF Love of Schumann
Date / Venue
5/29 (Sat) 15:00 Seongnam Arts Center Concert Hall
Artist
Cyprien Katsaris_Piano / Young Song_Cello / Li-Wei Qin_Cello
Agata Szymczewska_Violin / Gerard Poulet_Violin / Avri Levitan_Viola / Yori Kawashima_Piano / 4 Selected Applicants from ASIMF Chamber Concert Audition
Program
R. Schumann 5 Folk Song for Cello and Piano
R. Schumann Piano Trio No.3 in G minor Op.110
R. Schumann 3 Romances for Oboe (arranged for Violin and Piano), Op.94
C. Schumann Piano Trio in G minor Op.17
R. Schumann Piano Quintet in E Flat major Op.44
May 30
Chamber Orchestra Concert 45, Korean Chamber Orchestra
Date / Venue
5/30 (Sun) 20:00 Seoul Arts Center Concert Hall
Artist
Cyprien Katsaris_Piano / Shanghai String Quartet / 5 Wind & Brass Musicians Orchestre Régional de Cannes /
Korean Chamber Orchestra (Min Kim_ Music Director/Leader) / Taeyoung Park_Conductor
Program
A. Pärt Cantus in memory of Benjamin Britten for string orchestra and bell (Korea Premiere)
A. Schoenberg Concerto for String Quartet and Orchestra after the concerto Grosso,Op.6, No.7 by G.F.Handel (Korea Premiere)
F. Schubert Wanderer Fantasia arranged by Liszt for piano and orchestra
E. Elgar Introduction and Allegro, Op.47
May 31
Symphonic Concert New Voyage
Date / Venue
5/31 (Mon) 20:00 Seoul Arts Center Concert Hall
Artist
Michel Lethiec_Clarinet / June Moonkyung Han_Marimba / Julius-Jeongwon Kim_Piano / 5 Wind & Brass Musicians Orchestre Régional de Cannes / Korean Chamber Orchestra (Min Kim _ Music Director / Leader) / Grzegorz Nowak_Conductor
Program
Shinuh Lee Concert for Clarinet and Orchestra (World Premiere)
Sukhi Kang Concert for Marimba and Orchestra (World Premiere)
S. Rachmaninoff Piano Concerto No.5 (Asia Premiere)
(Arranged from Symphony No.2)
June 01
Special Additional Concert by ASIMF Musical Offering
Date / Venue
6/01 (Tue) 20:00 Kyunghee University Grand Peace Palace
Artist
Cyprien Katsaris_Piano / Gerard Poulet_Violin / Young Song_Cello / Michel Lethiec_Clarinet / Shanghai String Quartet / 4 Selected Applicants from ASIMF Chamber Concert Audition / 5 Wind & Brass Musicians from Orchestre Régional de Cannes / ASIMF Orchestra / Grzegorz Nowak_Conductor
Program
E.Grieg Holberg Suite, Op.40
R. Schumann Piano Quintet in E flat major Op.44
Spontaneous Improvisation on original and famous themes
W.A.Mozart Clarinet Quintet in A major K.581
G.Rossini Italiana in Algeri Overture


Presented by Seoul International Music Festival
Organized by OPUS Corporation
Supported by Korea Foundation, Kumho Asia Cultural Foundation, KCC,
Hyundai Moter Development, LS-Nikko Copper, Kookmin Bank,
Hyundai Development Company, Korea Exchange Bank, KT

More Information
Official website: www.esimf.com (Korean, English)
Tel: +82-1544-5142
Korea Travel Phone: +82-2-1330 (Korean, English, Japanese, Chinese)
Featured Topics
http://www.korea.net/NewsFocus/Culture/view?articleId=81340
URL Copy
Department Global Communication and Contents Division, Contact Us