Colorful paper craft to adorn Wonju Hanji Festival
Sep 07, 2010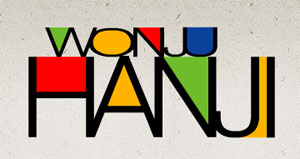 The 12th Wonju Hanji Festival will open in Wonju, Gangwon-do from Sept. 9 to 12, with the slogan "East meets West, Wonju Hanji." Hanji is a Korean traditional paper made -from mulberry tree bark.

The opening ceremony will be a "Hanji Fashion Show" with the theme of "Five Colors of the East" to showcase over 60 modern clothing designs using Hanji as a textile, including evening dresses, wedding gowns, and casual attires, made by students and faculty from Sangji Youngseo College and Gangneung-Wonju National University.

At the Hanji culture market, Hanji masters from Wonju, Andong, Goesan and Jeonju will display their paper crafts. Visitors can also sample the local eateries and peruse the offerings of Hanji-related companies taking part in the show.

The festival will also act as the opening of the nation's first Hanji Theme Park, covering 26,279 square meters, complete with a two-story building in the center. Visitors can look forward to the glow of some 1,000 paper lanterns adorning a 140-meter path that has been specially decorated for the occasion, made by 2,000 local volunteers.

Visitors are also encouraged to step inside the new Hanji Building, which includes a history room, an experience center, and a cafeteria on the first floor, with rooms for special exhibitions, seminars, and a reference room on the second floor. Based on the success of the Hanji projects, Wonju plans to build an additional theme park dedicated to traditional lacquer and glass products.

The 10th Korean Hanji Art Competition is also scheduled to take place in the same park. Over 180 paper craft artists from 23 nations will attend. Special outdoor performances will take place every evening during the festival period.

The 2010 International Association of Hand Paper Makers and Paper Artists (2010 IAPMA Congress) will take place from Sept. 8 to 13. Attending paper artists will give a special exhibition during the festival, together with 15 workshops, conferences, a paper market, and theme tour.

An MOU will be signed between the Wonju Hanji Festival Organizing Committee and Japan's Mino (washi paper) Lantern Festival Organizing Committee to jointly promote the traditional paper culture of the respective countries.

Meanwhile, visitors can take part in various paper craft sessions held at 40 different booths. Try your hand at using Hanji to make a tray, a coaster, a miniature -dining table, pencil holder, tissue case, necklace, fan or doll. Other programs include an eco-tour to nearby Songhwangrim Forest or Baekun Mountain.

Hanji paper is recognized for its durable nature combined with a soft texture that gives it versatility and a wide range of uses, from writing paper to daily utensils such as fans, kites, baskets, chests, shoes and even armor. There are records of armor made of specially treated Hanji during the early Joseon Period (1392-1910) that was waterproof and sturdy enough to block spears and arrows.

However Hanji was most widely used in homes as a wallpaper and covering for doors and windows due to its qualities both as an insulator and its ability to allow for good air circulation. Nowadays, people are taking advantage of its unique properties to use it in making environment-friendly products and hospital utensils.

For more information, please visit the Korea Tourism Organization:
(http://english.visitkorea.or.kr/enu/SI/SI_EN_3_2_1.jsp?cid=790317) (English)
or the festival homepage for the Wonju Hanji Festival

By Kim Hee-sung
Korea.net Staff Writer

Featured Topics
http://www.korea.net/NewsFocus/Culture/view?articleId=82702
URL Copy
Department Global Communication and Contents Division, Contact Us