Jeonju, city of discoveries
Dec 03, 2010
There's no better way to experience Korea than by spending a night in a village of traditional houses that have been restored to preserve the Korean traditional lifestyle and culture.


Jeonju, located about 250 kilometers south of Seoul in North Jeolla Province, is the perfect place for a getaway tinged with old-fashioned charm.

Cultural Heritage: Jeonju's Hanok Village


Jeonju has kept Korean tradition alive for centuries, and even today has an extensive collection of traditional Korean houses, called Hanok, in its Hanok Village district. This pleasant retreat offers the beauty of both tradition and nature.


Jeonju's Hanok Village attracted over three million visitors this year, a ten-fold increase in a decade. In July, the city won the first Korea Tourism Awards, jointly organized by the Korea Tourism Organization and the Ministry of Culture, Sports and Tourism.

Jeonju Hanok Village (photo: courtesy of the city of Jeonju)

Over 900 Hanok have been converted into residences, restaurants, accommodations, craft rooms and art centers. The area also has a wealth of historic sites such as Gyeonggijeon Shrine, Pungnam Gate and several Buddhist temples.


Gyeonggijeon Shrine, and Pungnam Gate (photo: courtesy of the city of Jeonju)

Hanok accommodations range from a few decades to hundreds of years old. They have been renovated for the convenience of guests, but traditional forms and styles are retained through furnishings and decoration.


Some accommodations offer programs to experience Korean culture, including tea ceremony, pottery making and folk games.


For more information on Hanok accommodations, click
here
.
Festivals and Crafts


The main streets of Pungnam-dong and Kyo-dong in downtown Jeonju are a lively mix of antique, craft, pottery and textile stores, adding to the traditional vibe.



Crafts (photo: courtesy of the city of Jeonju)

There are also a wide range of cultural facilities like the Jeonju Traditional Cultural Center amid the narrow, winding old streets in Jeonju's well-preserved downtown area.


Jeonju is also host to a variety of festivals both large and small. The largest annual events include the Jeonju International Film Festival and Jeonju Hanji Festival, along with smaller festivals celebrating Korea's folk traditions, such as the Jeonju Dan-o Festival in May and the Jeonju Daesasup Festival.


Culinary Delights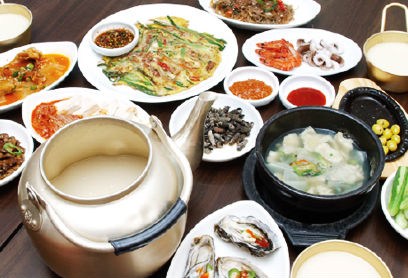 Jeonju offers a wide array of Korean traditional foods and beverages, and is internationally known for the excellence of its cuisine.
Jeonju's signature dish is its bibimbap, a bowl of rice, vegetables, and raw beef served with bean sprout soup.
Although bibimbap is common all throughout the country, Jeonju's specialty version is the most renowned and widely regarded as the most delicious.
For those looking for something lighter, Jeonju has many teahouses tucked away in the Hanok village, where guests are sure to find something warm and soothing.
After a long day of sightseeing and enjoyment, be sure and visit Jeonju's "makgeolli street" in the Samcheon-dong area. Dozens of traditional taverns there serve up makgeolli, a thick, milky brew with low alcohol content. Each round of makgeolli is accompanied by different side dishes.
Slow City, Jeonju

Jeonju officially joined the Cittaslow Network on November 27 as a "slow city." The slow city movement originated in Italy in 1999, and advocates moving away from the frantic pace of modern life to a gentler, slower style of living.
For the latest on tourism in Jeonju, go to
http://hanok.jeonju.go.kr
(Korean, English, Japanese and Chinese)
By Hwang Dana
Korea.net Staff Writer
Department Global Communication and Contents Division, Contact Us