Samsung Foundation supports arts, culture at home and abroad
Dec 28, 2010
Samsung is one of the best-known Korean brands worldwide. Not only is it active in expanding its international businesses as a multinational corporation, it is also a major patron of arts and culture in Korea.


The Samsung Foundation of Culture has long been promoting Korean arts and culture while fostering international cultural exchanges. In recognition of these continued contributions, Samsung was awarded the presidential prize at the first Korea Mecenat Awards in 1999.


Ever since its founding in 1965 by Ho-am Lee Byung-Chull, the founder of Samsung, the Samsung Foundation of Culture has made significant contributions to Korean arts and culture. For more than forty-five years, it has hosted an expansive roster of activities and exhibits, while embodying the founder's philosophies.

Institutions run by the Samsung Foundation of Culture include the Ho-am Art Museum, which has an extensive collection of ancient national treasures and other cultural heritage items, and Leeum, Samsung Museum of Art, home to both traditional fine art and cutting-edge contemporary art. These institutions not only serve as an exhibition space, but also provide a platform for dynamic cultural exchanges.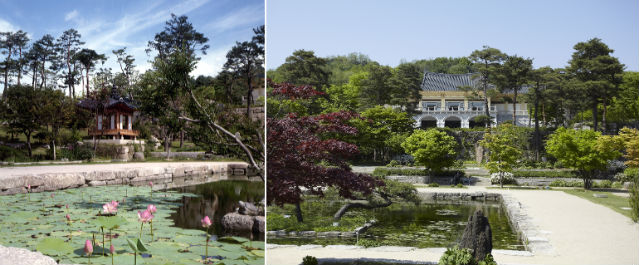 Ho-am Art Museum (Photo courtesy of the Samsung Foundation of Culture)
Ho-am Art Museum (
www.hoammuseum.org
) has preserved over 100 pieces officially designated as "Treasures" or "National Treasures." The collection includes rare arts and crafts from as far back as the prehistoric period, along with priceless Goryeo celadon and Buddhist art sculptures.
The museum also explores the traditional landscape in the Hee Won Korean Garden, while the outdoor sculpture garden highlights the works of acclaimed sculptor Antoine Bourdelle. The outdoor spaces are especially beautiful in the spring when the cherry trees at Hoam Lake blossom, and is a popular family getaway.


Leeum, Samsung Museum of Art (
www.leeum.org
) organizes exhibits, performances, and other cultural events. Visitors to Leeum can experience the visions of three renowned architects through the museum's revolutionary buildings, along with a collection ranging from traditional arts and crafts to international and local contemporary art.

(left) Video Quartet, 2002, Four-channel DVD projection with sound, 14 mins © Christian Marclay, Photographed by Stephen White, Courtesy of White Cube (right) The Clock, 2010, Single channel video, 24 hrs © Christian Marclay, Courtesy of White Cube
On Dec. 9, Leeum opened an exhibition of three pieces by Christian Marclay, "What you see is what you hear." The three works include his 24-hour long video piece, "The Clock," exploring the flow of time by using images of clocks and watches from various other films, liking them to real times. The exhibition continues through February 13, and general admission is 3,000 won for adults.
The Samsung Foundation of Culture also operates the first children's museum in Korea dedicated to providing innovative arts programs. Samsung Children's Museum (
http://kids.samsungfoundation.org/eng
) organizes a variety of hands-on displays and educational programs, serving as a space for cultural experiences geared towards children's development.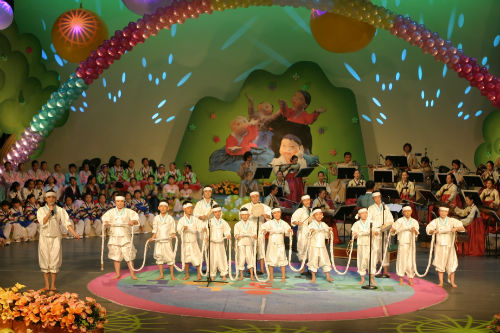 Children performing at the Traditional Children's Song Festival (Photo courtesy of the Samsung Foundation of Culture)

The foundation is also unusual in terms of its strong corporate patronage in the realm of music, dance and traditional arts, from lending instruments to musicians to hosting an annual Traditional Children's Song Festival. It supports the creative activities of Korean artists with an artist residency in the Cité Internationale des Arts in Paris, as well.

The Samsung Foundation of Culture has actively supported Korean art exhibits and artists, including sponsoring exhibitions in museums across the globe. Its support helped make Nam June Paik's solo retrospective exhibition at the Solomon R. Guggenheim Museum in New York and Kim Tschang-Yeul's exhibition at the Jeu de Paume in Paris possible. Samsung has also been an earnest supporter in building and supporting Korean art galleries at museums like the Victoria and Albert Museum in London, the Metropolitan Museum of Art in New York and the Musée Guimet in Paris.
Department Global Communication and Contents Division, Contact Us