Cultural Centers in Korea: The British Council
Mar 07, 2011
The British Council Korea acts as 'the United Kingdom's international cultural relations body in education, culture and science technology. Since its establishment in 1973, this non-profit governmental organization has offered a variety of arts and education-related programs to promote bilateral cultural exchanges. It has subsequently sponsored a number of projects dealing with social responsibility and climate change.
Inside the British Council Korea (Photo courtesy of the British Council Korea)
While English teaching and examinations are an important part of the organization's services, cultural exploration and innovative thinking are central to the council's activities.
Creative Cities
Based upon the British government's urban regeneration experiences, which successfully transformed declining industrial cities into culturally-rich environments, the British Council has conducted "Creative Cities" projects worldwide since 2007. In partnership with a number of Korean governmental bodies and universities, the British Council Korea has developed a creative approach to improving the quality of life in cities by involving arts professionals, while preserving traditions and environments.

The British Council conducted the "Transforming Public Space" project in partnership with the city of Gongju and the Korean National University of Cultural Heritage, transforming the former town office building into a design café space (Photo courtesy of the British Council Korea)
One of the most recent Creative Cities projects includes the "Transforming Public Space" project, in partnership with the city of Gongju. Four British designers were invited to transform the former town office building, a modern cultural heritage site, into a design café space. The project was undertaken in close collaboration with students and professors from the Korean National University of Cultural Heritage, resulting in a combination of Korean traditional handicraft and modern design.
In addition, the council hosted a wide variety of seminars and workshops for experts from both the UK and Korea.
At the forefront of promoting British artists in Korea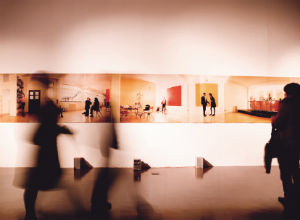 The British Council Korea continues to introduce British artists and connect them with Korean audiences through numerous channels, from sponsoring exhibitions and performances to promoting artists on its official blog.
Last fall, the institution partnered with important media art festivals, including the Incheon International Digital Art Festival 2010 (
www.indaf.org
) and Media City Seoul 2010 (
www.mediacityseoul.org
). These exhibitions featured artworks by British artists like Troika and Duncan Speakman, offering audiences new possibilities for art and modern technology.
This year, the council will also introduce a variety of witty British performances at one of Asia's biggest non-verbal performing arts festivals, the Chuncheon International Mime Festival. During the 2011 festival, from May 22 to 29, Korea-British joint collaborations will tackle climate change in a humorous way.
Inclusion by Design

The British Council spares no efforts to include vulnerable populations like seniors to overcome design disparities. The institution is constantly making efforts to spread the idea of "inclusive design" and its correlated benefits of inclusive thinking in the realm of communications and service design in Korea.
The concept of inclusive design, launched by the Royal Academy of Arts, nurtures creation and an appreciation of designs that are inherently accessible to all, regardless of gender, nationality, cultural background, age or disability. Sometimes called "design for all," it involves the participation of elderly and disabled people in the early stages of the design process in order to make user-friendly products.
The British Council Korea has closely collaborated with the Korean government and institutions to promote inclusive design. It teamed up with the Seoul Metropolitan Government to co-host the Royal Academy of Art's 48-hour "Inclusive Design Challenge" competition as part of the Seoul Design Fair in November 2009, which was organized to celebrate Seoul's nomination as World Design Capital. In 2010, the British Council worked with the Korean Institute of Design Promotion to conduct a series of seminars and workshops, accompanied by exhibitions on inclusive design, in Seoul and Busan.
During an interview with Korea.net, Goh Yoomie, the council's assistant director of marketing and communication, said the institution was dedicated to further deepening collaborations with Korean organizations as they host the next array of "Inclusive Design Challenge" programs in coming years.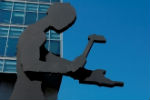 The British Council Korea is located in the Gwanghwamun area, on the fourth floor of the Hungkuk Life Insurance Building (Address: 226 Shinmunno 1-ga, Jongno-gu, Seoul)
The British Council is open from 8:30 a.m. to 8:30 p.m. Monday through Friday, and from 10 a.m. to 6 p.m. on Saturday. They are closed on Sundays and public holidays.
For more information, please visit their official website at:
www.britishcouncil.or.kr
(Korean and English); or their official blog at: blog.britishcouncil.or.kr (Korean only).
By Hwang Dana
Korea.net Staff Writer
Department Global Communication and Contents Division, Contact Us