Hangeul Museum receives important donations
Mar 17, 2011
Several important collections of classical Korean manuscripts and rare books written in Hangeul have become part of the permanent collection of a museum dedicated to the Korean alphabet, thanks to the generous donations of ten private collectors.
The Ministry of Culture, Sports and Tourism announced on March 9 that new Hangeul Museum will hold 474 rare books and historical documents, after a March 4 meeting organized for Hangeul Museum donation acceptance proceedings.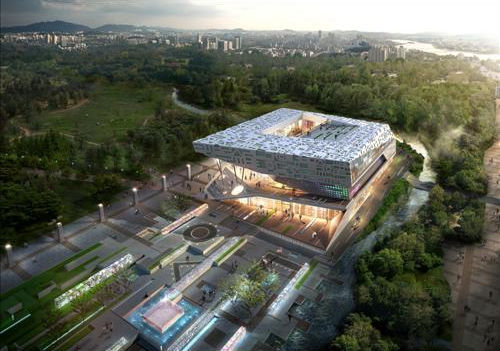 Hangeul Museum is expected to open in late 2012
The new museum's collection will include some classical Korean novels and pedagogical guides, previously owned by Seo Su-yeol. Mr. Seo's donation included 365 rare books, ranging from literature to dictionaries, some of which date to the Japanese colonial period. Other important pieces were donated by Hangeul scholar and activist Lee Bong-won.
Construction of the new Hangeul Museum will begin in April on the grounds of the National Museum of Korea in Yongsan-gu, Seoul, and is expected to open in late 2012. In the meantime, the Ministry of Culture, Sports and Tourism will continue collecting documents, books and other artifacts related to Hangeul through donation campaigns and promotional activities.
By Hwang Dana
Korea.net Staff Writer
Department Global Communication and Contents Division, Contact Us