Tongyeong International Music Festival embraces change and creativity
Mar 25, 2011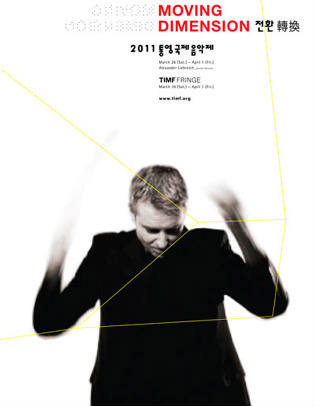 In late March every year the small southern port city of Tongyeong is filled with classical music. (Left: Poster for the Tongyeong International Music Festival featuring its artistic director, Alexander Liebreich (courtesy of TIMF))

Tongyeong International Music Festival (TIMF, www.timf.org) commemorates the well-known composer Yun Isang (Isang Yun, 1917-1995), who was born there.

For the tenth annual festival on March 26, two big changes are in store: The introduction of the first overseas artistic director and the artists in residence system.

Alexander Liebreich, the conductor of the Munich Chamber Orchestra, will begin his official term as the artistic director of the festival this year. Liebreich has also conducted the Osaka Philharmonic, BBC Symphony Orchestra and Salzburg Mozarteum Orchestra. He is one of the initiators of the "Korea Project," which came about in cooperation with the Goethe Institute and the Deutsche Akademische Austauschdienst (German Academic Exchange Service.) He is a creative musician who was featured in the documentary "Pyongyang Crescendo."

Liebreich selected "Moving Dimension" as the theme of this year's festival, and organized a series of programs with sensuous music and creative musicians. His pursuit of change can be seen throughout the program, which ranges from the works of Johann Sebastian Bach to modern genres like jazz and musicals.

The resident artist system is another change introduced this year by the organizing committee. The selected artists for the residence system this year include composers Chin Unsuk and Heiner Goebbels, soprano Suh Yeree and Russian pianist Igor Levit. The artists will all live in Tongyeong during the festival and engage with audiences.


Salzburg Mozarteum Orchestra (courtesy of TIMF)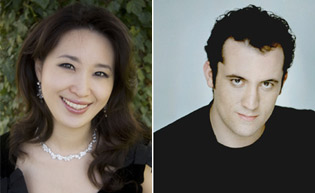 Liebreich will open the festival on March 26 at 7:30 p.m. at the Main Hall, Tongyeong Arts Center with a wide range of music from Bach, Mozart, and Isang Yun, featuring the Salzburg Mozarteum Orchestra and Suh. They will also perform on March 28. (Suh Yeree (left), Igor Levit (right) (courtesy of TIMF))

The composers in residence Chin and Goebbels will perform with Ensemble TIMF and composer Franck Ollu on March 28 at 2 p.m. at the Main Hall, Tongyeong Arts Center.

Well-known Korean jazz vocalist Nah Youn Sun will perform with guitarist Ulf Wakenius on March 27 at 9 p.m., and the Kuss Quartet, a string quartet from Germany, and the British a cappella quartet, the Hilliard Ensemble, will also perform during the festival. The closing concert will feature bass Youn Kwangchul and Ensemble TIMF on April 1 at 7:30 p.m.


Nah Youn Sun (left) // Ulf Wakenius (right)

The festival will also include a special music concert for children, which will feature Actress Yoon Suk-Hwa narrating the life of Florence Nightingale (1820-1920). Other interesting programs include the TIMF Symposium with Liebreich and Goebbels at Sang Yun Memorial Park at 5 p.m. on March 30.

For more information about the festival, please visit the official homepage (www.timf.org). (Korean, English)

By Yoon Sojung
Korea.net Staff Writer

Department Global Communication and Contents Division, Contact Us