Korean characters leading Hallyu in animation industry
Mar 25, 2011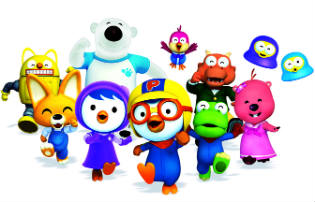 A cute little animated penguin Pororo is taking over the globe, one country at a time. Parents and children are surrendering to the charms of one of Korea's most successful animated exports as kids have become obsessed with their new penguin friend.

The Korean educational broadcast station EBS began airing "Pororo, the Little Penguin" in 2003, and it became an instant hit among kids. It's been exported to nearly 110 countries, including the United States, Japan and France, creating a sensation among children around the world.

Another leading Korean cartoon character is Pucca, which started out as a series of flash animation tales about a 10-year old girl. Along with Pororo, she is leading a new form of Hallyu in the international content market, expanding into animation, games and toys across the globe, including China, the Americas, and Europe.

* Pororo opening a new chapter in local animation history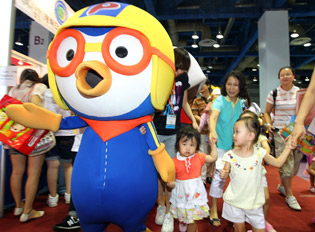 Pororo's success was based on a thorough analysis of the world's leading animator, Japan. According to a March 17 Joongang Ilbo article, Pororo's producer, Iconix Entertainment, found that Japan has a relatively weak animation market for young children. Iconix also differentiated its characters from similar characters, like Pingu from the United Kingdom, by focusing more on the adventures of Pororo and his friends.

ororo became the first Korean animated series aired by European broadcasters. Now, it's being exported to nearly 110 countries. Last year, Iconix opened a new branch in Beijing to explore overseas markets.

The total market volume of Pororo-related products exceeded 500 billion won, with 150 firms manufacturing almost 1,000 kinds of Pororo products. According to an analysis by the Seoul Business Agency, the brand value of Pororo was estimated at nearly 390 billion won last year, and according to the Joongang Ilbo, it receives licensing fees from 50 countries.

* Pucca capturing customers' hearts in 150 countries

Pucca was designed to target teenagers and young adults and has become something of a fashion icon since its launch in 2000. Its producer, Vooz Co. Ltd, has been expanding its market overseas since 2003. Currently owned by the Walt Disney Company, Pucca is now being marketed in 150 countries in Asian, Africa and Europe.

Since Pucca's introduction in South America in 2008, the spunky character has been going head-to-head with Hello Kitty, one of the world's most iconic characters. She took on the U.S. market in 2010.

Now, Pucca can be found decorating clothes, bags, accessories and even cosmetics. The Italian clothing company Benetton has released a Pucca line of clothes for children, and the fast food chain McDonalds has used Pucca for promotions in Europe.


(From left to right) Pucca // Pucca as fashion icon (Yonhap News)

* Korean cartoons, animation gain popularity in France

Korean animation works have been winning recognition in European countries, including France and Belgium, bringing another aspect of Hallyu to the international scene.

French animation lovers have shown more and more interest in Korean animation, and Korean cartoonists have won several awards and held exhibitions in France in recent years.

At the 37th Angoulme festival international de la Bande Dessine, "Aujourd'hui n'existe pas" by Korean cartoonist Choi Kyung Jin was cited in the Essentials list of the festival. Meanwhile, ARTE TV aired Korean cartoonist Park Chul Ho's "Seoul District" last year. The film was among the top ten most searched-for keywords on Yahoo! France's site last April.


Seoul District (from the ARTE TV homepage)

* Korean government support for local animation industry

To help local animation and contents industries enter overseas markets, the Ministry of Culture, Sports and Tourism has set up a Global Contents Center to provide consulting services for marketing and legal advice. The ministry further plans to work with organizations to carry out support policies for local firms.

By Yoon Sojung
Korea.net Staff Writer
Department Global Communication and Contents Division, Contact Us