Korean literature reaches readers across Asia
Apr 14, 2011
Korean literature continues to resonate with the readers across Asia through translations of literary works that portray the lives of both modern and historic Koreans from a variety of perspectives.
Recent major publications include translations of two modern Korean novels and a collection of folktales. "
The Moving Castle
" has now been published in Japanese, and an Urdu translation of "
A Small Ball Shot by a Dwarf
" in Pakistan and a Mongolian translation of "
The Classic Collection of Korean Folktales
." Their publication was made possible due to support from the Daesan Foundation (http://daesan.or.kr/eng), a private foundation that seeks to promote Korean culture abroad.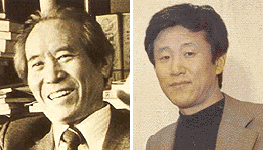 "
The Moving Castle
," a novel by Hwang Sun-won depicts a confrontation between Christianity and shamanism. The story explores anguish over religious doubts in a country where many different religious practices, including Confucianism, Buddhism, Christianity and shamanism coexist. Following the publication of English and French translations, the Japanese version was unveiled by the Board of Publications of the United Church of Christ in Japan.
"
A Small Ball Shot by a Dwarf
," a raw and realistic depiction of the life of the lower class in the 1970s by Cho Sehui, was translated by Masood Ashar and published in Pakistan by Mashal Books. The story has also been translated into English, French, German and Russian.
Meanwhile, a collection of 55 folktales was released in Mongolia under the title, "
The Classic Collection of Korean Folktales
(Солонгос үндэстний үлгэр домог)." The compilation was published by one of Mongolia's leading publishers, Admon Publishing. The translation was undertaken by Erdensuren Davaasanbuu, who has been active in bringing works of Korean literature to the bookshelves of Mongolians through his translation modern Korean works like Yi Munyol's "
Our Twisted Hero
," and Yi Sang's "
Wings
."
For more information on Korean literature in translation, please visit the official website of the Korea Literature Translation Institute at: http://eng.klti.or.kr/e_main.do (Korean and English).
By Hwang Dana
Korea.net Staff Writer
Featured Topics
http://www.korea.net/NewsFocus/Culture/view?articleId=86146
URL Copy
Department Global Communication and Contents Division, Contact Us