Eight must-see June attractions
Jun 15, 2011
The Korea Tourism Organization recently selected eight tourism sites for June: The Upo Wetlands in South Gyeongsang Province, Suwon Hwaseong Fortress in Gyeonggi Province, Jongno in Seoul, Namsan in Gyeongju and Andong in North Gyeongsang Province, Jeonju in North Jeolla Province and Suncheon Bay and Yeosu in South Jeolla Province.

* 600 years of history in Seoul's Jongno District

Those looking for a taste of the past within the busy modern city of Seoul have a wide variety of choices in Seoul's Jongno district, from the Bukchon Hanok Village's traditional houses to the antique stores of Insa-dong.


(From left to right) Bukchon Hanok Village in Jongno, Seoul (Yonhap News) // Suwon Hwaseong Fortress (Yonhap News)

* Suwon Hwaseong Fortress, Gyeonggi Province

Suwon Hwaseong Fortress in Gyeonggi Province a UNESCO-designated World Cultural Heritage site. King Jeongjo (1752-1800), the 22nd ruler of the Joseon Dynasty (1392-1910), built the fortress in Suwon in the late 18th century as an act of filial devotion to his parents and to strengthen his power, eradicate party conflict, and fortify the southern area of the capital. It was designed and constructed by Dasan Jeong Yak-Yong (1762~1836), one of Korea's most renowned scholars.

The fortress is a masterpiece not only of engineering but also architecture, standing as one of the most beautiful examples of Joseon-era building in the country. In 1997, UNESCO designated the fortress a World Cultural Heritage SIte and recognized the efforts of King Jeongjo in encouraging commerce, manufacturing, architecture, engineering and other practical matters.

* Center of Korean Confusion Studies, Andong, North Gyeongsang Province

The city of Andong in North Gyeongsang Province makes visitors feel like they have stepped back in time and gives them glimpse of tradition. The city is especially well-known for its picturesque folk village, Hahoe Maeul, home to some of Korea's most unique mask dances and set beautifully among a pine forest by the Nakdong River. UNESCO designated the folk village a World Heritage site in 2010. At the village, tourists can learn more about the traditional life of Koreans in the past and enjoy performances of the local mask dance.

The city is also one of the most important centers for Confucianism in Korea, and nurtured some of the country's best known philosophers. Even today, people flock to visit the Dosan Seowon and the Byeongsan Seowon, two of Korea's best known Confucian academies, to soak up the knowledge of the past.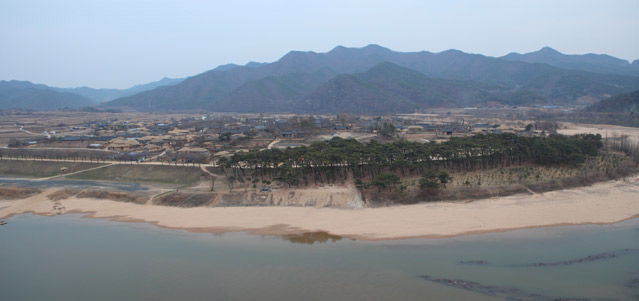 A birds-eye view of Hahoe Village, Andong (Yonhap News)
* Center of the Silla Kingdom, Namsan Mountain, Gyeongju, North Gyeongsang Province
Gyeongju was the center of politics, economy and culture of the Silla Kingdom and the Unified Silla (57 .B.C.-A.D. 935), remaining Korea's capital for nearly a millennium. The city is still home to traces of its ancient past, including palaces, fortresses and tombs. Namsan Mountain located near the downtown area, is home to an astounding collection of more than 100 temple sites, 90 Buddhist sculptures and more than 70 stone pagodas, making it a treasure trove of archaeological information on early Korea.
* Upo Wetlands in Changnyeong, South Gyeongsang Province
The Upo Wetlands in Changnyeong is a treasure of wildlife and a center of eco tourism. In June, the wetlands are home to as many as 1,500 kinds of fauna and flora. The Upo Wetlands were designated an ecosystem preservation area in 1997 and became a Ramsar site in 1998. In summer, water lilies and other aquatic plants create a green carpet over the landscape. One of the most popular ways to enjoy this unique ecosystem is through early morning walks in the fog.
(From left to right) Upo Wetlands in Changnyeong (Yonhap News) // Sunset over Dolsan Bridge, Yeosu (Yonhap News)

* 2012 Expo, Yeosu, South Jeolla Province

Less than a year is left before Yeosu, a port city in South Jeolla Province, will host the 2012 International Exposition. At the Expo PR Center, visitors can catch a glimpse of the upcoming event.

The city is known for its picturesque sunsets, highlighting the curvy coastline and a sea dotted with islands. Other popular tourism attractions include Hyang-iram, and Geomun and Odong Islands. A sunset from Dolsan-daegyo (Dolsan Bridge) is also a must-see.

* Life in the reeds of Suncheon Bay, South Jeolla Province



(From left to right) Suncheon Bay (Yonhap News) // Sunset at Suncheon Bay

Registered as one of five coastal wetlands protected by the Ramsar Convention in 2006, Suncheon Bay is famous for having the largest reed fields in Korea and also for being on the migration path of rare birds from throughout the world.

Visitors can enjoy the beauty of the bay by taking the ferry from Daedae Port at sunset. Travelers can also walk along the reed fields to the low mountain of Yong-san to enjoy the wetland at its best. From the lookout on the mountain, visitors have a bird-eye view of the field of reeds and the coastal scenery. Other well-known tourist sites near the bay are Naganeupseong Fortress, Songgwansa Temple and Seonamsa Temple.

* Jeonju Hanok Village in Jeonju, North Jeolla Province



Jeonju Hanok Village (Courtesy of Jeonju City)

Located about 250km south of Seoul in North Jeolla Province, Jeonju is known for its signature cuisine, including dishes like bibimbap (mixed rice and vegetables) and bean sprouts and boiled rice soup (kongnamulgukbap). But there is a lot more to the city than delicious food.

In Jeonju, nearly 800 traditional Korean houses form a large village, keeping alive some of Korea's best surviving pre-modern architecture and folk culture. It is also home to a number of tourist sites, including a Hanok experience center and a traditional liquor museum.

Located near the entrance of the village is the vividly painted Gyeonggijeon pavilion where the portrait of Lee Seong-gye (1335-1408), or Taejo, the founder of the Joseon Dynasty, is located. Many trees, including a 400-year old ginkgo tree and a stand of bamboo trees, create a charming walking course around the pavilion.

Located across from the pavilion is Jeondong Catholic Church. The beautiful architecture of this church featured in the film, "The Letter" (1997).

More information about these and other tourism attractions is available from the homepage of the Korea Tourism Organization. (To visit the homepage, click here (Korean, English, Arabic, Chinese, Japanese, French, Germany, Russian, Spanish and Thai)). More information is also available at Korea Travel Phone: Call+82-64-1330 (Korean, English, Japanese and Chinese).

By Yoon Sojung
Korea.net Staff Writer
Department Global Communication and Contents Division, Contact Us