Goryeo celadon seen through eyes of British connoisseurs
Aug 25, 2011

Speakers at the third International Academic Lecture hosted by Lee & Won: (left) Regina Krahl; (right) Dr. Nigel Wood (Photos courtesy of Lee & Won)
Two distinguished British academics paid a visit to Korea on August 20 to lecture on the comparative analysis of Korean and Chinese ceramics. Nigel Wood, Emeritus Professor of Ceramics at the University of Westminster and Regina Krahl, former curator of Chinese Ceramics for the British Museum, spoke to a crowd at the National Museum of Korea on August 20. Both are active in research and the debates surrounding East Asian wares.
The two scholars shed light on the original beauty of Goryeo celadon, with a particular focus on its connection to Chinese wares from the Song Dynasty, and its highly sophisticated inlaid designs and refined shapes, which display consistency of glaze and technique in all stages of development.
Krahl, an independent researcher of Chinese art, delivered a lecture titled "Stylistic Analogies: Song and Goryeo Stonewares" in the first round. During the address, Krahl mentioned that both Song and Goryeo wares reached their zeniths in the 12th century. Krahl also took note of the genuine beauty of Goryeo celadon, alongside its distinctive and innovative creation method.
Wood, an authority on Chinese ware and a potter himself, gave renewed insight on Goryeo ware through his speech titled "The Evolution of the Chinese Blue Celadon Glaze and its Relationship to Goryeo Celadon Ware Production." In his lecture, Wood traced the genealogy of Chinese glazes and glazing techniques in relation to the development of Goryeo ware, which featured original aesthetics and decorative styles beyond Chinese influence.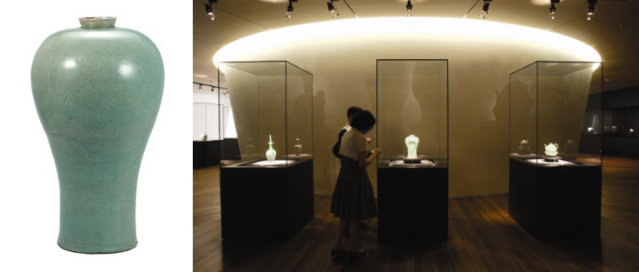 (left) Maebyeong, Vase (Celadon with Incised Lotus-scroll Design), Goryeo, 12th century, National Treasure No. 97, Collection of the National Museum of Korea (Photo courtesy of the National Museum of Korea); (right) Leeum Museum is home to an extensive collection of Goryeo celadon alongside other historical artifacts. (Photo courtesy of Leeum, Samsung Museum of Art, photographed by Lee Hankoo)
During an interview with Korea.net, Bang Byung-sun, a professor of Korean Art History at Korea University who led the panel session that day, said there is a general academic consensus on Chinese ware's influence on Korean celadon, especially in its early years of production. However, Professor Bang added that one of the main subjects of discussion was the high probability of Korean ware's influence over Chinese celadon, citing a rare and delicate technique of inlaid celadon, alongside its unique jade green color. Goryeo inlaid celadon is often considered one of the most coveted and admired culminations of Goryeo celadon history.
Held for the third consecutive year since its inaugural session in 2009, the annual International Academic Lecture is organized by the Lee & Won Foundation as part of its academic exchange grant program for the humanities. For more information, please visit the official website at:
www.leewonfoundation.org
(Korean and English).
By Hwang Dana
Korea.net Staff Writer
Department Global Communication and Contents Division, Contact Us